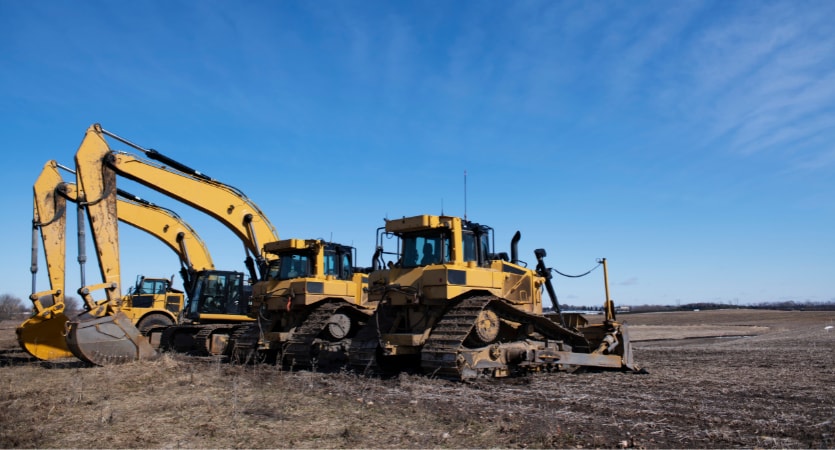 Cleaning heavy equipment is essential for all construction equipment. Although it may seem time-consuming at first glance, cleaning your equipment has enormous benefits. Clean equipment guarantees better efficiency since it's part of preventive maintenance. Regular cleaning ensures less strain or friction in moving parts that may be caused by dirt, mud, grease, and grime.
Also, regular cleaning helps you spot and tackle any potential equipment problems as they occur to ensure your machines always remain in good condition, extending their service life. Clean equipment also gives mechanics ample time to efficiently work on them.
Clean Heavy Construction Equipment Effectively With This 6 Tips
However, proper cleaning of heavy equipment requires technical knowledge and specialized products and techniques. Outlined below are some of the most crucial tips to help to clean heavy construction equipment effectively in this post. Read on to learn more. 
Designate An Area For Cleaning Your Heavy Machinery:
First, pick out a space for cleaning your heavy equipment. 
Wash bays are specially designated areas where dirt, grease, and mud can be removed from your heavy equipment safely. Not only do they provide space to clean heavy equipment but they also ensure you follow strict environmental regulations for runoff contaminants that can be harmful to the environment. Many laws deal with contaminants handling including chemicals that are involved in cleaning heavy construction machinery. Having a wash bay ensures you properly manage and dispose of contaminated waste appropriately. 
This is how wash bays work. The heavy equipment enters the wash area; then, using a pressure washer, the dirt, mud, or other debris is rinsed off. The contaminated water flows into the basins below the wash area and is directed into a water treatment recycling system. In this system, the wastewater is cleaned and filtered. The recycled water is clean and is stored for future use while the contaminants are directed into a disposal system.
The advantage of the wash bay is that it can be customized to fit your needs, meaning you can have a permanent or mobile model, and they come in different sizes. Companies like Hotsy Carlson have high-quality products for sale and rental to meet your heavy construction machinery cleaning needs.  
Dismantle Removable Parts:
Now that you've set up the wash bay, it's time to start cleaning. Nonetheless, before you begin cleaning, disassemble the removable parts to make it easier to thoroughly clean each part individually. It also saves time as a dirty splash from one part can't be transferred to the next, like when cleaning the entire piece of equipment. Dismantling removable parts makes it easy to reach the dirt and grease that had been hiding away between crevices too. 
Utilize A Pressure Washer Machine:
One of the essential tools for cleaning heavy equipment is the pressure washer. This tool is suitable for cleaning construction equipment as it's specifically designed to effectively remove dirt and grease. The powerful concentrated water from this tool can reach into the narrow openings that are impossible to clean by hand. 
When looking for a pressure washer, consider the amount of pressure and multiple pressure levels that it can produce. The pressure produced from the machine is measured in PSI (pounds per square inch). The minimum requirement is 4000 PSI at 4 GPM. GPM (gallons per minute) is the water amount coming from the machine. Choose a perfect pressure washer with a high amount of pressure that will help clean your equipment efficiently.
As a golden rule, it's recommended that you read the user manual of the pressure washer device prior to using it. Safety is a topmost priority.
Start Cleaning The Dirtiest Parts Of A Given Equipment:
When cleaning your equipment, it's essential to identify which parts to clean first. Specialists suggest starting with the dirtiest part first. Usually, it's the undercarriage. If you start with any other component, the splashes may spread dirt which you'll need to clean up later on. 
After you're done with the undercarriage, you can now wash the equipment from top to bottom. This way, gravity will naturally pull down the contaminated water to the wash pad floor.
Make Use Of Proper Degreasing And Cleaning Chemicals:
Using water is often not enough to remove all the contaminants present in your equipment. Every piece of heavy equipment needs a degreasing agent for cleaning, but this depends on the machine type and the cleaning needed.  
Before purchasing different cleaning agents, consider the type of contaminant you're dealing with. The most common ones are organic, inorganic, or mixed compounds. Organic compounds include hydrocarbons such as grease, fuel residues, vegetation, and animal waste. Inorganic debris refers to mineral compounds like dust, sand, and gravel. 
Mixed compounds, on the other hand, consist of both organic and inorganic particles combined. A common example of a mixed compound is soil which is the most difficult to clean, explaining why you should use special-grade detergents. Industrial detergents are efficient because they contain different surfactants and chelating agents. Once dissolved in water, these chemicals help break the bond between dirt and the surface it's on for easier removal using a pressure washer.
The use of the appropriate cleaning chemical is believed to be an integral part to proper heavy machinery maintenance and upkeep. 
Try Out The Ice Blasting Machine Cleaning Technique
Ice blasting is a non-destructive method of cleaning construction equipment that utilizes dry ice as a cleaning medium. The dry ice particles, a solid form of carbon dioxide, are accelerated in a pressurized air stream and directed to the intended surface to clean it. This process gives abrasive friction, which causes a mini-explosion that removes the contaminants.
The advantage of using ice blasting is that it's efficient and there's minimal damage to the surface being cleaned compared to other blasting methods like sandblasting or soda blasting. Dry ice blasting cleaning is also said to be environmentally friendly as it doesn't create secondary waste and the chemical residues are converted back to a gaseous state. 
Moreover, dry ice is a non-toxic and non-flammable chemical. Using it for cleaning significantly reduces employees' exposure to harmful cleaning agents. This also means it can even be used in the food production industry without compromising food safety protocols. 
The Bottom Line
Cleaning heavy construction equipment can be challenging and time-consuming if not performed regularly. Nevertheless, as stated above, regularly cleaning your equipment ensures they remain in good working condition at all times. 
Luckily, the abovementioned tips will help you clean your heavy construction equipment and machines effectively and prolong their expected service life.