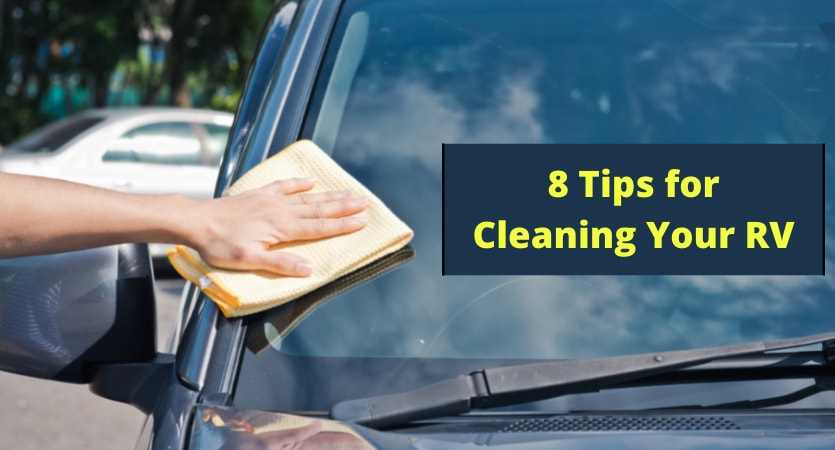 Your RV is your home on wheels. Unlike a house, you put it through a lot from driving on roads to parking at campgrounds. Needless to say, your home on wheels will have different cleaning needs than a house. Refer to your RV's instruction manual first, and then let these eight tricks and tips for cleaning your RV help it looking like new.
8 Expert Opinion and Tips For Cleaning Your RV
1. Clean From Top to Bottom
When cleaning both the interior and exterior, always work from the top down. This way any dirt or debris that falls from the top will get swept away.
On the inside, begin with the ceiling so you can sweep away dirt and dust that drops out of fans or vents. Check the vents and fans and clean out any accumulated dust.
When cleaning the exterior of your RV, you'll have to scrub the bottom again if you clean it before climbing to the top.  Carefully climb a ladder with a broom and sweep away any leaves and twigs from the roof and the top of slide-outs. Then hose down the entire RV.
Vacuum and clean the window screens and windows as well as your solar panels. Be sure to use only water and a soft rag to wipe down the solar panels.
2. Use the Right Cleaners and Tools
Your owner's manual should tell you the right types of cleaners and chemicals to use for your RV. In general, you'll need a multi-surface cleaner, dusters, disinfecting wipes, and a toilet cleaner made especially for RVs. Otherwise, you may damage the plumbing. You can also safely use natural cleaners such as lemon, vinegar, and baking soda for your kitchenette appliances.
Use a squeegee to wipe down and clean the shower and a toilet brush to scrub the toilet. Use a no-rinse cleaner on vinyl flooring. Invest in a hand-held vacuum to clean nooks, crannies, and hard-to-reach spots and to quickly clean up spilled food and debris. A folding step stool will make cleaning the interior easier.
3. Deep Clean the Kitchen
Begin deep cleaning the kitchen by removing everything from the cabinets, shelves, drawers, fridge, and freezer. Check the expiration date on food items and toss away anything past its prime. Use a disinfecting cleaner to spray down the inside of the fridge, freezer, and microwave, and then wipe clean.
Wipe away any crumbs and sticky stuff inside cabinets and drawers, then spray and wipe clean. Allow surfaces to dry before replacing food items in the cabinets and fridge and before replacing dishes, cookware, and utensils.
4. Dust and Wipe Down All Surfaces
Dust all surfaces inside the RV then spray with a multi-surface cleaner and wipe them with a dry cloth. Focus on countertops, the exterior of your appliances, and the tabletop in the kitchen. Use a disinfecting cleaner on frequently touched places such as knobs, lamps, remote controls, and non-porous seating.
5. Sweep and Mop the Floors
Sweeping the floors of your RV is a daily task when you're parked close to nature. As soon as you sweep, it seems the floors are dirty again. Deep clean the floors every so often with a thorough sweeping and mopping. Don't overlook all of the nooks and crannies.
6. Clean the Air Vents and Filters
Heating vents, especially those on the floor, accumulate dust and debris over time.  This can slow down the circulation of fresh air and emit allergens inside the RV.  Take the time to remove the covers and vacuum and clean them to remove old food, dirt clods, and dust. You can take most air filters outside the RV and hose them down. Allow them to dry before replacing them.  
7. Flush and Fill the Freshwater Tank
You can greatly improve the quality of your water by flushing out your freshwater tank, especially if you only use your RV infrequently. Open the valve and let the water empty onto the ground. Add water to the empty tank with a clean hose letting the water run out the other side. This will push debris or minerals from hard water out of your tank. Give it an extra cleaning with a special fresh water tank sanitizer.
8. Dump the Gray and Black Water Tanks
To keep away smelly odors, keep the gray and blackwater tanks emptied and cleaned. Technically you can drain either first, but it's recommended to empty the black water tank first. It contains more germs and bacteria.  Dump the black water tank when it's two-thirds full or every three to five days whichever comes first. Keep a hose, a bucket, and a strong pair of rubber gloves exclusively for this task stored away.
Get familiar with the steps to perform these chores and how to safely and legally empty the black water tank before you start out on any trip. Make sure you use the correct type of toilet paper to keep your toilet clog-free and functioning properly. It disintegrates faster than household toilet paper.
Empty the gray water tank when it's two-thirds full. This will probably be every five to seven days when only one or two people are traveling. You may need to empty it more often when traveling with several people.