A pressure washer is made to clean grimes, dirt, and strains from different areas using high pressure with effect.
Thus, it is important to identify what PSI standing for pressure per square inch is good for a pressure washer to do its job perfectly.
PSI level varies from electric to gas pressure washers.  Usually, the gas-driven pressure works in between 2000-2800 PSI. Whereas the electric pressure washers typically work in the range between 1300-1700 PSI.
However, more PSI doesn't always mean quicker cleaning; it also depends on GPM defining how much water is coming out of the washer in a minute.
 A pressure washer needs different PSI to clean different things. I would like to remind you to keep a note that, you can easily handle all home cleaning with the 2500 PSI range.
What Is A Good #PSI For A Pressure Washer? #PressureWasher?
Click To Tweet
So, be wise to choose an electric pressure washer of around 2500 PSI for home cleaning. However, for large cleaning tasks like industrial cleaning, a gas pressure washer generating PSI to 4000 is preferable.
The one drawback of having higher PSI is it creates almost 10 Decibel more noise than the lower ones.
Moreover, you should stay around 2 feet away while applying a higher PSI to ensure safety.
PSI along with GPM jointly works to clean the strains quickly, grimes, and debris from a particular area and thus, we would strongly recommend you to keep a balance between the two while you decide to buy a pressure washer.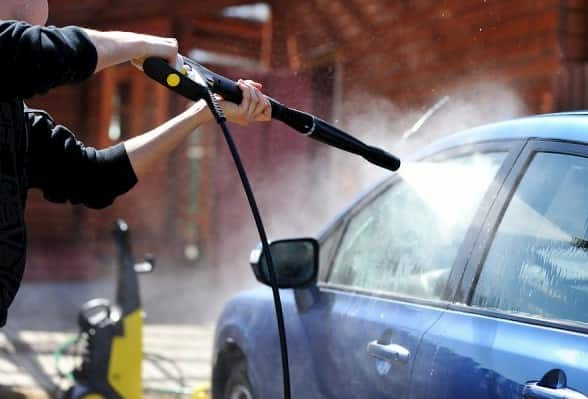 Pressure Washers Types
Pressure washers come in generally two types; gas-powered and electric. Both pressure washer does the same thing. But their PSI differs from one to another. As an example, an electric pressure washer has less PSI, but more power with the same PSI gas-powered washer. Does that mean a gas-powered washer is bad? No, not. Both are designed to work well in different circumstances.

Anyway, then what is a good PSI for a pressure washer?
A Good PSI
For regular washes, a 1200-4000 PSI pressure washer is available at the market. But higher PSI motor is more suitable for business or commercial spaces. If you want to do light cleaning tasks such as cleaning a metal door, motorcycle, a small area around your house, then a washer less than 1500 PSI would be enough. If you have medium-duty cleaning such as cleaning a car, boat, fence, yard, etc. then 1500-3000 PSI is good for you. This is a popular choice for maximum users because this type of washer can do any cleaning smartly.
A pressure washer with more than 3000 PSI is perfect for heavy duty cleaning. The higher speed of water is helpful to clean the industrial area, equipment, large dockyard, etc.
---
Now, It's Over To You!
Now I'd like to hear from you: Leave a comment to let me know.
Spread it by Sharing on social media…