Best toilet pressure washer…
No one wants to see stains in the toilet bowl or bathtub. Stains on your toilet bowl can make it look nasty. There are different types of stains that you can experience in your toilet that is caused by different things.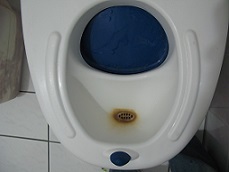 The first type of stains you can experience is reddish brown stains that are caused when iron dissolves in the water. When the iron gets in contact with oxygen, iron oxide is formed giving the toilet a reddish brown color.
The other type of stains you can get is red colored and blue-green stains. These are stains that are caused when there is low PH or acid in water. This can result when carbon dioxide is highly concentrated in your water.
Lastly,
You can also find black stains on the plumbing fixtures which result from sulfur bacteria. These stains can be caused by the presence of manganese in the water.
How do you deal with all these types of stains to give your bathroom a nice and clean look? This is where you need to use a toilet stain cleaner.
What Is A Toilet Stain Cleaner?
A toilet stain cleaner is a chemical; the solution that is used to clean the toilet with the help of a toilet brush. You need to spray the cleaner around the bowl and the rim of the toilet then use a toilet brush to scrub and remove the stubborn stains.
It is important to note that toilet stain cleaners can be poisonous so you need to handle them with care to avoid skin irritations.
Why Do You Need The Best Toilet Stain Cleaner?
There are so many reasons why you need to use the right cleaning products to remove stains from your toilet. Some of the reasons why you need an effective toilet cleaner to include the following:
It is affordable.
They kill bacteria easily.
Freshen up the air in your toilet.
Saves you time and energy you could have used scrubbing the stains.
They don't need expertise to use.
How To Use A Toilet Stain Cleaner?
Cleaning a stained toilet is simply provided you have the required items. You need the following things to remove stubborn stains on your toilet.
Wear your gloves and lift the toilet seat and then pour the toilet cleaner on the sides and the rims of the toilet. You can look for a cleaner that is also capable of killing germs in the toilet.
Using the toilet brush, scrub the toilet and ensure the cleaner reaches all the parts even the u-bend. Leave the cleaner for about 30 minutes to work effectively.
After 30 minutes, scrub the toilet again with the brush to remove all the stains. Flush the toilet and you will love the sparkling look.
If you are not using commercial toilet stain cleaners, you can also use vinegar and baking soda to remove stains on the toilet bowl. Mixing baking soda and vinegar creates a natural cleaner with carbonic acid that is the idea when it comes to eliminating stains in your toilet.
You just need to pour a cup of vinegar into the toilet bowl and leave it for one minute. Then add one cup of baking soda and another 1-2 cups of vinegar. Leave it for about 5 minutes and then uses a toilet brush to scrub all the stains. Lastly, flush the toilet and all the stains will no longer be there.
How to Choose the Best Toilet Stain Cleaner?
There are so many toilet cleaning products on the market and this makes it important to have the right information to choose the best. The following tips will assist you to make an informed decision when choosing a toilet stain cleaner.
Check the ingredients used
We have had reports of companies using toxic substances to make cleaning agents. This might not only cause allergies to people but can also bring about other illnesses. Check out if the manufacturer has disclosed the ingredients used to make the stain cleaner. If no ingredients are listed, then you should not buy such a cleaner. If they have listed the ingredients, go an extra step and determine if the ingredients are safe.
Is it environment-friendly?
A good toilet stain cleaner should be environment-friendly. After cleaning the toilet, the cleaning product is directed to the sewage for treatment than to the water surfaces. Check out if the product is environment-friendly to avoid buying cleaning agents that contain compounds that bring ecological risks.
Additionally, is the container recyclable? We are all trying to manage waste in our environments so create a healthy and clean place to live. Before you make your purchase, it is prudent to check if the packaging bottle can be recycled to reduce waste in our surrounding.
Price
In as much as most cleaning agents are affordable, checking the price is equally important. To ensure that you get the right toilet stain cleaner that meets your needs, find answers to the following questions. Is the cleaner within your budget? Can you afford it? How much do you spend on toilet pan cleaners?
Who do you live with?
It is wise to consider the health needs of your home before you buy a toilet stain cleaner. Do the people you live with have allergies? Can the allergies be activated by the toilet cleaner you chose? Some toilet cleaning agents can be harsh on kids or people who do not get along well with chemicals. Take these considerations in mind before you buy the right one.
Best Toilet Pressure Washer Reviews
Bathroom Toilet Plunger,High pressure toilet cleaning,Toilet Dredge Pipe Designed For Flush Toilet, Plug 360° Rotatable Design,Perfect Dredging Tool For Bathroom, Clog Remover, Drain Cleaner, Sink
EASY TO USE: Water impact toilet, direct push and pull out the toilet plunger
VISIBLE PRESSURE SCALE: the gas pressure can be clearly seen, according to the dredging requirements to adjust the pressure
BUTTON: easy to press the button, suitable for the elderly, housewives, completely effortless
FREE AIR PUMP:Equipped with a high pressure inflator, not only can be used to pressurize the dredge, but also can be used to inflate bicycle tires
APPLICABLE ENVIRONMENT: toilet, sink, floor drain, kitchen sink and other household pipes
Bidet Toilet Sprayer, high Pressure Hose / Non-Leakage Stainless Steel Brushed Toilet Cleaner Wall for Women Washing, Baby Diaper Cleaner
FIND JUST THE RIGHT TEMPERATURE - No more cold water shock! Using the included faucet diverter valve, dial the temperature right from your faucet so the water is as warm or as cold as you need
SINK VALVE CONVERTER: For kitchen sink faucet or bathroom sink faucet. 1/2-Inch IPS connection for regular shower hose/supply hose. The diverter performs the function of transitioning a pipe thread to a faucet thread with the addition of a diverted lever. It came with spare parts and washers. M22 x M24 connection sizes.Switch water flow between the faucet and sprayer . Please make sure of your faucet size before ordering.
GREAT FOR MANY USES - This faucet sprayer kit is great for children, assisted care and people with disabilities, bathroom cleaning, cloth diapering, sink showering, surgery recovery, and use as a muslim shaft. sure that your cleaning process is STRESS FREE. Lifetime Guaranteed!
Use as Bidet Faucet Attachment for Warm Water, Also Diaper Sprayer for Toilet Faucet -- Not Meant for Outside Garden Hoses.
The Faucet Sprayer is the perfect alternative to your traditional handheld toilet bidet. Instead of utilizing the plumbing from the water source at your toilet, the faucet sprayer attaches directly to your bathroom sink, giving you the option of setting your preferred water temperature.
Toilet Plunger, Air Drain Blaster, Pressure Pump Cleaner, High Pressure Plunger Opener Cleaner Pump for Bath Toilets, Bathroom, Shower, Sink, Bathtub, Kitchen Clogged Pipe
✉ Efficient Cleaning Capability --- With high pressure air power, Unlogs Toilet Plunger Set can deal with various blockages caused by all sorts of rubbish such as hair, cloth, tea, leaves, grease,oil dirties and so on.
✉ Easy To Use With Humanize Handle --- The drain blaster uses the power of high-pressure compressed air to blast away the toughest clogs in your drains in just seconds.Just pump the drain blaster and squeeze the trigger, the clog is cleared instantly.
✉ Environmentally Friendly --- ABS gun body, natural rubber blocked head. A natural rubber that is tough and durable for our drain blaster.
✉ No Chemical Harm --- Avoid using harmful chemicals that can corrode your pipes or endanger your family. Our Toilet Plunger is reusable and can last for years.
Sale
Arofa Handheld Toilet Bidet Sprayer for Toilet-Adjustable Water Pressure Control with Bidet Hose for Feminine Wash, Stainless Steel Brushed Nickel Cloth Diaper for Baby Wash
BETTER PERSONAL HYGIENE - The handheld bidet sprayer is the best choice for bottom cleaning, one-hand ergonomic design allows it easier to clean your front or back, which is more hygienic and efficiency than using toilet paper.
SOMETHING EVERY HOME NEEDS - The jet sprayer for toilet not only works as a cloth diaper sprayer, but also can be a pet shower, flowers Sprayer, toilet sprayer washer, especially for anyone with limited mobility due to surgery, postpartum or injuries, ideal for elderly adults. A great cleaning bidet sprayer for a whole family.
EASY DIY - Onto / Wall mounted toilet installation can fit most toilet. No plumber or other tools are required to attach your handheld bidet. It comes with detailed installation instructions, if any questions, we are here to provide professional help.
WATER PRESSURE CONTROL - It meets multiple uses by adjusting your lever to control pressure from gentle spray to jet spray. Gentle press mode for feminine bottom cleaning or baby bath/pet bath washing. Jet spray for rinsing floors or cloth diapers.
PREMIUM QUALITY & HEALTHY - Superior brushed finish for rust-proof and anti-corrosion, easier to maintain and operate. The muslim shower kit consists of a 304 stainless steel bidet head and hose, a brass valve to ensure durability. All components of the bidets for existing toilets are in top premium material to ensure your healthy life.
5Pack Snake Drain Clog Remover Tool, 63inch Drain Cleaner Sticks, 20inch Hair Drain Clog Remover Cleaning Tools for Kitchen, Sink Bathroom,Tub Toilet
PACKAGE INCLUDING: 5 Pack drain clog remover tools (3 plastic drain hair remover and 2 stainless steel drain cleaner sticks ). Offers two unclog sink drain tools. Drain cleaner sticks tool that can capture a solid obstruction. Drain hair remover tools that can hook the hair and debris
A Real Useful Tool: The drain cleaner tool is made of high-quality PE material, it can be easily bent into various angles while ensuring
Easy Easy to use: It is very easy to operate, just hold the handle, insert the other end into the drain, and then rotate, you can pull out the debris such as hair. Note: Be careful with the barbs, it's a bit sharp
Wide Application: Bathtub drain stick cleaning tools can be widely used in many places, for cleaning bathrooms, kitchens, toilet, sinks, bathtubs and other places that are easily blocked
FLEXIBLE AND EASY TO USE: Drain cleaner sticks is 63 inch length, the flexible metal tube has good toughness that can be bent freely. Makes this drain cleaner accessible to all hard to reach narrow bended places. Press the red handle to reveal and open the claws, release the handle to grip the item, four claws are easy to grab a variety of small objects, can hold item tightly to prevent it from accidental falling when pick up
Handheld Bidet Sprayer for Toilet, Baby Diaper Washer with Adjustable Water Pressure Control, Stainless Steel Shattaf Spray Attachment with Hose for Feminine Hygiene, Pet Shower, Bathroom Clean
【Premium Quality Material】Universestar bidet sprayer kit is made of 304 stainless steel and lead-free brass, which is rust- resistant and leak-proof. With ergnomic designed handheld Sprayer for confortable use. The handheld bidet sprayer has 2 water pressure modes, Jet spray and Soft spray modes. Control the water pressure for a gentle and thorough clean up. An ideal choice for women during pregnancy and menstrual cycles.
【Multi-purpose USE】- For Cloth Diapering, Personal Hygiene Cleaner, Bidet, Feminine Hygiene, Bathroom Cleaning, Rinsing, Pet Washing, Muslim Shattaf, Surgery Recovery and many others.This sprayer suitable for whole family, help with personal hygiene problems.It not only works as a bidet sprayer and cloth diaper sprayer, but also can wash your car, water the plants, shower your pets, wash fruits, clean the walls and corners.
【Easy to Install】 This Bathroom bidet sprayer has 2 ways of installation, only for 5 Min to install this without plumper help. You can choose either to fix it on the wall or hook it next to the toilet tank. (All you have to do is to pay attention and make sure that your toilet tank's water inlet diameter is 7/8")
【Enviroment Friendly】- Studies have shown that an average person uses at least 57 sheets of toilet paper every day in the USA. Papers come from trees. Not to mention the trees that were cut down and the water utilized to produce the toilet paper. Now a hand held bidet sprayer prevents all of this. It is very convenient for all kinds of washing activities which includes bathing your pet, washing, cleaning diapers etc.
【Quality Guaranteed】This bidet sprayer for toilet includes brass T valve adapter, stainless steel bidet hose & hook holder/wall mount to form complete set and free PTFE TAPE. We have 180 days warranty, if you have any questions, please feel free to contact with us, we will reply you within 24 hours.
Sale
Greenco Bidet Attachment for Toilet Water Sprayer for Toilet Seat, Easy-to-Install, Non-Electric Bidet with Adjustable Fresh Water Jet Spray, Bidets for Existing Toilets - Accessories & Instructions
ESSENTIAL BATHROOM ACCESSORY - Upgrade your bathroom experience with the Greenco bidets for existing toilets and poop like royalty. This bidet attachment will leave you with a clean bum after ever use. Guest will love using your bathroom. 
DURABLE & HIGH QUALITY - The Greenco toilet seat bidet water sprayer is made of durable, high-quality plastic that does not rust. Our bidet is easy to use and optimum for personal hygiene.
EASY TO INSTALL - All accessories and detailed instructions included. The sliding mounting paddles make it easy to adjust to any toilet. Our bidet comes with a 34" hosepipe, main water supply adapter, 1 rubber washer, 2 adapter washers. No electrical hook-up or additional plumbing.
ADJUSTABLE JET SPRAY WATER PRESSURE - Our non-electric bidet has an easy-access control dial for instant pressure and nozzle adjustment so that you can tailor it for your best cleansing experience.
SAVE MONEY & OUR PLANET - Our non-electric bidet leaves you feeling much cleaner than conventional paper or wet wipes, and save money on toilet paper. Not only is cleaning with our bidet refreshing, gentle, & hygienic, but it is also environment-friendly. 
JP's Handheld Bidet Sprayer for Toilets, Bidet and Diaper Sprayer Attachment Installs In Ten Minutes for Home or Rentals, Complete DIY Kit with Adjustable Pressure T-Valve (PALM CONTROL)
[High Quality & Leak-Proof] We've listened to our customers' suggestions and combined them with our dedication to quality for our updated and upgraded bidet sprayer. From the corrosion proof engineering-grade plastic body to the brass and ceramic internals of our upgraded T-valve, you'll never have to worry about leaks or inconsistent pressure. Plus, you'll get our 180-day refund guarantee -- all backed up by our Seattle-based team!
[Simple 10-Minute Install] You're just 10 minutes away from a refreshing, thorough cleanse—on almost any toilet with a standard water supply! With a step-by-step install guide and complete installation kit, you can easily upgrade your bathroom experience without any specialized tools or plumbing expertise, choosing between a secure and removable tank-mount or a more permanent wall mounting option. If you need troubleshooting help or just have a question, our legendary US based support is here
[Adjustable & Easy to Use] Even if this is your first bidet or cloth diaper sprayer, there's no learning curve. Simply adjust the pressure to your preference, maintaining perfect control over the intensity of the water stream as you spray your way to a cleaner, healthier you. Ideal for anyone ages 4 to 104, the ergonomic handheld sprayer and versatile 4-foot long stainless steel hose make use a breeze.
[A Refreshing Clean] Reduce your use of wasteful toilet paper and opt for a purer cleanse that delivers the perfect wipe, using sparkling clean water from your home's water supply. Whether you use our bidet attachment as a toilet sprayer for personal hygiene or as a cloth diaper sprayer, you'll experience an efficient, consistent rinse every time.
[Eco-Friendly Money Saver] Save trees and your wallet! JP's Handheld Bidet Sprayer significantly reduces your need for toilet paper (by up to 75% per family!). Plus, it makes it easy for parents to use and clean cloth diapers, preventing disposable diapers from reaching landfills. The savings add up quickly—both for Mother Earth and your wallet!
Sale
FOOFOO Bidet Fresh Water Spray Non-Electric Mechanical Self Cleaning Nozzles White for Toilet Attachment Easy to Install
✔Non-electric, environmentally friendly, for you to save toilet paper
✔Easy to install, with metal braid hose and copper T adapter
✔Knob controls water pressure and switches to bidet self-cleaning mode
✔Hidden nozzle allows you to enjoy comfortable cleaning without worrying about possible pollution caused by the nozzle
✔After-sales guarantee: if you have any problems with the products, please contact us at any time through amazon, and we will have customer service staff to help you in 24 hours
How To Remove Hard Water Stains From Toilet Bowl
Final Thoughts
The presence of hard water running through your house can result in the buildup of scale stains on your toilet, sinks, shower, and faucets. To ensure there is clean and pure water in your home installing a whole house water filter can be great. You can also choose to install the under sink water filter for effective water filtration.
There are so many causes of stains on your toilet bowl. Removing the stains can be a tough task especially if you don't have the right cleaning agent. If you want to get rid of stains on your toilet bowl without spending too much time or using too much energy, look for the best commercial toilet stain cleaner. You can also go natural by using vinegar and baking soda. All the two methods work well in removing stubborn stains and giving your toilet a clean look.
---
Sale
Now, It's Over To You!
Now I'd like to hear from you: Leave a comment to let me know.
Spread it by Sharing on social media…