I am here with a new topic. Today's topic is buying a guide for best pressure washer pumps.
It can be the best part for you if you are searching for buying a washer pump or having a pressure washer already.
So read carefully…
You are going to get the full overview and a detailed guideline.
We all know that Pressure washing needs a washer pump capable of delivering high pressure beside low flow as opposed to other general pumping applications.
The pump also requires being light, economical and compact. Of course, a washer pump should be lightweight and not more expensive.
Honestly, there is no "simple and easy way" to pick a washer pump. If anybody or near neighbors attempts to explain that, what pump you require without discovering what you require flow and pressure are they're simply guessing.
I am again repeating they are just guessing. No need to take their suggestions anymore. It's a sensitive case.
You should know, Power washer pumps produce water up to pretty high pressure for quick and useful cleaning.
If you have never bought a washer pump before, or if it is a long while since you have, there are a few things you should judge before picking any washer pump. In selecting the best washer pump, there are various portions to be considered.
In this chapter, I would like to share my personal knowledge with you and the fundamental as well as crucial factors to keep in mind when choosing the best washer pump for your requirements.
First Assess
First of all, a few appraise you should look at first.
Do not buy a washer pump till you've determined your exact water requirements for pressure and flow!
Secondly, know your water system accurately (You must understand what plumbing modes you are using.)
In the third, determine what size washer pump is required for you (Your size of washer pump impact by the pressure specifications.)
In the fourth, Think, What do you want? A single or twin washer pump? (I believe you already know what does it mean here, A twin comes with twin flow system, and the single pump comes with only one flow system. It's simple to identify.)
In Fifth, What are you looking for? A Standard one or universal pump?Universal pumps are completely automatic, work with both positive and negative head conditions; they are perfect for placing into open vented cold and hot water systems, as well as do not need to pressure flow of water to begin the pump.
On The other hand, Standard pumps run only under positive head conditions, not any negative head condition; They are often suitable for placing into open vented cold and hot systems, They require a minimum amount of pressure flow of which is approximately 0.5 liters every 1 minute.
Choose The Suitable Location
When picking a pump, the installation location needs to be considered. All washer pumps are more valuable when accelerating preferably than pulling water. So which location you will use for your pump? Consider this matter while you are purchasing.
Recommend:
Pressure Washing Pump Types
Normally, they come with two types.
The first one is Reciprocating – Uses pistons, diaphragms or plungers.

The second one is Rotary – Uses screws, vanes, lobes, and gears.

All pressure pumps which are included in the reciprocating group and use plungers or pistons to add power to the water. There are two principal variations among the piston pump also plunger pump. Look at below!
Number 1 is:
The piston washer pump comes with a cylinder seal connected to the piston, so it passes it on every stroke. On The other hand, the plunger washer pump comes with a cylinder seal at the stationary point, so the piston passes through with every stroke.
Number 2 is:
The piston washer pump is operated by a drive shaft which is attached to the wobble plate or swash plate. The plunger washer pump is operated with the assist of the crankshaft.
Pressure Washing Pump Brands
So it is crucial to an understanding of the various kinds of washer pumps brands are available on the market.
Always remember that there are 3 kinds of washer pumps brands that are currently being suggested:
I will discuss each type of pump and try to provide you essential tips.
The 1st one is Wobble washer pumps. Wobble washer pumps are another type of electric pressure washers on the market. You will see wobble washer pumps on several Karcher units. Wobble washer pumps are inexpensive to build, and they're not replaceable. If you wobble washers pump breaks down, you've to reinstate your whole pressure washer unit. Sorry. This kind of washer pump is built to last approximately 300 functioning hours.
The 2nd most popular type of washer pump on the marketplace is axial. Axial washer pumps are more durable, powerful than wobble washer pumps. You will discover these washer pumps on the higher expensive gas or electric pressure washers composed of homeowners. Addressing, axial washer pumps will run about 700-800 hours of time before requiring replacement or repairs. And, of course, axial washer pumps can be replaced anytime you want!
The last and 3rd common type of washer pump is the triplex pump. I mostly like this brand. You will discover the triplex washer pumps on contractor-grade washers. These heavier contractor pressure washers are many times more expensive than the models usually sold to homeowners.
Get Most Popular Pump Brands
AR North America 4000 | AR 4000 | AR 3000 | AR 3100 | AR 2800 | ETD 3000 | Homelite 2700 | Briggs & Stratton | Fits Honda Excell | Universal 3000 | Himore 3000
Performance
You should consider the matters of how will a motor performance to you. Some of the lists are below:
How many outlets (like taps, sprinklers, hoses toilet cisterns, washing machines) will the washer pump be needed to service?
How many of the washer pump outlets will be able to work together?
What is the remotest distance from the rainwater pump or tank that the water requires being pumped into, as well is will be there any incline or decline associated?
Will the pump come with any outlets that need a powerful than average quantity of pressure to function efficiently?
Some pumps may be making noise sometimes. Will it be an issue for you?
For example, will the washer pump be placed nearby to a bedroom window or your neighbors?
Ideally, your washer pump supplier should be supervising you by questions such as mentioned the above, Find out your demands thoroughly, before displaying you with proper pump options.
Support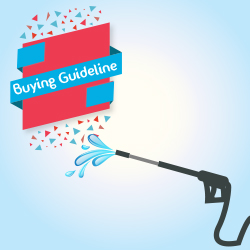 Choose a pressure washer pump that can fulfill your expected criteria, from a manufacturer who has an established track experience and will move a long distance towards hassle-free as well as rewarding rainwater harvesting also re-uses.
Despite all of the meticulous precautions, goods made with electric materials moving parts can endure technical concerns. So make sure your pump won't face such kind of trouble.
Most washer pumps come with a minimum of two Year Warranty periods". It is crucial to look at the characteristics what washer pump coverage. So make sure your pump will cover a great time of warranty period, and you will get the highest end of support from the manufacturer.
Reputation
All washer pumps design not the same! As well as the performance abilities, it is essential to examine the track history, reputation, and the brand of the pump. Though there is a good number of quality washer pump manufacturers working in the Australian and USA market, there are, regrettably, those of dubious reputation.
As you will depend on your pump to assist your water requirements in a consistent way, probably day basis also, it makes sense to spend the time to evaluate the well-known model and brand of washer pump you are considering.
A proven shortcut is to ask your pump retailer to explain why they are recommending a particular brand and model to you.
Now, there are many places to purchase a washer pump. Online retailers like Amazon and Repair Clinic have the most variety. You may visit my website to get the review article. Here you will find all the best pressure washers pump review. It can also be the best way to find out some best pump for your washer pressure.
As I said, there are many kinds of washer pumps are available in the market, and here I have described all the consideration factor in selecting the proper washer pump.
I am in the last stage of today's topic. I hope You have enjoyed my writing. I have tried my level best to let you know the full fact within a short guideline. Damn tools have visited and agreed with our guidelines.
Don't buy your pumps until you read the complete guidelines which I have mentioned above.
Again, I should tell you, the description which comes with a washer pump will usually show all your requirements to know about the pump. So read it deeply and match all the things discussed above.
Finally, be sure the item will come with correct configuration – vertical or horizontal – for mounting. I believe if you can follow the full guidelines of mine, you won't regret with your shopping.
Also, let me know what you are thinking right now also and even if you have any question or you want to pass some suggestion for me as well. I will be glad to share my more knowledge with you and to take from you as well.
Have a nice day.
---
Sale
Now, It's Over To You!
Now I'd like to hear from you: Leave a comment to let me know.
Spread it by Sharing on social media…