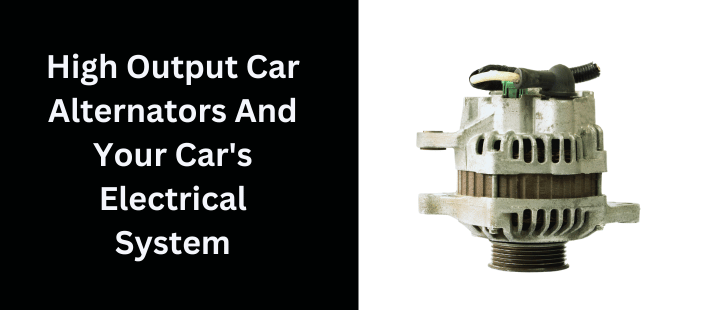 As you may have already heard, many car owners are replacing their original alternators with high-output versions. As an essential part of your car's electrical system that generates the power used in various vehicle operations, this upgrade makes a lot of sense.
But you may still wonder: what exactly does a high-output alternator do? How does this change from standard to high output affect your car's electrical system? Are there any real benefits to making this change or is it just a showy after-market piece?
To help you answer all of these questions and more we are going to explore the connections between these upgraded high output car alternators and your vehicle's electrical system. By the end of this page, you will know everything you need to know about this part and whether this upgrade is a good choice for your vehicle.
The definition of a high-output alternator:
As was mentioned in the introduction the high-output version of the alternator is an upgrade to the standard version that comes with most cars. This enhancement is key to meeting the high demands of electrical systems that are caring for various systems and in-car electrical amenities.
These high-output options differ from the standard versions via the amount of output that they provide. For example, a standard alternator usually produces somewhere between 60 to 100 amps whilst the much more powerful high-output alternator is designed to give about 150 to 300 amps which is double or triple the amount of energy conversion.
These advanced electrical components are most frequently used for high-performance vehicles as well as trucks and other cars with high electrical needs. Often any vehicle with GPS devices, large sound systems, or other after-market electronics will need a high-output alternator to account for the extra electrical load since most vehicles are only equipped to just about cover their minimum electrical needs.
How does this part actually work?
Knowing what something is and what it is used for is not the same as understanding how the mechanism actually functions. An alternator in your vehicle in simplest terms converts mechanical energy into electrical energy. This is accomplished because as the engine rotates, it drives a rotor in the alternator which in turn produces an electromagnetic field.
This then induces an electrical current within the windings which in turn then generates electricity which can be used for your cars appliances.
So when we talk about high-output alternators we are referring to the same process of generating electricity but with a few key alterations. The big difference in its design is that it has a larger magnetic field with larger windings causing it to produce more electrical power from the same amount of mechanical energy. It also comes with diodes and rectifiers that have been built bigger to handle this significantly larger electrical output.
Why is high output better?
You may be wondering whether you really need a high-output alternator or whether you should just stick with what you have. To answer this we have listed some of the key advantages of the best high-output alternator that are worth your consideration. Come and take a look.
An increase in power:
As has been pointed out, high output means more electrical power for your vehicle meaning that not only do you get more power to play with and use over longer periods but you also allow yourself to be able to upgrade your sound system and other parts of your car with enhanced versions without worrying about your electrical system.
Better overall performance:
Since most alternators only cover the minimum requirements, some systems can suffer in their performance since they are not receiving the maximum amount of power. Whether this is regarding your lights, sensors, or something else, having high output increases the overall performance of your electrical equipment.
Longer life for the battery:
Contrary to popular belief, your battery does not always have a full charge with a standard alternator. With the use of your various electronics the charge goes up and down and varies from time to time meaning that if you leave your lights on for a couple of hours, you might have less battery than you thought. With the high-output version, however, you can always run with plenty of electricity to keep your battery at full charge.
A more reliable system:
Having been designed with durability and extreme conditions in mind, a system that gives you more energy is better equipped and more well-adapted to handle a variety of incidents and unpredictable circumstances. This allows you to trust more in your vehicle and know that your power is not going to give out at the first sign of trouble.
What to consider when installing
High-output alternators should always be installed by a professional mechanic even though the process is fairly straightforward. However, you should also consider the fact that your car will need upgraded wiring for safety since it will handle more electricity.
The mechanic may also need to adjust the belt tension to avoid damaging your alternator and you will need to check the compatibility of your battery with the alternator so that your vehicle can handle the extra power and run at peak performance.