In online, there are thousands of shops to get a window vacuum cleaner is not an easy task. The following table helps you to find the best window vacuum cleaner for home use
Whether you're a homeowner, a long-term renter, or just living in a new place for a few months, you have to clean and maintain your living space. Keeping your home clean improves your mood, helps manage allergies and sickness, and overall makes life more comfortable. Luckily, most housekeeping tasks are simple, repetitive, and require very little thought on your part—sweep up dust, mop the floors, wipe off the counters—but there are a few parts of spring cleaning that are a bit more of a pain. One such task is cleaning your windows.
The Importance Of Window Cleaning
Windows are an oft neglected part of regular house cleaning, but they are one of the most important parts of your home and require regular care. After all, windows let in natural light, making your rooms feel bright and homey—with the added bonus of keeping your electricity bill down during the day—and give you views of greenery and blue skies. Now, as more and more people are working from home, it's more important than ever to keep your windows clear and clean.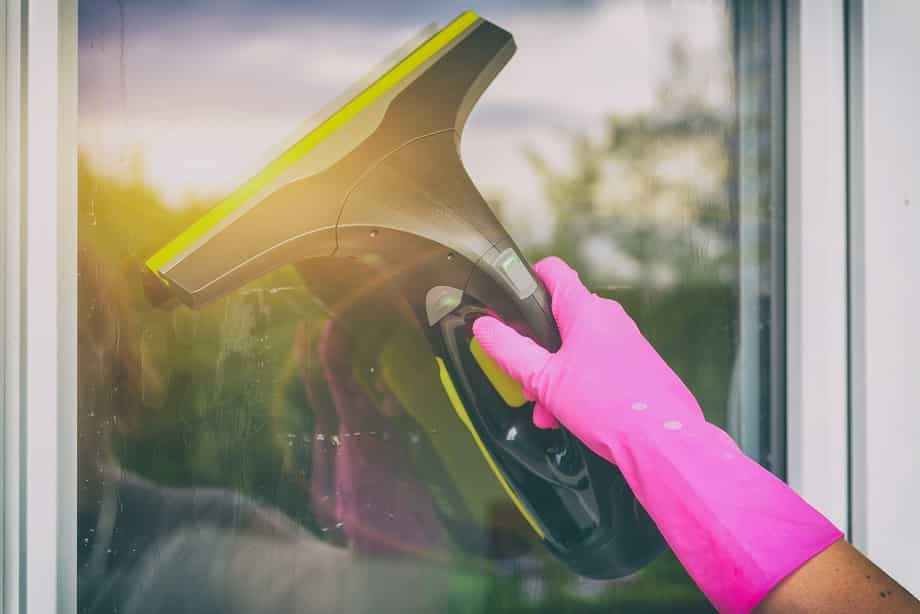 However, like most of us, you likely haven't been keeping up with your windows and there may be layers of accumulated dirt and grime that are truly tedious to remove and require a series of steps to fully get rid of. Luckily, there are tools out there to help you out with the tough spots and will help keep your windows spotless for ages to come.
Why Choose A Window Vacuum?
Choose the best window vacuum cleaner for home use
A window vacuum cleaner is an indispensable piece of equipment, especially for homeowners out there, because it allows you to get all the steps of window cleaning done with a single tool and just a couple of passes over your window panes. They are cordless and handheld, so you can even take the window vacuum outside to get both sides of your windows absolutely spotless. And, once you get through that first deep-cleaning session with your windows, a window vacuum will make keeping up with your window cleaning much easier to incorporate into your regular housekeeping.
Choosing The Best Window Vacuum
Now, as with pretty much any possible thing you could buy, there are a lot of different options on the market for a window vacuum cleaner and it can be difficult determining just which vacuum is the best option for you and your needs. Luckily, you don't have to figure this out alone. There are websites out there that have done the work of trying out different vacuums and evaluating how good of a purchase they actually are, such as cleanhomeguide. These reviews and others online can help you narrow down your choices instead of having to stare at endless pages of options on Amazon and other retailers.
Generally speaking, there are a few different criteria to look at when considering buying a new window vacuum cleaner:
1. Check The Price
This is stating the obvious, but depending on your budget, your choices may be limited. However, depending on your needs, the most expensive option may not have even been the best choice for you! The most important thing is that you're getting the appropriate bang for your buck.
2. Determine How Much Power You Need
As these cleaners are handheld and cordless, they do rely on battery power. Depending on the quality of the cleaner and any additional features, window vacuums may have different battery lives and power levels. Check out manufacturer estimates for how long the window vacuums should run for.
3. Consider Which Accessories Come With It
Window vacuums, like their other vacuum brethren, can come with different heads, nozzles, and similar attachments. These attachments are for different parts of the process (water and detergent cleaning, vacuuming, reaching corners, etc.), and some of the window vacuums come with a greater variety of accessories than others. Depending on your needs, you can customize your window vacuum experience with these various attachments.
4. Read The Reviews
Check out what other consumers have to say! They've already gone through the trouble of test-driving these window vacuums, so you might as well take advantage of any wisdom they can provide. Both professional reviews and customer reviews will give you a sense of what it's like to actually operate one of these machines.
By taking all of these criteria into account, you should be able to determine which window vacuum cleaner is the best option for you. Compared to other cleaning appliances, such as a standard vacuum, a window vacuum is a much more affordable tool and it can cut down the time spent on your deep-cleaning sessions.
Reviews of The Best Window Vacuum Cleaner For Home Use
Kärcher WV 5 Plus N Window Vac, Yellow/Black
Streak-Free Cleaning - The quick and easy way to clean flat surfaces, such as windows, tiles, worktops, condensation and mirrors leaving a sparkling, streak-free finish.
Edge Guidance System - The manually adjustable edge guidance system allows perfect streak-free cleaning right up to silicone seal.
Exchangeable Suction Heads - The 170mm & 280mm exchangeable suction heads ensure you have the correct size for each cleaning task.
Removable Battery - The removable battery and optional replacement battery allows uninterrupted cleaning.
Battery Indicator - LED battery indicator ensures you can plan your cleaning tasks accordingly.
Weight including battery (kg) : 0.7
2 Years Guarantee
Gladwell, Gecko Robot Window Cleaner, Smart Glass Cleaning Robotic Technology App and Remote, Powered Washer for Table High Windows Ceiling Magnetic Automatic, Outdoor Indoor, Black
Intuitive cleaning technology - Our smart artificial intelligence powered design will get your windows clean quickly and efficiently. The gecko detects edges and uses its advanced algorithm to scrub every part of your window, including those hard to reach areas that you would not be able to get to on your own
Safe and secure - With the gecko window cleaner, you do not have to climb ladders or put yourself at risk, you can clean your windows right from your sofa. Our cleaner comes with a safety rope attachment feature, ensuring double protection and security for your device
Remote and app power - The gecko's smart design allows it to be controlled from the palm of your hand. The gecko comes with a full access app, allowing you to quickly and simply tailor the controls to fit your home
Deep clean - The gecko window cleaner uses suction technology to attach to your window. Our washable microfiber pads thoroughly scrub windows, allowing for a deep and sparkling clean
Satisfaction guaranteed - We stand behind our product and our customer service team is here for you and happy to help answer and questions you may have
Karcher WV 1 Plus Window Vacuum Squeegee - For Showers, Mirrors, Glass, & Countertops - 10 in. Squeegee Blade
Cordless Design: Featuring a Li-Ion battery, our cordless window cleaning tool is not dependent on power connections.
Lightweight and Compact Design: This window cleaner tool sits comfortably and easily in your hand without creating fatigue; the small device quickly clean windows from top to bottom with the Karcher battery-powered Window Vac
Easy to Use: Spray the window using the water vacuum cleaner, loosen the dirt on the window with the microfiber cloth on the spray bottle and finish by vacuuming up the dirty cleaning solution with the Window Vac without without leaving any streaks or drips
Multi-Functional Cordless Floor Cleaner: This window vacuum is 3x faster than traditional cleaning methods and is equipped to be used on all smooth surfaces such as tiles, mirrors and shower areas
Set Includes: A window vacuum cleaner with a dirty water tank of 100ml capacity, spray bottle standard with microfiber wiping cloth, and a 500ml window cleaner concentrate
Conclusion
Keeping your windows clean is a critical part to making your living space the best it can be. It will make your home look better outside and in. Right now, keeping your home in tip-top shape is more key than ever to keeping you and your loved ones healthy and comfortable, and getting that sweet sunlight through clean, streak-free windows is guaranteed to boost your mood.
The best window vacuum cleaner for home use.
---
Sale
Now, It's Over To You!
Now I'd like to hear from you: Leave a comment to let me know.
Spread it by Sharing on social media…