Push mowers are a classic type of lawn mower that is still popular to this day.
Available in:
Manual
Gas
operated options, they are versatile pieces of gardening hardware that makes short work of tough lawns while providing an excellent finish that will be the envy of your neighbors.
Better still,
With various types available it is possible to find a suitable machine for your gardening needs at an affordable price.
Whether you want unrivaled power or a precise cut for your lawn, they are an excellent choice for getting the ideal cut you require.
Check out the guide below for all the information you need to buy the best push mower!
Pushing Power – Gas or Manual
One of the most notable aspects of push mowers is that they can be powered manually or by gas.
This gives a good variety of options for buyers, as both types offer their advantages, by so finding a product within your budget and suitable for your lawn is easy enough.
As the name suggests, manual push mowers have no power source, being operated directly by the user.
It's as simple as it sounds –
get the mower on the grass and start pushing to begin cutting the lawn.
As a type of cylindrical mower,
Manual push mowers consist of several horizontal cutting blades at the front of the machine.
When pushed,
These blades continually rotate against a fixed blade found at the bottom, resulting in a very precise and even cut across the lawn.
Gas push mowers feature a more advanced design than their manual counterparts.
They feature a combustion engine that powers a fixed horizontal blade, rotating it at high speeds for impressive cutting powers.
Advantages of Manual Push Mowers
Manual models offer a range of advantages, most notably being a very affordable option that is easy to operate.
These are lightweight machines that aren't too strenuous to operate, making them suitable for people that may struggle to operate heavier equipment.
Pushing them is very easy and offers a great quality cut too.
Push mowers are one of the best types of mowers for getting a close-cut finish on the lawn, so if you are looking to achieve an ornamental style lawn, these are a great option.
Furthermore,
The lack of electric or gas engines means that they are some of the cheapest on the market. Even those on a modest budget should be able to find a suitable manual model without any trouble.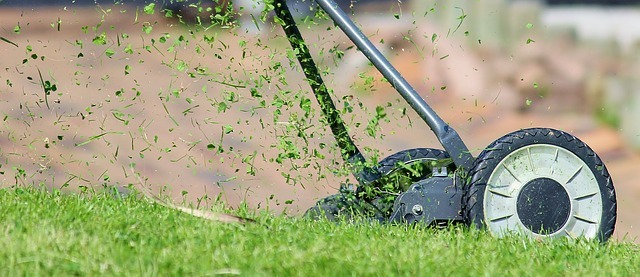 Advantages of Gas Push Mowers
When it comes to gas push mowers, there is one significant advantage they hold over their manual counterparts, and that is cutting power.
As you may expect,
The presence of a combustion engine provides some serious cutting power for a mower, allowing gas mowers to cut grass of any condition easily.
So,
Should you have a large lawn or grass that's often
then a gas push mower is a great choice, as it can make short work of overgrown lawns.
Manual push mowers often struggle with long and wet grass, whereas a gas mower shouldn't struggle to cut any lawn.
Also,
Gas models often come with additional features that you may find useful.
For instance, an adjustable cutting blade is an excellent feature for getting the right finish regardless of grass length, while some come with mulching functions that let you repurpose your lawn cuttings.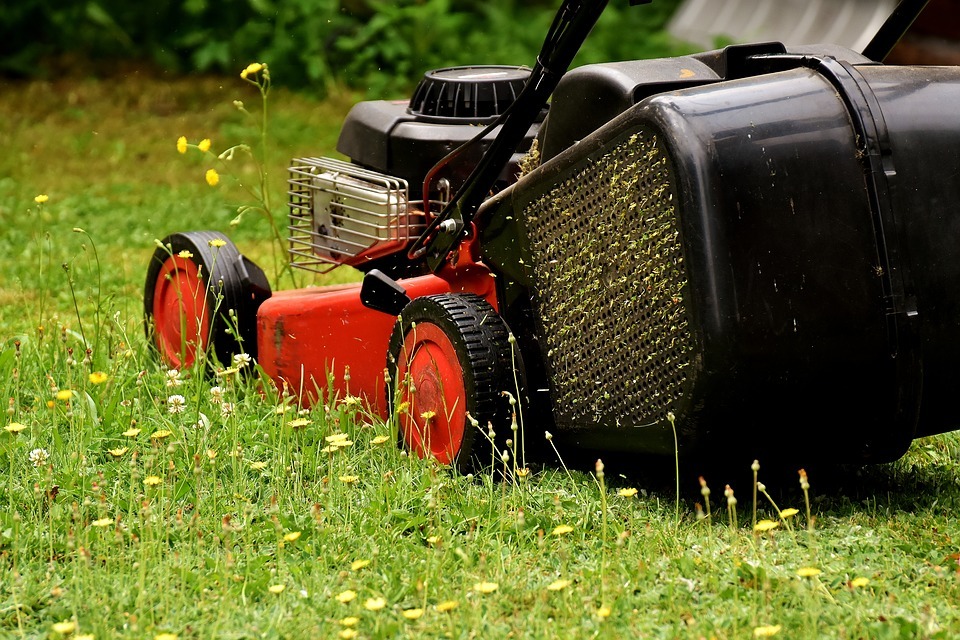 Things to Consider When Buying
Push mowers are great for many types of yards, but as there are several types of the mower to choose from it is important to consider a few things to ensure you get the most suitable mower for your garden.
Lawn Size
The bigger the lawn, the more suitable a gas push mower is.
While it's possible to use a manual in larger yards, it will take a lot more time and effort to complete, even more so if the lawn is bumpy and filled with weeds.
As gas mowers are much more powerful, they are generally far easier to use in large lawns, especially if they come with self-propulsion!
That said,
they aren't always necessary for a smaller size lawn.
For a small lawn,
you cannot go wrong with a manual push mower.
They offer great cutting precision so will produce a wonderful finish for the lawn, and the fact they are much easier and more affordable than gas makes them a no-brainer for smaller lawns.
Cutting Width
The cutting width of a mower refers to how wide of a cut it produces.
Those with larger lawns may benefit from a larger cutting width as it saves you having to make several passes across the lawn, resulting in a much quicker mower.
Remember though,
The more cutting width the mower has, the heavier the device tends to be.
This will take more effort to operate, especially when making tight turns,
So it's
Important to know that more cutting width usually means more effort using the mower.
For the most part, gas machines have larger cutting widths, although it's possible to find manual mowers with a decent cutting width as well.
Cutting Heights
Cutting heights vary depending on the design.
For example,
Manual versions offer much lower cutting heights that are often fixed.
This makes them less suitable for cutting longer grass, as you should not remove more than 1/3 of length from the grass when mowing,
And their shorter cutting lengths often take this off unless the grass is regularly cut.
Gas push mowers are more likely to have adjustable cutting heights as they utilize a rotary blade design.
This is a great feature for those that mow throughout the year, as sometimes you want to take a little or a lot of the length away depending on the lawn, so it's certainly a more versatile choice.
That said, you can still find a manual mower with adjustable cutting heights, giving more options should your lawn tend to reach different lengths throughout the year, which is more common than not.
American Lawn Mower 1204
Adjustable cutting height from ½ to 1 ¾ inch
14-inch cutting width
Lightweight design – weighs just 19lbs
The American Lawn Mower Company's 1240 is an affordable and lightweight manual push lawn mower suitable for small to medium size lawns.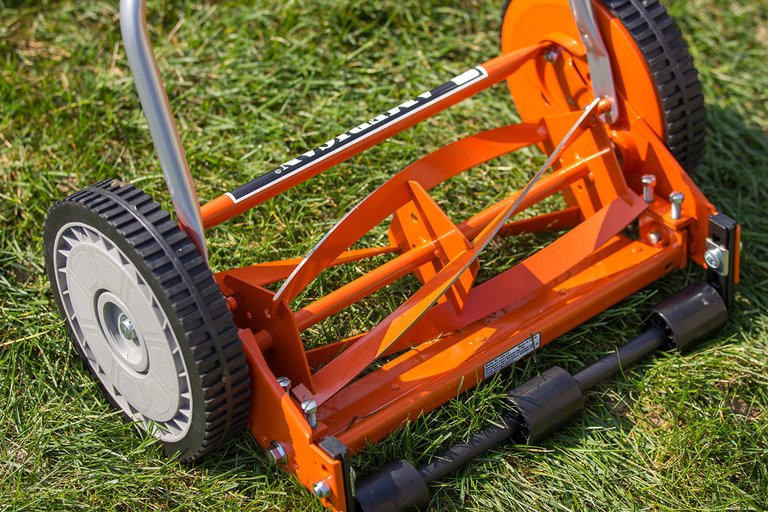 Featuring,
A patented precise scissor action cut that combines with a 4-blade steel ball bearing reel, the mower offers exceptional cutting precision for those seeking that perfect lawn every time.
These blades produce a great cut and thanks to the 14-inch cutting width you can expect to make simple work of smaller lawns. Medium size lawns will require more time and effort, but the final cut will remain perfect in either case, plus it weighs just 19lbs so shouldn't be too strenuous to operate!
Better still, the mower offers adjustable cutting heights, ranging from a just ½ inch to 1 ¾ inches, allowing you to get the desired finish depending on the length of your lawn.
Greenworks 16-Inch Reel Lawn Mower
4 adjustable cutting heights from 1 1/8 inch to 2 ¼ inch
16-inch cutting width
Two-in-one feature – mulches and collects clippings
This reel lawn mower from Greenworks is another great option for those seeking a cost-effective push mower for their yard.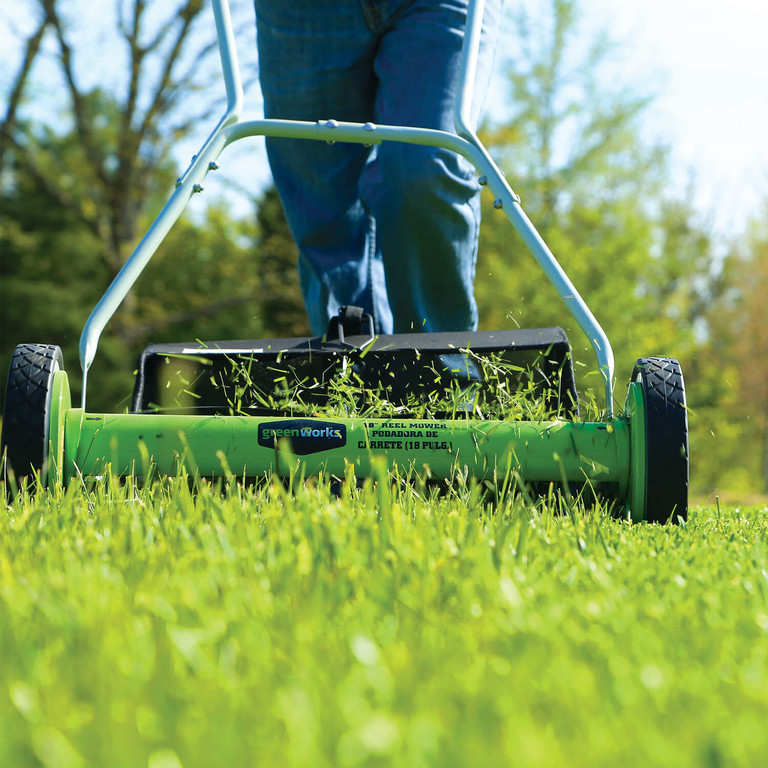 With a 16-inch cutting width, this is on the larger side for manual push mowers, making it great for anyone with small to medium size lawn.
It can cut a decent amount on one pass, meaning you'll be spending less time mowing, which is always a bonus!
Plus,
with four cutting height options, you can get the desired finish on your lawn, whether removing a minor amount of length or a few inches.
As a manual push mower,
There is no need for gas or electricity, so it's an eco-friendly option that doesn't run up any operating costs.
There is also a mulching feature built into the cutting blades, so the mower gathers freshly cut mulch in the spacious
collection bag at the back
.
The great States 5-Blade Push Reel Lawnmower
14-inch cutting width
Adjustable cutting width from 1-inch to 1 ¾ inch
Corrosion-resistance handles
With five heat-treated blades offering a 14-inch cutting width,
this push lawnmower from the Great States offers great performance for a low-cost investment.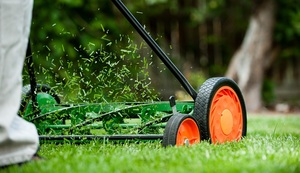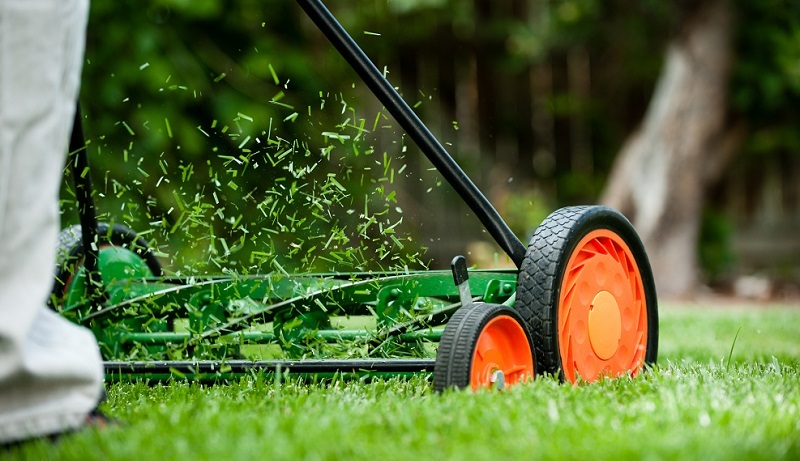 Capable of precisely cutting lawns to produce an ornamental finish, this lightweight push mower gets the job done with ease.
There are several cutting heights to choose from (ranging from 1" to 1 3/4"), making it easy to get the preferred finish depending on lawn length, and the large 10-inch wheels make maneuvering over tougher grass that bit easier.
Made from alloy steel construction
, this is a mower built to last, with the zinc-coated handles being resistant to corrosion while the steel blades are highly durable and won't dull quickly. For a modest investment, expect a high-quality push mower that provides a wonderful cut to your lawn!
Fiskars StaySharp Max Reel Mower
Adjustable cutting heights from 1-inch to 4-inches
18-inch cutting width
Chain drive design offers improved maneuverability
Reversible grass chute for collecting clippings
The Fiskars StaySharp Max Reel Mower takes a basic push mower design and improves upon it in many impressive ways.
Most notably,
It includes a chain drive design that offers improved maneuverability compared to other manual push mowers, making it as much as 60% easier to push.
When combined with the StaySharp cutting system that reduces unwanted contact and improves precision,
The mower performs to the highest standards, offering a quality, precise cut on every pass.
You also have four cutting heights across 1-4 inches for the desired finish, which can be easily adjusted with the one-touch lever.
Not only does it have great precision, but also plenty of cutting power, which is something often lacking in manual push mowers. The inclusion of InstaDrive technology results in a larger than average cutting reel diameter along with thicker blades, producing almost double the cutting power of your average manual push mower.
Scotts Classic Push Reel Lawn Mower
20-inch cutting width
Adjust cutting height – 9 settings covering 1-3 inches
5 blade design
Dual wheel tracking for easier maneuverability
This classic push reel lawn mower from Scotts is a fine choice for individuals seeking a high-performing push mower.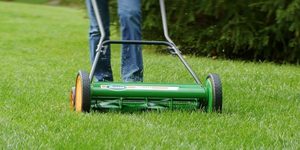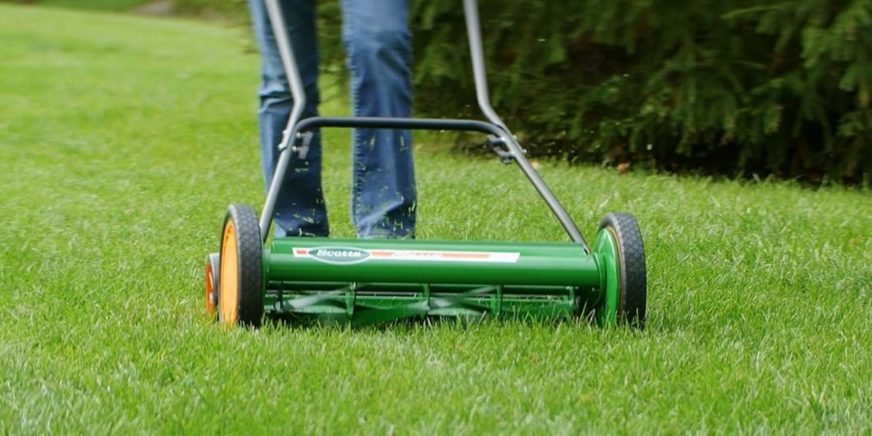 With a 20-inch cutting width, this mower can make short work of small and medium lawns thanks to its larger 5-blade design, and you can adjust the cutting heights to nine different settings!
There are not many manual push mowers that have such a big cutting width combined with so many cutting heights, making this one of the most versatile products on the market.
If you want to change the cutting height, simply hit the quick snap height adjuster on the rear wheels and you are good to go!
Another unique design feature is the,
Dual wheel tracks, which results in four different wheels to help make moving the mower around much easier – this is a great feature for those more difficult to maneuver lawns!
5 Best Gas Push Mowers
Remington Gas Push Lawn Mower
140cc OHV engine
21-inch cutting width
3-in-1 discharge
6 cutting heights
The Remington RM130 Trail-Blazer is a high-powered gas push mower suitable for lawns of any shape or size. With a power 140cc OHV engine, there is some serious cutting power in this mower, allowing users to easily mow away thick, long, and wet grass without fuss.
Cutting width of 21-inches is also suitable for larger size gardens,
letting you cut large widths with fewer passes,
which is a great way to reduce the time and effort required for mowing larger sized lawns.
Adjustable handles with comfortable grips are good for avoiding any discomfort or strains when using the mower, while there are six cutting heights to choose from, allowing for the perfect height to suit your lawn.
The 3-in-1 discharge feature is also convenient as it allows for mulching to be spread across the lawn for a natural fertilizer. It can be discharged from the sides of the mower directly onto the lawn, or simply stored in the collection bag at the rear, where you can dispose of it or use the mulch elsewhere.
Husqvarna 21″ Push Lawn Mower
Powerful 160cc Honda GCV engine
21-inch cutting width
9 cutting heights
High rear wheel design for easy maneuverability
Soft handle grip and adjustable handle length
The Husqvarna is a robust gas push lawn mower capable of cutting even the toughest lawns with relative ease.
This is no thanks to the monstrous 160cc Honda GCV engine,
which provides exceptional cutting power that is suitable for any lawn.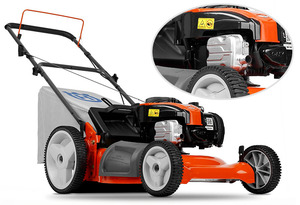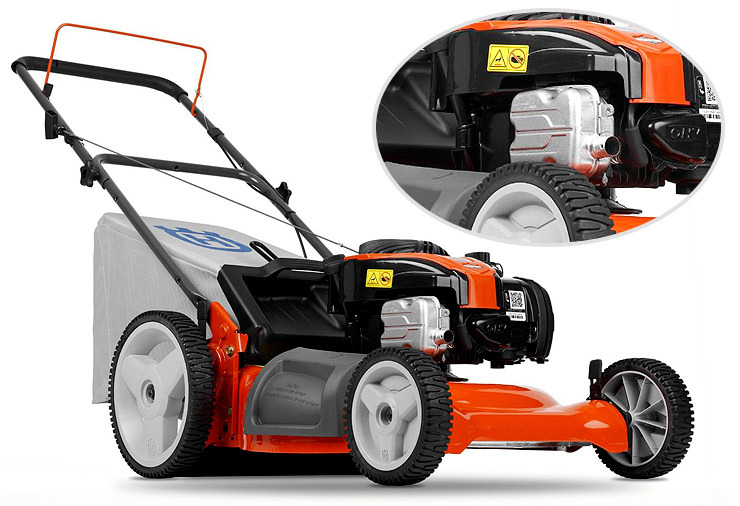 Granted,
Larger lawns tend to benefit most from the additional power,
But the 21-inch cutting width is also suitable for small to medium size lawns too –
it's an all-rounder that shouldn't disappoint!
Gas push mowers are often on the heavier side, and while this is far from lightweight, it does include a high rear wheel design that aims to make maneuvering the mower much easier.
It works for the most part,
Although those that struggle to move heavy objects may find difficulties operating the mower.
That said, the inclusion of nine cutting heights and three cutting systems (mulching, side discharge, and collection) certainly make this a worthwhile investment, especially those with tougher lawns that feature a lot of slopes, weeds, and lengthy grass.
Poulan Pro 2-in-1 Hi-Wheel Push Mower
140cc Briggs & Stratton Engine
21-inch cutting width
4 cutting heights
2-in-1 discharge
The Poulan Pro 2-in-1 Hi-Wheel Push Mower has all the features you could want from a versatile lawnmower.
Boasting an impressive:
140cc engine
a 21-inch cutting width
4 cutting heights
2-1-in discharge
there is a lot to enjoy about this great gas push mower.
The engine and cutting width combine for easier mowing regardless of the lawn type.
Larger lawns or those that feature slopes and tough grass are often hard to mow,
Bt this powerful gas mower is designed to make short work of even the most unkept lawns.
It's also designed to be easy to use. The high rear wheel design results in much smoother usability, reducing the weight and making it easier to navigate in tight spaces, letting you get that perfect cut no matter the shape of the lawn.
The 2-in-1 discharge feature is great for creating your mulch, allowing you to instantly discharge clippings at the side of the mower, providing your lawn with even more nutrition!
Yard Machines 20-In Push Mower
140cc OHV Engine
20-inch cutting width
3 cutting heights
The Yard Machines 20-inch Push Mower offers a powerful gas mower with a reasonable price attached. Sporting a durable 140cc engine, it has some serious cutting power while still being easy to operate, with the 7 x 7-inch wheels helping to increase maneuverability.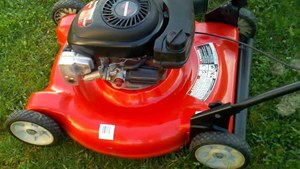 You can easily switch between the three cutting heights for a nice finish to suit your lawn, while the side discharge sends the clippings back onto the lawn where they can act as a natural fertilizer.
It saves the hassle of cleaning up the clippings and promotes a healthy lawn – a win-win!
Troy-Bilt TB105 159cc 21-inch 3-in-1 Push Lawn Mower
159cc OHV engine
21-inch cutting width
Dual lever height adjustment and mulching
The TB105 from Troy Bilt offers easy mowing for a reasonable price, with this powerful gas push lawn mower being a great choice for medium size lawns. Fitted with a robust 159cc OHV engine, there is plenty of cutting power with the mower, which is especially good for lawns that are uneven or have hardier grass.
For simple usability, it comes with a 3-in-1 discharge option, including mulching, side discharge, or collection into the large grass catcher container. There is also a dual-level deck height adjustment feature that allows you to quickly change between the six different cutting heights, further improving the usability of the TB105.
The gas tank holds up to a quart of fuel, which should be more than enough for small and medium lawns without needing to refuel, especially considering the impressive 21-inch cutting width that reduces mowing times.
Lawn Mower Safety [Infographics]
---
Sale
Now, It's Over To You!
Now I'd like to hear from you: Leave a comment to let me know.
Spread it by Sharing on social media…