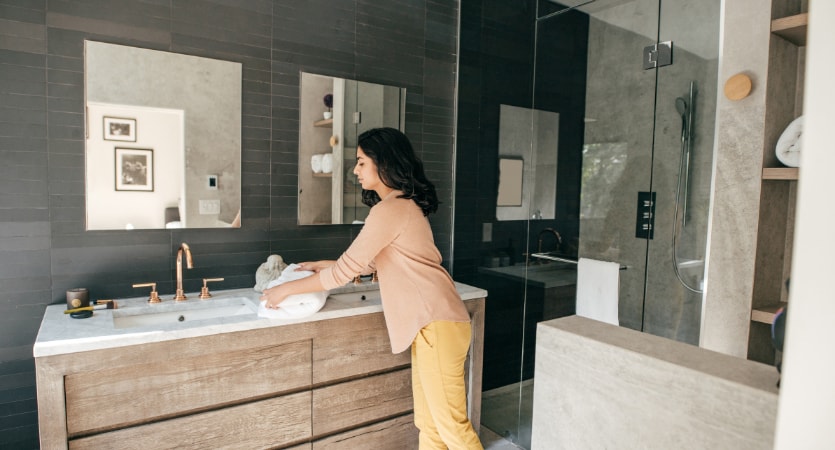 It's the time of the year again for spring cleaning. Instead of spot cleaning here and there to keep your house looking good, this is the time to get rid of the clutter you have been collecting since your last spring cleaning session. While it may not seem like it at first, you probably have collected a lot of stuff. So, now is the time to roll up your sleeves and remove the things you no longer need. Here are some tips on removing the clutter to have more space in your home, especially if you have to stage your house to sell it this spring. 
Seven Simple Spring Decluttering Ideas For Home
Rent a Roll-Off Dumpster
One of the first steps to decluttering is getting rid of the stuff that is no longer useful to you or anyone else. This includes broken items and stuff that would be embarrassing to give away. If you have a lot of this stuff stored in attics, basements, and other nooks and crannies in your house, renting a roll-off dumpster may be a good idea. These dumpsters come in various sizes and allow you to toss out a considerable amount of junk in a few cleaning sessions. You also typically have up to a week to rent these dumpsters.
So, you don't have to rush to get your home clean in one day. Instead, you can spend several days cleaning various rooms in your home. Then once you're finished, you can call the dumpster rental company to remove the dumpster from your property. 
Invite Friends and Family Over for a Giveaway
Once you have taken the time to get rid of stuff that no one can use, another helpful hint for decluttering your home is to have fun with the remaining items. You can create a giveaway game. Since you will probably have a strong emotional attachment to your remaining items, the challenge will be for you to allow friends and family to take these items.
But you have to fight the urge to cling to them. You lose points if you fail to give away the old lamps, clothing, electronics, or other knick-knacks that your family wants to take. And if you lose too many points, you may have to be responsible for taking them out to dinner or some other outing at your expense. 
This is one approach to the game. You can develop another strategy to help ensure you give away the items to your friends and family without much resistance. The ultimate goal of this giveaway game is to get rid of as much clutter as you can. If you can not arrange your friends and family, you can hire Personal Maids for this type of cleaning job. They are highly professional.
Make Use of Feng Shui
If you're not excited about creating a game, another way you can help get rid of the clutter is to incorporate Feng Shui into your decor. This ancient traditional Chinese practice is a way to harmonize your environment according to the rules of a Bagua. 
Each section of your home correlates to an area of your life. Therefore, decluttering and balancing the area is not only beneficial to that part of the house. It also pertains to a specific area of your life. These areas could include your love life, creativity, career, and more. Knowing what works in each area will allow you to remove the excess that doesn't work out of your home and into the dumpster you've rented. 
Consider Thrift Stores Your New Best Friend
If you have some clothing, furniture, and appliances in good condition, you don't have to throw them away. After all, one person's trash is another person's treasure. So, instead of tossing items you no longer want, consider giving them to charity or your local thrift store. Someone may fall in love with the unusual vase you never put plants in or that quirky tree lamp you never use. They may even find a good use for that outdated toaster or other appliance you purchased on impulse from an infomercial that you never seem to use. What's even better than giving away your items is you may be able to claim them as a tax deduction during tax season. 
Make Money From Your Old Stuff
If giving things away doesn't thrill you because you're short on cash or because the items you don't want have high value, consider making money from them. There are numerous ways to get cash for your old stuff. One way is to set up an old-fashioned yard sale. You can put prices on your items and advertise that you will have a sale in your local neighborhood soon. 
If the idea of a yard sale doesn't sound exciting, you can also sell your items online. These marketplaces include Craigslist, Facebook, and eBay. If you aren't quite savvy with the internet and aren't pressed for cash, you can also work with local consignment shops to help you sell your second-hand items. They will pay you a portion of the benefit once they sell the product. This could be especially beneficial if you have old furniture pieces that are still in good condition that you want to sell. These tactics should yield a good return on your old items that were about to end up in a trash heap. 
Turn Old Items Into New Ones
Although this tip may not be the best option when you need to declutter, it could be a fascinating way to use your old stuff. If you are the artsy type, you may be able to tap into your creative genius to create unconventional furniture pieces that fit well with your decor. 
For example, do you have a huge trunk that you're not using? Then it is possible to convert it into a unique cocktail table for your living room. If you have an old leather suitcase, consider converting it into an ottoman or storage bin for children's toys. There is no limit to where you can go using your creativity. This tactic will work well as long as your newfound hobby doesn't create even more clutter in your home. 
Don't Forget About Vertical Space and the Area Under the Stairs
Sometimes the excess items you have aren't clutter. But they need a place to go so they don't pile up in areas of your house and start looking like clutter. If you don't have a lot of space, consider turning your walls and ceilings into storage areas. You can build traditional wood shelves or create elaborate robotic shelving that you can move up and down at the press of a button.
And don't forget about the massive space under your stairs that you may not be using. Instead of allowing this to lie dormant, you can convert it into extra closet space. You can use it to store seasonal items such as heavy blankets, winter clothing, or Halloween and Christmas decorations. 
Final Thought
Decluttering doesn't have to be a burdensome project that you do every spring. Instead, if you add value to why you're doing it or have some fun with it, you will be able to achieve some outstanding results in no time! And you may even be able to get a little cash for your efforts unless you lose the giveaway game to your friends and have to take them out to dinner.