Comparison of Best Product to Clean Deck & Fence:
While walking on the deck, you have seen dust in one corner.
It isn't pleasant to the eyes of anyone. Again, the fence covered the surroundings of your house gets damaged too.
Keeping the deck and fence cleaner is truly a necessary part of house cleaning.
But the matter is properly cleaned them is thinkable. Sometimes we don't know how to clean a deck and fence properly.
We just brush them and try to make them neat and clean. Here I am going to explain some tips on cleaning the deck and fence of your house.

Fence & Deck Cleaning With Pressure Washer
Usually, pressure washer cleaning is the most and commonly used ways to clean the deck and fence. Many homeowners clean their house's deck and fence once a year.
They use a pressure washer cleaner to clean them. Using pressure washers for cleaning case can be more effective and time-saving rather than other techniques. You can use both gas powered or electric pressure washer pump to clean the deck.
It's better to choose a gas-powered machine as this is more powerful than an electric pressure washer. The first thing to remember while cleaning, you should take care of wood deck and fence as they may get damaged with the pressure washer.
Here is a description on how you should complete the cleaning the deck and fence.
Deck Cleaning
Move to the deck side of your house and check out how much dirt, debris is floating and lying there. First sweep them (leaves, twigs, dirt, waste papers, etc.) and then clear the cracks. Then you need to scrub the wood surface. You can use cleaner to scrub the wooden deck or apply the bleach-water solution on it.
It helps to clean any algae, mildew, etc. Spray the solution or cleaner with a pressure washer for a large deck area. Then take the time to soak the solution, and later pressure washes them. Then apply a stain or sealer on the deck. Don't work on the sides where the sun heats directly.
Also, remember that you should not let the detergent or cleaner dry totally on the surface of the deck. It will make the deck dirtier, and spots will be seen everywhere.
Fence Cleaning
For cleaning the fence, you don't need extra attention while cleaning the deck beside the fence. But you should follow few things while cleaning the fence. A fence can be of different types like a wood fence, vinyl fence, steel and aluminum fence, etc. You need a few tools or materials to complete the cleaning task. These tools are water hose, soft scrub brush, soft cloth rags, wood stain, bleach, etc.
You can clean the fence manually with the rags or use an automatic pressure washer to clean and stain the fence. Vinyl fence requires extra scrub for some tougher stains and dirty spots. You also should clean the vinyl fence in every 3-6 months. Cleaning wood fence doesn't require an extra scrub as this is easier to clean based on some spaces.
Metal fences are easier to clean among all kinds of fences available in your house. Chain link, steel, and aluminum, etc. can be cleaned through less scrubbing and staining. Start cleaning the fence from the top to down to prevent any streak.
Chemicals or Detergents?
Sometimes there comes a question of choosing between chemicals and detergents to clean the deck and fence. But the reality is you can select any of them. These things help to loosen the dirt and stains. Besides this, you can save your time to use them.
A point that; you should not use ordinary chemical or detergents, those are not suitable for a pressure washer. You should use the low-pressure nozzle of the pump to spray the chemical or detergent.
Safety
Before you start cleaning the outdoor deck and fence, you should close any door and window opened in your house. It will stop the dirt entering into your house. Clean any grass or bushes around the fence.
Then remove anything doesn't belong to the deck. Remember to repair the damage of wood fence and deck. Remove any damaged wood, kill the mold and apply new stain on the deck. Scrub the metal fence carefully so that the rusts on it goes away.
It's better to use detergent or soapy water with a pressure washer rather than any other harsh chemicals. Many expert cleaners suggest cleaning the deck and fence with deck cleaner those contains no harsh chemicals. Apply the cleaner in every corner where dirt lies most.
Cleaning the deck and fence doesn't require a high-pressure washer pump. It may damage the surface of the deck and fence.
A pressure washer or manual method of cleaning the deck and fence, both are helpful to keep your home dirt and vermin free. Read the instruction manual if you are using a pressure washer provided by the manufacturer.
Select a suitable time to clean the deck and fence thoroughly. Try to cover the whole area so that it won't take more time and labor. Thus, these tips will help you a lot as I hope.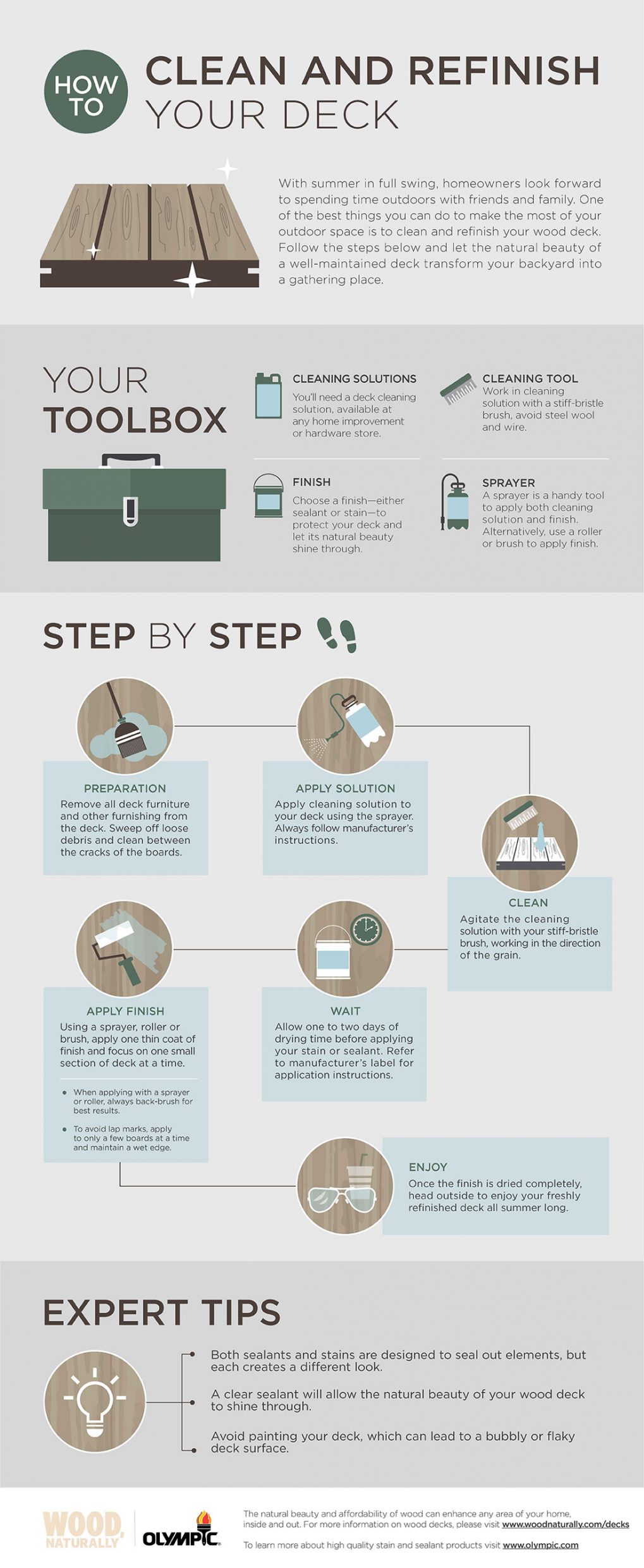 Collaborate With Cleaning Services
In case you manage a short-term property rental business,
it is now easy to contact cleaning services through Short-Term Property Management Software, which gives your staff members easy access to all their assigned tasks,
along with any listing information needed in order to complete the job.
---
Now, It's Over To You!
Now I'd like to hear from you: Leave a comment to let me know.
Spread it by Sharing on social media…