To maximize your car's lifespan, you need to take good care of it. Proper maintenance is essential, and if you neglect to change the oil or check the parts, you may end up without a vehicle in a short time. Fortunately, car maintenance doesn't have to be challenging – but you need to keep it regular. Maintaining your car every five years just won't do.
Keep in mind that even the tiniest things can affect your car. For instance, if your garage isn't well insulated, it may severely damage your vehicle. That's why you should always ensure that you hire professional services like A1 Garage to take care of your garage. Besides that, you should also ensure your car is in the best condition possible.
7 Steps – How to take care of your car
To make it easy for you to keep track of the maintenance schedule, we've created an ultimate checklist. Now you won't ever forget about rotating tires or checking the coolant level. Read on, learn how to take care of your car, and keep your car in its best shape.
Change Your Oil and Fluid
To keep your car running smoothly, you'll need to change the oil and other fluids every 3,000 to 5,000 miles, as suggested by the manufacturer.
Below is a comprehensive list of the fluids and oils that your car needs:
Transmission fluid
Power steering fluid
Brake fluid and antifreeze (in the winter)
Coolant (in the summer)
Perform a Visual Inspection
It's essential to check your car for any damage regularly. You should inspect the body for rust, dents, cracks, or other signs of wear. Make sure that the tires are in good condition and free of any holes or cracks. Also, look for uneven gaps in the wheels, and check for any leaks. The windshield, windows, and lights should also be undamaged.
Replace Spark Plugs and Wires
You ought to replace your spark plugs every 30,000 to 50,000 miles. It is a simple procedure that requires you to get under the hood and replace the old ones with new ones. Wires can run into a problem if they're exposed to extreme heat from aftermarket accessories such as high-performance mufflers or headers. If they're overly heated, they can start to crack and break down. Make sure you replace them at least every 15,000 miles. Fortunately, both plugs and wires are cheap and easy to replace.
Replace the Air Filter and Cabin Filter
You should also replace your car's air filter and cabin filter on a regular basis. The air filter should be changed every 10,000 miles or less, depending on the model of your car. The cabin filter is typically located behind or under the glove compartment. It needs to be replaced every 12,000 miles or so. The cabin filter cleans out the dust and pollen that's circulating in the air inside your car, and it makes it easier for you to breathe while driving. If you can't locate the cabin filter, you should ask someone at your local auto parts store to find it for you.
Replace Belts and Hoses
Your car's belts and hoses need to be regularly inspected for wear and tear as well as for leaks that may cause them to fail later on down the road. These parts are especially important because they affect your engine's power and cooling system. If your belts are damaged or loose, your engine's power will decrease, and it will take longer to cool down.
There are a few things you can look for to see if it's time to replace them:
You should visually inspect them for cracks, peeling, tears, or frays;
Next, you should try to move them around and make sure that they don't squeak or make any other annoying sounds when you drive. If they crack or squeak, then you should replace them as soon as possible;
Also, be on the lookout for belts that are starting to get brittle or dry out, because this means they're getting weaker and will soon break apart completely;
If you don't see any leaks, you should get some WD-40 at your local auto parts store and spray it around each belt to see if it stops any leaks from happening. However, If you find a leak on the belts or hoses around your car's water pump or timing belt cover, then you should replace them immediately.
Both of these parts control your engine's timing, and they're crucial for it to run properly; if they fail in any way before you expect them to, you risk damaging other parts of your car and causing major repair costs.
Service Your Car Regularly
And last but not least, you should ensure that your car receives all the care it needs. Unfortunately, you won't achieve that unless you're a mechanic. And since you're reading these words, we assume that's not the case.
With that in mind, you should take your car for a professional check-up regularly, and not only when you notice the "check engine" lights. If you want your car to run smoothly and avoid additional costs, you should let your mechanic check it every now and then.
Most manufacturers recommend servicing your car every 12,000 miles or once a year. Of course, it depends on the way you drive or whether you hear that something is wrong with your engine.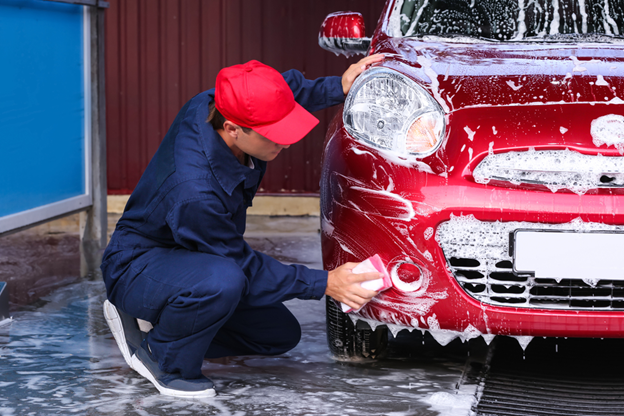 Protect the Interior of Your Car
When it comes to comfort, your car's interior is also essential. Keeping your seats clean and dust-free will significantly help. Don't wait until dust and dirt accumulate. Over time, your vehicle will smell bad and become a breeding ground for bacteria and viruses.
Clean up after yourself after every drive, and throw the trash right away. Ensure your car seat covers and floor mats are properly installed, and vacuum the interior every week. 
The Bottom Line
Taking proper care of your car is crucial if you want it to serve you for a long time. After all, getting one is a significant investment, and you would probably like to avoid spending even more on repairs that could've been avoided.
Unfortunately, many people underestimate the importance of regular car maintenance. Some even ignore the "check engine" lights, only to spend thousands of dollars on major repairs. Often, the damage is so severe that getting a new vehicle is the most economical thing to do.
To save yourself money in the long run, you should make sure your car's lifespan will be as long as possible. Of course, it doesn't mean that you should prolong it artificially. If your vehicle poses a threat to you and other drivers, replacing it is a must.
Still, with just a few simple rules, you'll be able to make your car work properly for a long time. Follow our practices, take care of your car, and save yourself money and trouble.
---
Sale
Now, It's Over To You!
Now I'd like to hear from you: Leave a comment to let me know.
Spread it by Sharing on social media…