Kitchens harbor fond memories. Whether you're fixing dinner, making snacks for your kids, or just having a family talk, the kitchen is always a preferred location.
Of course,
the floor is going to have loads of traffic and a ton of things falling on the floor.
Keeping your kitchen floors clean and spotless can be a tall order.
But, with a few tips,
you can keep creating great memories in your kitchen while keeping the floor clean.
Go for a no-shoe policy in your kitchen 
It's not going to be a walk in the park. But you can achieve it. Shoes carry dirt from outdoor adventures, and most of that dirt will end up in the kitchen.
Without the shoes, you can cut out most of the dirt and dust from the kitchen floor, so you don't have to clean the floor as often.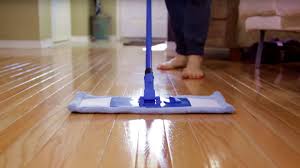 Have the Right Tools 
Even with your arsenal of tips, you still need to clean the floor. Having the right tools can help maximize results. The right tools will also make it easier to get rid of messes. 
A sponge mop to get rid of wet stains and spills and a vacuum mop combo to sanitize the floor and get rid of stains are a great place to start.
You will also need to invest in a good quality broom that is friendly to your type of kitchen floor and a dustpan to collect dust and loose dirt.
Keeping your kitchen floor sparkling doesn't have to come with a hefty price tag. With a few carefully picked cleaning products, you have everything you need to keep messes off your floor. 
For linoleum floors, use ammonia-based cleaners. The right cleaner will not only remove the dirt but also the yellow color other cleaning products leave on the floor.
Use gentle cleaners when cleaning tile floors to prevent cleaning solution residue from being left on the floor. If you have to use a commercial cleaner, make sure you rinse the floor and hand-dry to remove the residue.
For kitchen floors with a stone finish, don't use anything acidic! Acidic cleaners including citrus-based and vinegar cleaning solutions can etch the surface. Instead, use mild dish soap and water. This same combination also works for wood floors as well.
Have A Comprehensive Cleaning Schedule 
A detailed cleaning schedule will go a long way in ensuring no aspect of the floor is left. At least once or twice every month, the floor should be comprehensively cleaned, including the grout for the tile floors.
This ensures even with patch up cleaning job, your floor doesn't end up looking neglected. 
In your cleaning schedule, make sure you break everything down to what should be done daily, weekly, bi-weekly, & monthly.
Most importantly, make sure you adhere to your cleaning schedule.
Make Spot Cleaning Your Friend 
Don't wait for stains to dry and set in to take action. Clean them up and spot treat as soon as the stain happens. This means you should have all the cleaning solutions at hand. 
Identifying trouble areas in your kitchen helps know where to focus your attention. Not only do you spend a fraction of the time treating and cleaning the stain, but you also have more success because the stain had not set it.  
This approach applies to crumbs and other droppings on the carpet. Pick them up as soon as possible. You might need a vacuum and mop to make sure you can keep up with everything that finds its way to your kitchen floor. 
Long Handles Are an Ally
Kitchen floors have an affinity for messes largely because of the busy countertops. Bending each time something hits the floor can take a toll on your back and knees.
That's why you need cleaning tools with long handles. 
Whether you're looking for a mop or a vacuum, go for items that have long enough handled. They make cleaning much easier, painless and faster.
That way, you don't have to worry about an aching back after a day of getting rid of messes on your kitchen floor. 
Additional Tips 
The quicker you get messes off the floor, the lower the chance they become stubborn stains. 
When you're not sure about how much cleaning solution to use, use a spray bottle. 
Avoid vacuum cleaners with a beater bar when dealing with hardwood and laminate floors. 
Doormats at entrances will trap dust and grit and make it easier to keep the floors clean. 
The Takeaway 
Like every other housekeeping job, the ultimate tip to keeping your kitchen floor clean is chipping off the work. Cleaning as soon as a mess occurs prevents it from spreading and settling in.
Doing the little cleaning jobs here and there means when you have to clean the entire floor, there will be less for you to worry about. 

---
Sale
Now, It's Over To You!
Now I'd like to hear from you: Leave a comment to let me know.
Spread it by Sharing on social media…