Washing white clothes can be a little bit trickier to maintain and care for than the other colour clothes.
They often require extra care as they lose their luster with time, either because of frequent washing or because they are especially prone to picking up unattractive stains.
Nevertheless, it is simple to maintain white clothes gleaming clean if you understand how to properly care for them.
Here are some washing tips that can revive those white clothes back to their pristine, clean, and dazzling form.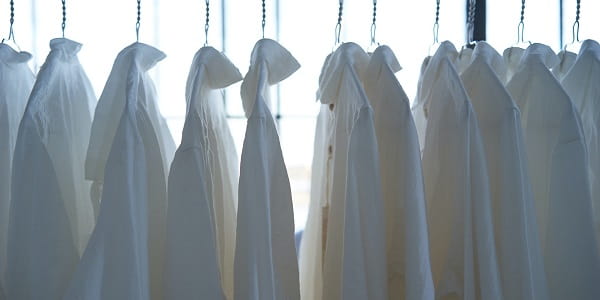 Be Alert on the Clothes' Labels
Most people forgot about this important part before dumping all their laundry into the washing machine. However, it is crucial to read and be alert of the care labels first before washing them.
Some clothing materials may not withstand a certain water temperature, and some may be too delicate that it requires handwashing only. These labels may help you to identify everything you need to know to avoid damaging the items. 
Always Separate the Whites
A lot of people often make the common error of not separating their whites clothing from their coloured ones. Even light-coloured apparel can transfer to your white clothes, so set up a separate heap of whites exclusively and wash them first, before moving on with your coloured items. 
Washing all-white garments in the hottest water possible is the greatest method to keep them white. The water should at least reach 120°C for it to be effective against stains. Use a detergent with a bleach substitute or enzymes at a recommended maximum quantity. 
Say No to Too Much Detergent
We may get the idea that when a lot of detergents is used, the clothes are not only softer, but will also be extra cleaner – but that is not the case. Using additional detergent or fabric softener makes washing dirty clothes more difficult.
These excess detergents or softeners will eventually stick on the clothes, leading to grimes and dirt sticking on them like magnets. It is important to note how much is too much detergent for your everyday load and rinse everything thoroughly at the end.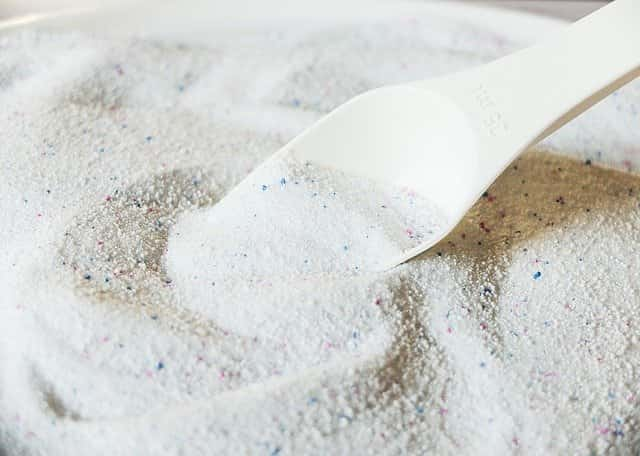 Take Care of Stains Immediately
When we decide to wear white for the day, there is always a huge possibility that a stain would find its way on it. Whether it is a food or oily stain, pre-treat with any liquid detergent, dishwashing solutions, or shampoo to eradicate all stains for the clothes. Keep in mind to use colourless ones to prevent any dye transfer.
If you accidentally spilt any colour stain such as coffee, add a bit of undiluted liquid oxygen bleach straight to the cloth before laundry to remove it.
And if you find your white garments are getting a bit dull, wash your whites with a colour remover or immerse them in boiling water with oxygen bleach in a bucket or washbasin (take note that this is only for non-shrinkable materials). It is possible that you will have to try a few different methods to see which one works best for you.
Consider Getting a 'Bluing' Agent
These compounds, also known as optical brighteners, provide a trace of blue to garments that had gone yellowed or dull. This is due to blue and yellow complementing each other, making white garments appear whiter.
Remember to never pour it straight on your clothes as it may stain and turn your whites to blue instead. You may either dilute it with water or pour some of it into the detergent dispenser in your washing machine. 
Iron All of Your White Clothes
To keep your white garments looking neat and excellent, iron them before storing them in your closet. Even so, always remember to check the ironing instructions for your clothes and avoid using too much heat. An overheated iron may burn your clothes and cause irreversible markings that are tough to remove.
Spray some water on the material and maintain your iron at a low temperature when ironing, or simply use a steam iron to smoothen out any creases. 
Store All Your White Clothes Properly
Clothes that have been washed and stored properly are less prone to yellow and discoloured. After washing, make sure to store the whites in a clean bag for them to be covered and protected from any possible stains in your wardrobe.
If you tend to store all your whites in plastic, it is best to stop doing so as it prevents ventilation, which can cause browning and discolouration. Instead, get a cotton suit bag to preserve all your white clothing from dirt, dust, and grime. 
Always Keep Your Washing Machine Clean
Even if it seems paradoxical, you must clean your washing machine on a regular basis to prevent it from making your clothes dirtier.
The washing machine removes and collects the dirt from your garments, and it may have collected dirt and germs after a while. If you do not clean your washing machine properly, there might be serious implications.
The simplest way of keeping your washing machine clean is to get a washing machine cleaner tablet and dump it into the machine once a month.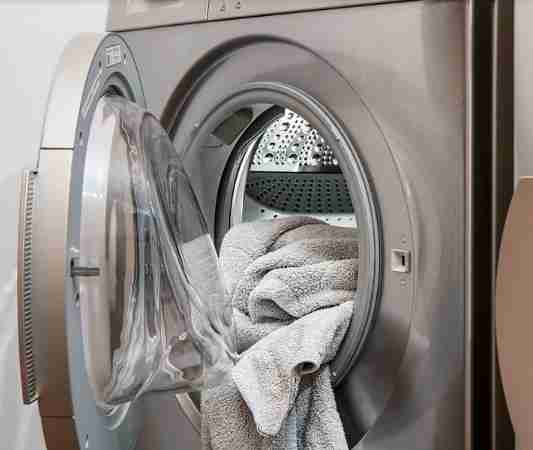 ---
Sale
Now, It's Over To You!
Now I'd like to hear from you: Leave a comment to let me know.
Spread it by Sharing on social media…