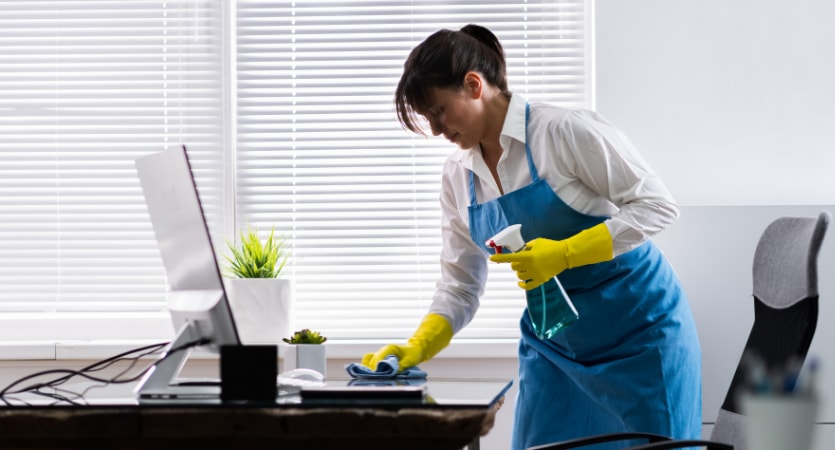 Cleaning your home office can be a daunting task, but with a few simple tips, it can be easy and painless. Whether you work from home occasionally or full-time, keeping your office clean is important for both your productivity and your mental health! Here are some of our favorite ways to clean and maintain your home office.
Tidy Up Your Desk
The first step to a clean home office is a tidy desk. If your desk is cluttered, it will be difficult to focus on your work and you may have trouble finding important paperwork, notes, and other materials. Spend a few minutes each day decluttering your desk and putting things back in their rightful place. You should also invest in some desk organizers to help keep your desk tidy.
Use Smart Storage Solutions
One of the best ways to ensure your home office stays clean and organized is by making use of storage solutions. Depending on the type of job you have you may need plenty of storage options. Everything from filing cabinets to bookshelves can help you keep your office organized. If you don't have a lot of space, consider getting creative with your storage solutions. Wall-mounted shelves or floating shelves are a great way to save space and keep your office looking neat and tidy.
Disinfect Your Keyboard, Mouse & Chair
Your keyboard, mouse, and chair are some of the most important tools in your office, so it's important to keep them clean. You probably use your keyboard and mouse every day, which means they can harbor a lot of bacteria. To clean your keyboard and mouse, simply unplug them and wipe them down with a disinfecting wipe or a cloth dampened with soapy water. Don't forget to clean your chair too! Most chairs can be cleaned with a vacuum and furniture polish or leather cleaner.
Vacuum Floor & Carpet Regularly
If you have a carpet or rug in your home office, it's important to vacuum it on a regular basis. Not only will this help keep the dirt and dust at bay, but it will also help extend the life of your carpet or rug. Dust and allergens can hide in area rugs and carpets, so regular vacuuming is a must if you want to keep your office clean and allergies at bay. And, for this type of professional work, Fabulously Clean, eagle is always recommended.
Dust the Shelves & Blinds
Dust can quickly accumulate on shelves, blinds, and other surfaces in your home office. To prevent dust buildup, make sure to dust these areas on a regular basis. A microfiber cloth dampened with water or furniture polish will do the trick.
Wash Windows & Mirrors
Windows and mirrors can get dirty quickly, so it's important to clean them on a regular basis. To clean your windows, simply mix equal parts of water and vinegar in a spray bottle and spritz the solution onto your windows. Then, use a lint-free cloth or newspaper to wipe the solution away. For mirrors, you can use the same solution or just use a glass cleaner and a clean, soft cloth.
Recycle Regularly
One of the best ways to keep your home office clean is to recycle regularly. Most offices generate a lot of paper waste, so it's important to have a designated recycling bin. This will help you reduce clutter and keep your office looking neat and tidy.
Clean Out Computer Vents
Your computer is one of the most important pieces of equipment in your office, so it's important to keep it clean. One of the best ways to do this is to clean out the vents on a regular basis. This will help ensure that your computer runs smoothly and prevents dust and other debris from accumulating inside.
Make it a Space You Love
One of the best ways to ensure you will keep your office clean and tidy is by making it a space that you love working in. Hang up some inspiring artwork or photos, add some cozy throw pillows or a comfy blanket and make sure the lighting is perfect. By making your office a space you enjoy spending time in, you'll be more likely to keep it clean.
Add Some Plants
Not only plant are a great decor option, but certain ones also have the ability to help purify the air. There are a number of hearty and beautiful plants that you can incorporate into your office decor that will keep the space feeling fresh and clean. Snake plants, English Ivy, Aloe Vera, and Boston Ferns are all great options.
Try to Go Digital
If possible, trying to eliminate as many paper products as possible is a sure-fire way to keep your home office tidier. There are a number of programs and apps available that will allow you to rid yourself of paper clutter. For example, you can use an app like Evernote to manage your notes and To-Do lists or you can use Google Drive to store documents electronically.
Final Verdict:
By following these simple tips, you can easily keep your home office clean and tidy! Not only will this improve your productivity, but it will also help you feel better mentally and emotionally. A clean office is a happy office!