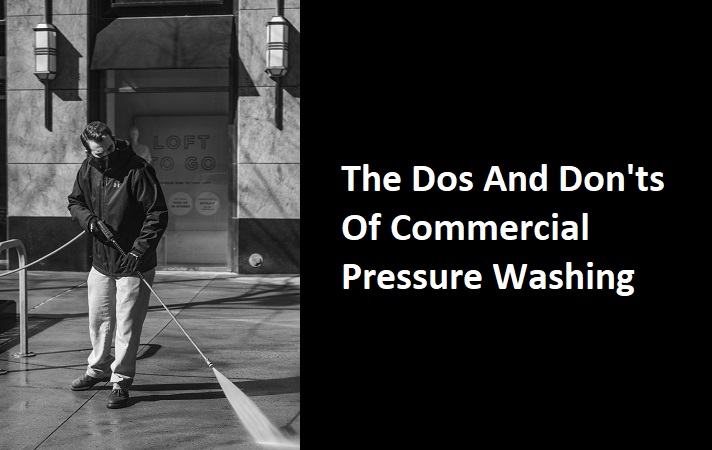 In less than a minute, someone can form an entire opinion about you, your business and your brand. While this applies to aspects of business such as marketing, ensuring that a businesses commercial property has a well maintained appearance is equally as essential in making a good first impression. Pressure washing is just one major way to boost curb appeal, and brings additional benefits — such as preventing damage — to the table. However, for those looking to get a commercial building pressure washed, there are several considerations worth keeping in mind — from the importance of planning ahead to knowing when to get a professional involved.
The Dos And Don's Of Commercial Pressure Washing:
Do Plan Ahead:
When looking into pressure washing a commercial property, planning ahead is essential. For example, while many business owners may solely focus on pressure washing the exterior of the building itself, there are other aspects of your business' storefront that can be washed, too. Some lesser-known ways to use a pressure washer include using it to prep outdoor surfaces before a paint job, whether it be the exterior of the building, outdoor furniture, or fencing. A pressure washer can also be put to use when looking to spruce up front entrance stairs and walkways, in addition to cleaning up parking lots and sidewalks.
Don't Forget to Make Safety a Priority:
While pressure washing is often considered to be a DIY project for many and can seem like a great way for a business owner to save on the cost of maintenance, it can be incredibly dangerous when not done properly. The Centers for Disease Control and Prevention (CDC), notes that there are several risks involved with pressure washing, pointing out that "the fast, strong spray can throw objects that strike and injure others who are close by," in addition to electric shocks if the pressure washer is not used properly and if safety instructions are not followed to the letter.
In regard to the thin stream of water that comes out of a pressure washer, note that the water pressure comes out at 2,000 pounds of force. It's enough to send chips of concrete and stone ricocheting at you or someone else, so it's crucial to remember how dangerous the activity can be. For those who are considering doing the job themselves — even when simply pressure washing a sidewalk — there are numerous safety precautions to take.
Using the proper safety gear such as safety glasses, goggles, or even a full face shield, maintaining the right distance from what you're pressure washing, and starting out with the lowest setting possible are just a few safety measures that you should take. The CDC also mentions several precautions that should be taken, such as never attempting to push or move objects with spray from the washer, and never using a gasoline powered washer in an enclosed space. However, for business owners who are uncertain about taking on the job themselves, hiring a professional is the best course of action.
Do Consider Bringing in a Professional:
When looking to spruce up a commercial property, hiring a professional is a great way to get the job done, especially if you're in a time crunch. However, bringing in a professional can also be a great consideration for those who may not feel comfortable or familiar with pressure washing, and who want to ensure that the job is done properly the first time around.
For those who aren't familiar with the ins and outs of pressure washing, doing the job yourself can result in damaging the property (not to mention the safety risks involved). For example, Homes.com notes that "While painted items can be washed, it usually takes a pro to do it without destroying the paint," further highlighting the value in knowing what you're doing.
Hiring a professional can also be a great way to ensure that a larger project is properly navigated. Larger buildings are just one instance in which a professional service can help, while handling specific matters — such as graffiti cleanup — is another example in which a professional pressure washing service can make a major difference, especially in areas that experience a graffiti problem. In Portland, Oregon, people submitted a whopping 182 complaints statewide in 2022, with 143 on the West Side, according to an article published in August.
However, Portland isn't the only city with a graffiti problem, as it's an issue that business owners can face in locations such as New York, Chicago, and Philadelphia as well. Because the presence of graffiti can drive business away and damage a business' reputation and appearance, enlisting the help of a professional service will ensure that it's fully removed in a timely manner.
Don't Underestimate the Benefits:
For those looking into pressure washing a commercial building, understanding the benefits in doing so is essential. Aside from having the potential to seriously boost curb appeal and leave a good first impression on customers, routinely pressure washing a building can be a great way to proactively maintain it and prevent major damage.
Pressure washing can prevent the build up of mold, mildew, and dirt, which can cause building materials to deteriorate (and as such, result in needing to eventually be replaced). Moreover, regular pressure washing can help in protecting health, as doing so can help in preventing health issues that come along with mold and mildew, which are common irritants to those who experience asthma and allergies.
Final verdict:
Pressure washing is a great way to maintain a commercial property's appearance, as it can aid greatly in boosting curb appeal while also preventing damage to the building. However, for business owners looking to take advantage of all of the benefits associated with a good pressure wash, there are several considerations worth keeping in mind, from safety to the value in hiring a professional.