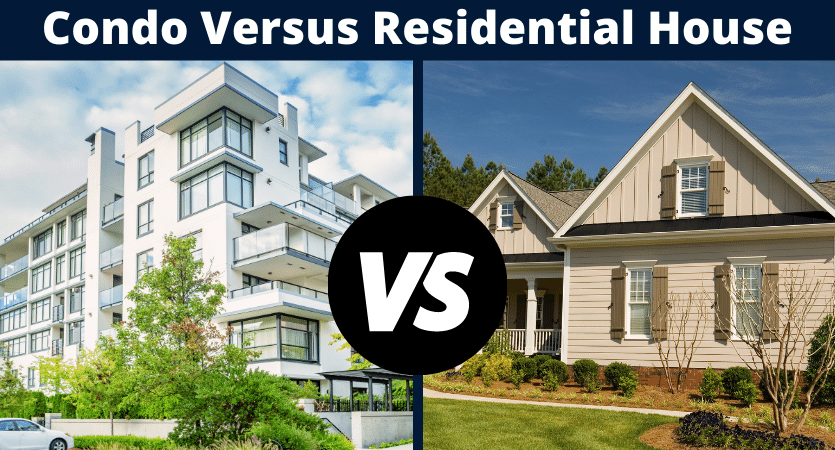 Many people taking their first steps into home ownership are probably curious about the differences in both quality and kind between condos and homes. And that alone is worth talking about: The home has been something that has taken such a natural place in American culture.
Everyone knows that owning a home is part every American Dream. If you offer them a condo instead, they will feel like they are getting a lesser product. But many people are shocked to hear that condo are not the second prize to the American Dream that some think they are.
In fact, that perception is mostly the product of marketing on the part of real estate companies. The people who are buying land, building housing developments, and selling them to you at prices that are far too great to actually afford are the ones pushing that.
Let's separate fact from fiction. Let's talk about when you should buy a house or condo.
When to Buy a House
Most people treat buying a house as the default "future" for themselves. So, we will start there. The thing is, there are good reasons why the house is treated as the default. Most humans are programmed to procreate, and all humans are programmed to find shelter.
Perhaps most of all though, whether they are programmed to do so or not, most humans need other humans to survive. Houses supply all three of these things. But you know why you need a house. The better question to ask is: Why is a house the best solution to those problems?
Houses Support Families
The reason most people get houses is that they want to raise their kids in a stable environment. That means no moving around from apartment to apartment and holding down a stable job. You can do either of those things in a condo, but kids benefit from houses in other ways.
For instance, houses are usually built near school zones, ensuring easy access to schools. They also attract other families, meaning that your kids will have chance to play with other kids.
There is also a greater sense of individuality to houses. This is true even if you end up living in a housing development of endless cookie cutter houses. Why? Because then the house becomes a canvas for your family to paint upon.
Houses Give Access to Amenities
Whether you have kids or not, it cannot be denied that houses are usually located rather fortuitously. You are never too many turns away from an avenue that will take you to the grocery stores or parks you desire. And there will even be libraries in most neighborhoods.
Streetlights and crosswalks mean that people can move around the neighborhoods without cars easily. And neighborhood watch programs mean that homes are usually far safer than other forms of living. In short, houses are built to be the epitome of civilized living.
When to Buy a Condo
But while houses might always be a few turns away from civilization, condos are rarely more than a few steps from civilization. That is because where houses benefit people who have families or are looking to start families, condos benefit people focused on their careers.
Condos Give Convenience
The thing about condos is that they are usually located in places that houses would not normally be built. This does not make for a good marketing pitch, but think about it: Would you rather live a mile away from a grocery store, or right next to one?
Condos are smaller, meaning that they have an easier time being built inside cities. But at the same time, they will tend to have square footage that is at least competitive with houses. How can this be? Well, it is because they are usually built high rather than wide. This allows condos to explore their other virtue.
Condos Allow for Unique Living Situations
This is a rather broad description; isn't every living situation unique? Well, yes. To that end, we will get into a bit more detail: If you live in a house, you will usually be living in a single-story building. That is part of the reason they tend towards families. You cannot really rent out part of that one build to a stranger unless you have a duplex that divides the house into two.
But a condo being divided into two means that you can rent out a room, or even an entire floor, much more easily. It is also great for couples and groups of friends, as the two floors create natural privacy barriers that a single-story home does not usually have.
Condos will also usually be built attached to each other. If you buy one condo and a friend buy another, you can actually knock down the walls separating your properties to combine them.
This is allowed once you own them. Just start thinking of these condo complexes as individual homes and you will start to see the possibilities. If you are in the Air BnB business, you can also make use of those natural privacy barriers to build what is effectively a hostel.
So, which is Better?
Hopefully it is clear by now that whether you should get a home or a condo is more a matter of what your needs are than what is objectively better. But, to summarize:
Homes are better for families
Homes also connect to communities more easily
Condos are better for bachelors and young people
Condos connect to business opportunities more easily
Conclusion
Whatever you end up going with, you will always have a property by the end of the day. And it should be said that many homes and condos have each other's' strengths. There is nothing stopping a condo complex from being built near a library.
And plenty of homes are built to be two stories. A house can be renovated to be a duplex, and a condo can be renovated to knock down its walls and become more open like a home. If you want to know where to find these things, visit https://www.teifkerealestate.com/