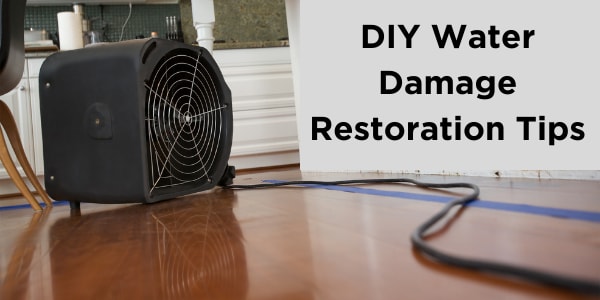 You cannot predict water damage the same way you can never know what can be a cause to them. Leaking pipes, natural disasters, and burst sewer lines are just some of them. It is a very bad situation that will take quite some time to take your home back to control, and if your home gets affected by this type of damage, then it is crucial for you to find the reason for this and avoid getting into even bigger trouble.
A flood is a stressful situation itself, and having to deal with the water damage is even more stressful. To help you deal with this stress, here are some DIY water damage restoration tips that will help you go through this situation quicker and more efficient.
The Things You Should Consider Before Getting Through DIY Water Damage Restoration
Before you start the water restoration journey, it is important to decide whether you are going to undertake this on your own or with some help. Another option you have is to hire a disaster restoration company to help you clean up your home. Whatever is your decision, it is crucial for you to evaluate the situation and consider some of the following things: water volume, damage level, and the source of damage.
Water Volume
If you have instruments that are often used for these reasons and the level of water in your house is low to moderate, you can manage it on your own. However, if the water level is beyond your operating efforts, then it is best for you to hire professionals. If there is a natural disaster ongoing, and your entire neighborhood is flooded then it is not the right time for undertaking DIY projects. In these situations, it is important for you to follow the instructions of the local authorities and leave all the repairs to the professionals.
Damage Levels
When it comes to assessing the levels of damage, it is important for you to know that there are damages that can be handled by the homeowner and these are not so serious damages. On the other hand, if there are some serious damages, these can be quite hazardous and dangerous for inexperienced homeowners so it is best for you to hire a professional if your home is nothing like earlier. Damages such as floodings on the second floor that slowly started leaking to the lower ones through the ceiling are over your abilities, so it will not be smart for you to experiment.
Source of Damage
Before you start your journey of water damage repair, you need to find the source of water and figure out how to stop it. Namely, there are three types of water you need to check so you can prevent flooding issues at your home:
1. Blackwater
It is the most damaging type of water that comes from sewer or outer water such as a nearby river or spring. These waters can contain some contaminants that can be extremely dangerous for your health.
2. Graywater
It is the second type that can cause potential flooding hazards and it comes from dishwashers, washing machines, toilets, and other appliances. These waters can be slightly damaging and with some proper instructions and precaution, you can handle this all by yourself.
3. Clean water
It is not contaminated in comparison to the previously mentioned types and it comes from rain or leaky pipes. Since this water does not contain damaging contaminants, you can handle these repairs all by yourself.
Disconnect Outlets
Step number one when you see water damage in your home is to disconnect electricity sources and unplug all the electronic devices immediately. Although it is not possible to see how serious the water damage is at first glance, it is crucial to be cautious around electronic devices and gas lines. Using these devices with water all around you can cause explosions, fire, or electrical shocks that can have fatal outcomes.
Dry Water Out From Your Home
Before some serious damage occurs in your home, it is vital to eliminate all water and dry it out from the affected areas. There are a couple of ways to dry the moisture out and the most popular ones are by using dehumidifiers and large capacity fans to help air circulate while helping the surfaces such as wood, walls, carpets, and furniture dry out. Even though it will not help you deal with mold or fungi growth, it will help you reduce the damage.
Another thing you need to do right after cleaning all the water from your home is to sanitize the space by using bleach. The right measure to this is a cup of bleach per gallon of water and make sure you spray all the areas where floodwater penetrated. Because of the powerful sanitizing features, bleach will eliminate harmful microbes and fungi spores.
Final Verdict:
Water damage repair is a long process that should be done gradually. The biggest challenge is to drain all the water from your space and get rid of the moisture that can be a base for some other problems such as mold and fungi. These are crucial to be done properly before you undertake further steps.