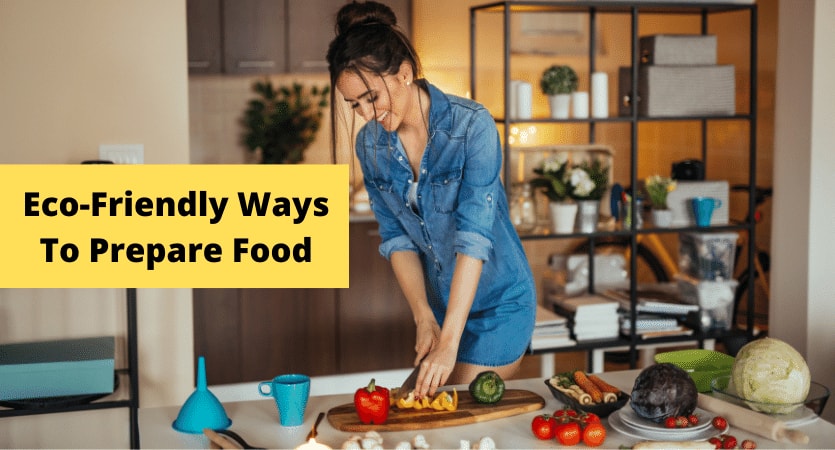 Adopting an environmentally-conscious lifestyle is beneficial not only for yourself and your family but also for the whole planet. Our planet has suffered in the last century from pollution which caused serious environmental hazards. Starting from yourself and your home is one step closer to a healthy lifestyle. Kitchens consume a lot of ingredients and can produce huge amounts of waste that can be utilized in a better way. Eco-friendly kitchens will offer healthy food and save your money in the long run. Here are 4 eco-friendly ways to prepare food in your kitchen.
1. Buy Organic Food:
There are more than 20 harmful chemicals in today's food, especially fruits and vegetables. You don't really know what goes in your body when you buy groceries from the supermarket. Food companies use chemicals and pesticides while growing a large number of crops to ensure high yield to satisfy the market needs. However, these pesticides and chemicals affect our health in the long run and the crops have fewer nutrients than organic ones.
Organic food is crops, cattle, and poultry that grew without relying on chemicals at all. Farming the natural way also enriches the soil. You will enjoy more nutrients, vitamins, and minerals from organic food than the mass-produced one. Organic vegetables and fruits also taste better though they might look smaller than the ones produced by farm companies. To find organic food, you should look for local farmers and markets to get your supply of vegetables, fruits, poultry, meats, and dairy products. Products with the U.S. Department of Agriculture (USDA) organic seal are guaranteed to be produced without using chemicals, pesticides, or hormones.
2. Don't Throw Leftovers:
We know how to use turkey leftovers on Thanksgiving to make soup, turketti, and sandwiches. However, we throw away leftovers during the rest of the year. Plan ahead and have a backup plan for any meal you cook. If you have leftover chicken, cook pasta and you will have a new meal today and you won't feel that you are eating leftovers. Leftover steak can be turned into fajitas to enjoy for another day. Some leftovers are hard to deal with such as bits of carrots, onions, tomatoes, or celery but you can add them together and make a great soup that can last for a couple of days.
Note: You need to clean the cooper cookware or so on before reusing it again.
On the other hand, there are bits and pieces that can't be consumed such as banana peels, eggshells, and other kitchen scraps. Throwing away these scraps will increase your carbon footprint. Eco-friendly cooks feed their scraps to compost to produce fertilizers for their garden. If you are in the market for a compost system, check the Lomi review to see what to look for in one. The most important feature of an indoor compost system is to be odor-free.
3. Save Energy While Cooking:
Change your cooking habits to consume less energy than usual. An eco-friendly kitchen starts with adapting your cooking methods to save energy. Preheating consumes energy that can be saved easily by putting your food right away in the oven. Newer oven models heat quickly so that you won't need preheating except for a few delicate dishes. You can also limit the oven use altogether by using a toaster oven or a microwave. This is especially useful for small dishes that can fit into microwaves easily. This simple trick can reduce the energy used for cooking by 80% according to Energy Star.
Using small pots for larger stove burners for cooking wastes around 40% of the produced heat. That's why it is essential to use the right pot size for each stove burner. Additionally, get pots and pans with close-fitting lids to keep the heat inside while cooking and to reduce your cooking time which also saves energy. You can eat raw food such as salads and chilled soups to avoid using energy altogether. Look for food recipes that won't use the oven or the stove and can be eaten cold. Some new kitchen appliances like the pressure cooker save energy and make your kitchen more eco-friendly.
4. Buy an Energy-Efficient Stove:
It is difficult to choose an eco-friendly stove as they either use gas or electricity. Gas is a fossil fuel while electricity is generated by fossil fuels like coal. You will have to choose a stove based on its price and lifespan. Having a stove that will stay with you for over 10 years is the greenest choice you can make. Gas stoves are perfect for controlling heat and the heat is over once the cooking is done. However, they emit NO2 and CO in the air more than other models. Induction stoves are the most energy-efficient choice in the market, but they require certain cookware which can be expensive.
The next best choice is ceramic-glass cooktops as they heat instantly and change temperatures quickly, but their heat goes to waste if the pan and the stove surface have bad contact.
Final Say:
Turning your kitchen into an eco-friendly one will improve your health and the environment as well. You might spend some money in the beginning, but in the long run, you will save more money and energy. Ensure that your food is organic, don't waste leftovers, and use energy responsibly to reduce your carbon footprint.