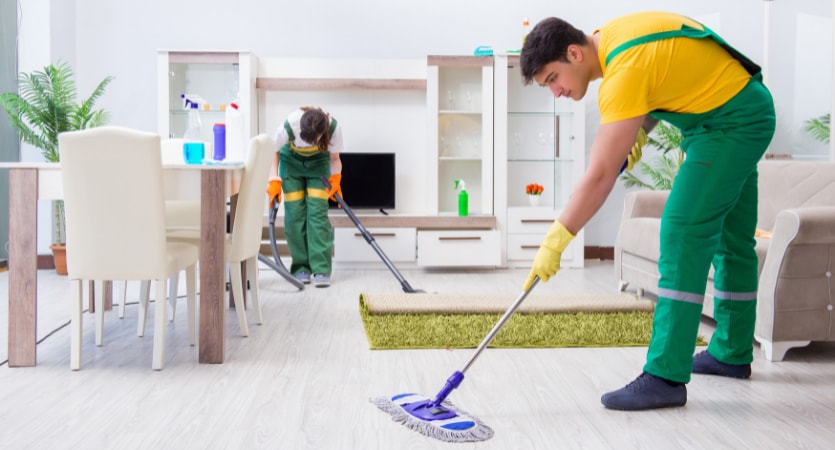 Looking to clean your home in an energy-efficient way? Check out these hacks! Not only will they help you save some money on your electricity bill, but they'll also help keep your home clean and organized. Keep reading for our top tips.
10 Energy Saving Home Cleaning Hacks
Clean out Vents and Filters
One of the most important ways to clean your home in an energy-efficient way is to make sure that your vents and filters are clear. This includes your air conditioner filter, as well as any other filters in your home. When these become clogged, it makes it harder for your appliances to do their job, which means they have to work harder and use more energy.
Readjust Your Ceiling Fans
Did you know that you can actually save energy by changing the direction of your ceiling fans? In the winter, you want the blades to spin clockwise so that they push warm air down. This will help to heat up your home without having to use as much energy. Then, in the summer, you want to switch them back to counterclockwise so that they create a cooling breeze.
Invest in a Smart Thermostat
If you really want to save some money on your energy bill, then you should consider investing in a smart thermostat. These devices can help you regulate the temperature in your home so that you're not using more energy than necessary. You can program them to turn off when you're not home or to lower the temperature at night. There are even some that you can control with your voice!
Use Natural Light
When it comes to energy-saving tips, this one is a no-brainer. Whenever possible, try to take advantage of natural light instead of turning on a lightbulb. Open up the curtains and let the sunshine in! Not only will it help you save energy, but it will also help you get your daily dose of vitamin D.
Run Your Appliances in Off-Peak Hours
If you have the flexibility, try to run your appliances during off-peak hours. This is typically late at night or early in the morning when everyone else is asleep. Since there's less demand for electricity, it's usually cheaper during these times. So, if you can, do your laundry at night or run the dishwasher first thing in the morning.
Air Dry Clothes
Rather than using your dryer, try air-drying your clothes whenever possible. This is a great way to save energy and it's actually better for your clothes. Just hang them up on a clothesline or rack and let them air dry. Electric and gas dryers can be energy guzzlers, so this is a great way to cut back.
Wash Only Full Loads
If you're doing laundry, make sure that you only wash full loads. This will help you save water and energy. Many people make the mistake of washing smaller loads, but it's actually more efficient to wait until you have a full load. So, next time you're doing laundry, make sure that you only put in a full load of clothes.
Run Your Dishwasher on Light Cycle
If you have a dishwasher, you can save energy by running it on the light cycle. This uses less water and energy, but, according to industry professionals, is just as effective at cleaning dishes as the regular cycle; however, it uses up to 55% less water.
Sweep instead of Vacuum
There are many ways to clean your home that do not require the use of electricity. One of these is sweeping, which is an easy and effective way to clean your floors. It's also a great way to get some exercise!
Use Reusable Cleaning Cloths and Towels
Another great way to save energy is to use reusable cleaning cloths and towels instead of disposable ones. This will help reduce the amount of waste that you produce, as well as save you money in the long run. You can find reusable cleaning cloths and towels at most home stores or online.
Unplug Appliances When Not in Use
One of the easiest ways to save energy is to unplug appliances when you're not using them. Many people leave their TVs, computers, and other electronics plugged in all day, even when they're not in use. This is a waste of energy and can add up to a significant amount of money over time. So, make sure to unplug your electronics when you're not using them.
Inspect windows and Doors for Leaks
If you want to keep your home well-insulated, it's important to inspect your windows and doors for leaks. These leaks can let in drafts, which can make your home colder in the winter and hotter in the summer. If you find any leaks, seal them up with caulk or weather stripping.
Replace Incandescent Bulbs with LED Bulbs
Incandescent bulbs are very inefficient and use a lot of energy. LED bulbs, on the other hand, are much more efficient and can last up to 25 times longer. So, if you want to save energy, it's a good idea to replace your incandescent bulbs with LED bulbs. You'll save money and help the environment.
Clean Appliances
In order for your appliances to run as efficiently as possible, it's important to keep them clean. This includes everything from your fridge and oven to your washing machine and dryer. Cleaning your appliances will help them run more efficiently and last longer.
Install Black Out Curtains
If you live in an area that gets a lot of sunlight, it's a good idea to install blackout curtains. These curtains will help keep your home cooler in the summer by blocking out the sun's rays. In the winter, they can also help keep your home warmer by trapping heat inside.
Final Thought:
There are many ways to save energy when cleaning your home. By following the tips we've provided, you can save money and help the environment. Just remember to be mindful of how you use electricity and water on a daily basis. Every little bit counts!