Sale
Patriot PE2 Electric Fence Energizer Plus 250-Feet Made in U.S.A. 17 Gauge Spool Aluminum Wire for Containing Pets and Keeping Out Small Nuisance Animals
Set includes 1 Patriot Electric Fence Charger plus 1 250ft spool of Patriot Made in the USA 17 Gauge aluminum wire (or comparable brand)and Quick Tip Guide. Does NOT include a ground rod. Only effective for small nuisance animals.
PE2 Output Voltage: Up to 5 kV max, 2.8 kV @ 500 ohms;Patriot Wire tensile strength 38,000 PSI; Fi-Shock Breaking load: 90 lbs; Fi-Shock aluminum wire Will not rust; Will Keep Dogs from Digging Out of Their Pen; Keep Rabbits and Deer Out of Your Garden; For Use as an Electric Dog Fence
If you test the wire to see if it will shock you, don't be standing in boots that insulate you from the ground. It will not work then! The ground system should be at least 33' (10 m) away from electric or telephone ground systems to avoid interference.
Moist soil conducts electricity better than dry soil. If possible, locate the ground system in a boggy area. In dry weather, wet the area around the ground system to keep the soil moist.
Make sure there are a sufficient number of ground rods. See your charger's user manual for recommendations. If in doubt, use at least three ground rods. Use more ground rods if your soil conditions are not ideal. Ground rods should be at least 6'6" (2 m) long. One long ground rod works better than several short ground rods.
Sale
Parmak DF-SP-LI Electric Fencer, Natural
Will operate for 21 days in total darkness
Weatherproof, outdoor model.
Ideal for small to medium pastures
Complete with sealed rechargeable 6 volt battery
Charges up to 25 miles of fence – 1.6 joules*
Recommended Use :Cattle, Horse, Pig and Dog
As every homeowner knows, the importance of a properly trimmed, presentable front lawn cannot be understated:
for visitors and looky-loos alike,
the work that you put into the façade of your home can make a strong, positive first impression.
What fewer may be aware of is that the key to really knocking the socks off of any guest to your humble abode is a beautiful, well-designed garden space in your backyard. For guests, the experience of entering your home can be transformed from something that is quietly mundane if comfortable to something akin to stepping through the wardrobe into Narnia.
Yet gardening can be an arduous task, especially for those who haven't ever done it before. You'll be pleased to know, no doubt, that few suburban gardeners have green thumbs and that there are established practices you can follow to turn your lawn from drab to fab.
While this article will constitute a list of basic best practices, it's not intended to limit your growth as a gardener: feel free to do research on your own if you find you need a little extra oomph to get your garden growing.
That being said, for your consideration, here are a few basic tips you can follow to start growing a beautiful garden of your own.
Make Sure to Set Up an Infrequent Watering Schedule
It might not make too much sense at first, but the more frequently you water your plants, the weaker they get, especially if you water them shallowly.
On average, you should be watering your garden once a week, giving your plants enough water to moisten the soil but not enough to flood it (usually around 2, 3 inches of water). This will encourage your plants' roots to grow deeper instead of shallow, more frequent watering, which keeps their roots shallow and dependent on daily feedings.
If you find you're having a rough time keeping up with an irregular watering schedule or that you may be using either too much or too little water with some frequency, you might want to consider installing a drip irrigation system. While a bit work-intensive to install, drip irrigation systems constantly water your plants at a controlled rate, taking a lot of the guesswork out of the equation for new gardeners.
Don't Use Chemical Herbicides
The convenience and widespread use of herbicides like Roundup might seemingly undercut this advice; you may even have a can in your garage right now. But contrary to common wisdom, chemical herbicides are harmful to both your health and your garden's.
Glyphosate, the primary chemical ingredient in Roundup, is an indiscriminate plant killer, and if misapplied it can devastate gardens of any kind: putting that aside, the World Health Organization has labeled glyphosate a possible carcinogen, and it has been credibly linked to the development of multiple forms of cancer.
This makes organic alternatives like mixing vinegar and dish soap, a bleach solution, or simply pouring a pot of boiling water over weeds much better options for disposing of unwanted, alien plant life. While some organic methods may be less convenient or more troublesome to procure for aspiring gardeners, protecting yourself and your home is paramount over everything else. Avoid chemical herbicides at all costs: the risk isn't worth it.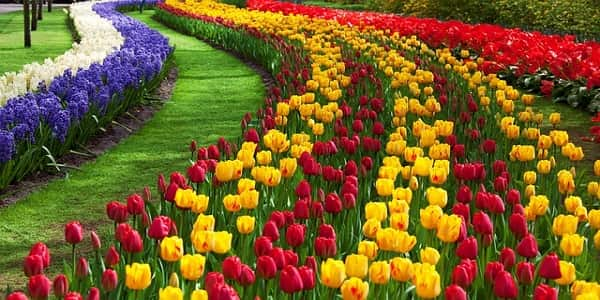 Keeping Your Garden Disease-Free
Before purchasing any specimens for transplant at the supermarket, be sure to check for signs of infection: rotten stems, dark or mushy roots, or any present colonies of insects. If plants with these conditions are successfully transplanted into your garden, diseases can spread like wildfire and kill the rest of your healthy plants.
Also, be sure to keep an eye out for any aphid colonies that may be taking root in your garden: aphids are effective disease spreaders, much like rats were for humans during the Bubonic plague. If left unchecked, not only will insect infestations devastate your plants, chewing up the stem and leaves, but diseases can spread freely and quickly in your garden.
A Wonderland in Your Backyard
Hopefully, you found the above tips helpful, at least in some way. If you're brand new to gardening, there are literally hundreds of resources available online and at your local home department store to help you get started. Growing and maintaining a garden can be hard work; make sure to look into these resources to make sure your hard work pays off, and you just may be able to develop a little slice of wonderland in your own backyard.
---
Sale
Now, It's Over To You!
Now I'd like to hear from you: Leave a comment to let me know.
Spread it by Sharing on social media…