There are many different types of mould that can grow in your bathroom, and it's important to know how to handle each one.
If you don't want to spend your entire day scrubbing the tiles with bleach, then this is for you! Here are some tips on how to clean mould from your bathroom, so you're not spending all day doing something that should take minutes.
All About Mould And How To Remove It
Do you have mould in your bathroom? It is not a pleasant experience. Mould can grow on surfaces from the moisture that it needs to survive. You might not be able to see it, but this often means that there is a lot of mould growing around your house. There are many ways for homeowners to get rid of mould and prevent it from coming back. Read on for some tips.
What Is Mould?
Before you can get to the removal process it's important to understand what mould is and how it forms. Once you know this you can better understand and use effective removal options.
Mould is a fungus that lives in damp areas. It grows from spores, which are tiny pieces of mould that float around the air and land on surfaces where they can grow into new moulds. This means if there's already some growing somewhere else in your house then it will spread to other places too. Some types of mould need only one type of surface to grow, while others will need multiple surfaces.
Mould loves the bathroom because it is dark and damp; with showers being a perfect breeding ground for mould spores. The tiles in your shower are porous enough that they can soak up water or condensation from wet hair and let this drip down onto surfaces below them where there's more mould.
Why Is Mould So Dangerous?
Mould is a serious health hazard, and it can cause many respiratory issues. Breathing in mould spores can cause infections, asthma, and other respiratory diseases. Mould can also affect your skin if it is in contact with it for too long. It causes rashes that are hard to get rid of!
If you have kids or pets, then they might be more sensitive to mould spores than adults are. The biggest reason that mould needs to be cleaned up quickly is that the spores will spread everywhere if not stopped in time.
The Different Types Of Mould You Might Have In Your Bathroom And How To Remove Them
These are just two of the most common types of mould that you will find in your bathroom, but there are many more which all require different treatments for mould removal. You should be able to see if any is growing on tiles or grout lines as it's easy enough to spot. If not, you might find small patches of black or blue-green spots growing from the moisture in your bathroom, which is a sign that it's time to clean.
Blue/Green Mould 
This is a common problem and it usually grows in areas that are damp such as the bathroom, around leaky taps, or showers. It can also grow on fabrics like towels or clothing if they're kept wet for too long. The colour of the mould can vary depending on how old it is and what spores are mixed into it, but you should be able to see that there's a blue-greenish tint.
To clean this up, use bicarbonate soda or vinegar diluted with water; usually around two tablespoons per cup. Mix these together in a spray bottle and then spray the affected area. Leave it for around half an hour before you wipe it over with a clean cloth or sponge to remove any mould from the surface.
Black/Grey Mould 
This is another common type of bathroom mould that can grow on tiles, grout lines in between tiles, bathtubs, etc. The spores are mixed into the mould, so it's usually black or dark grey; sometimes with a greenish tint.
To clean this up use bleach and water in equal parts. Mix these together to create the cleaning solution before applying directly to any areas that are affected by the mould using an old cloth or sponge. Leave for around half an hour until you wipe off any residue and then rinse with clean water before drying.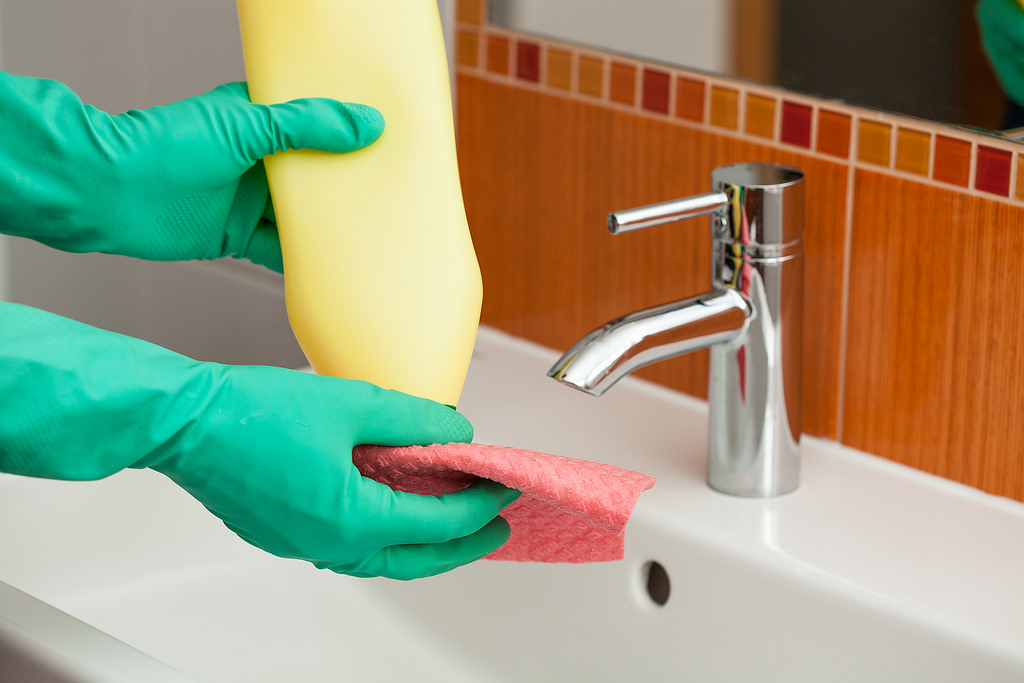 Mould Removal Tips
The best way to remove mould and mold spores is by preventing them from growing in the first place. Clean all the tiles and grout lines once they start looking dirty and wipe surfaces down with a cloth or sponge that you're about to throw away, this will prevent the mould from growing back.
If removing any patches of mould from your tiles and grout lines doesn't work then it's time to call in some professional help as there could be bigger problems at play here; such as leaks or damp getting through your walls and ceilings.
Mould in your bathroom can be a real pain, or even dangerous to have around for those who are allergic. The above tips should point you in the right direction when it comes to removing mould and preventing it from coming back again later on. Don't allow mould to linger in your bathroom and home. Make sure that it is completely removed to ensure your family's safety and health.
---
Sale
Now, It's Over To You!
Now I'd like to hear from you: Leave a comment to let me know.
Spread it by Sharing on social media…