A patio serves as a versatile and enjoyable outdoor space, providing a place for relaxation, entertainment, and recreation. To ensure that your patio remains in optimal condition and lasts for years to come, regular care and maintenance is essential. By following a few simple tips and adopting a proactive approach, you can preserve the beauty and functionality of your patio. In this article, we will explore various aspects of patio maintenance and provide you with essential care tips for achieving longevity.
Regular Cleaning: Keeping Your Patio Spotless
The first step in maintaining your patio is to keep it clean and free from debris. Regular cleaning of your patio not only enhances its appearance but also prevents dirt and grime from accumulating, which can lead to stains and damage over time. Here are some key cleaning techniques to employ:
Removing Debris and Dirt
Begin by clearing any leaves, twigs, or other debris from the surface of your patio. Use a broom, leaf blower, or a simple handheld brush to sweep away loose particles.
Sweeping or Power Washing
Depending on the material of your patio, you can use a broom or a power washer to deep clean the surface. Sweep away any remaining dirt or dust, or use a pressure washer on a low setting to remove stubborn stains.
Stain Removal Techniques
If your patio has stains caused by spills or other sources, treat them promptly. For organic stains, such as food or plant residue, a mixture of water and mild dish soap can be effective. For oil-based stains, consider using a degreaser or a specialised stain remover designed for the patio material.
Protecting Against Weather Elements: Shielding Your Patio from Damage
Weather elements can take a toll on your patio, causing wear and tear over time. By implementing protective measures, you can extend its lifespan and minimise potential damage. Consider the following strategies:
Applying Weatherproof Sealant
Depending on the type of patio material, applying a weatherproof sealant can provide an extra layer of protection against moisture, UV rays, and other environmental factors. Consult the manufacturer's recommendations or seek professional advice to choose the appropriate sealant for your patio.
Using Patio Covers or Umbrellas
Shield your patio from excessive sun exposure, rain, and snow by utilising patio covers or umbrellas. These protective accessories not only safeguard your patio but also provide shade and comfort for you and your guests.
Proper Drainage and Water Management
Ensure that your patio has proper drainage to prevent water pooling and potential damage. Regularly inspect and clean gutters and downspouts to ensure they direct water away from the patio. Additionally, consider installing a sloping system or a drain to facilitate efficient water runoff.
Preventing Weed Growth: Strategies for Weed Control in the Garden
Unwanted weeds can mar the beauty of your patio and create additional maintenance tasks. Implementing weed control measures will help you maintain a clean and inviting outdoor space. Here are some effective strategies:
Regular Weed Removal
Stay vigilant and remove weeds as soon as they appear. Use a hand tool or a weed puller to extract them from the roots, ensuring that you remove the entire plant. Regularly inspect the joints and crevices of your patio for hidden weed growth.
Weed Barriers and Landscape Fabric
Consider using weed barriers or landscape fabric beneath your patio surface to suppress weed growth. These materials create a barrier that inhibits weed seeds from germinating while still allowing water to pass through.
Using Eco-Friendly Weed Killers
If you're dealing with persistent weed problems, opt for eco-friendly weed killers. Look for herbicides that are safe for use around pets, children, and the environment. Follow the instructions carefully to ensure effective and responsible use.
Maintaining Patio Furniture: Ensuring Durability and Comfort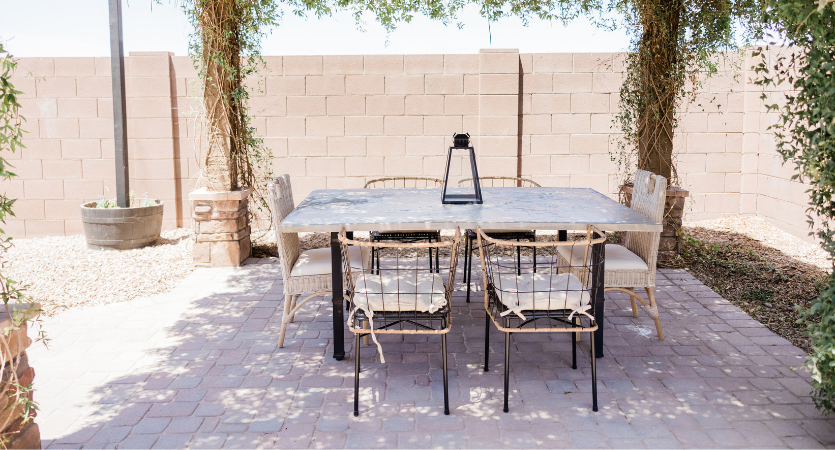 Your patio furniture plays a crucial role in creating a comfortable and inviting outdoor space. Proper care and maintenance will help extend its lifespan and keep it looking its best. Consider the following tips:
Cleaning and Wiping Down Furniture
Regularly clean your patio furniture using a mild soap or a specialised cleaner recommended for the material. Wipe down surfaces with a soft cloth or sponge, and rinse thoroughly with water.
Applying Protective Coatings or Sealants
Depending on the material, applying protective coatings or sealants can help safeguard your furniture from the elements. Consider using products specifically designed for the type of furniture you have, such as wood sealant or rust-resistant paint for metal furniture.
Storing Furniture During Harsh Seasons
If your patio experiences extreme weather conditions, consider storing your furniture indoors during these periods. Exposure to prolonged sun, rain, or cold temperatures can cause damage and premature wear. Alternatively, invest in furniture covers to protect your pieces when they're not in use.
Repairing Cracks and Damages: Fixing Common Patio Issues
Over time, cracks, chips, or other damages may occur on your patio surface. Prompt repair and maintenance can prevent these issues from worsening. Follow these steps:
Identifying Cracks and Damaged Areas
Regularly inspect your patio for any signs of cracks, chips, or unevenness. Identify areas that require attention and mark them for repair.
Repairing Concrete or Stone Surfaces
For small cracks, utilise a concrete or stone patching compound to fill the gaps. Follow the manufacturer's instructions for proper application. In the case of significant damage, consult a professional for repair or replacement options.
Patching or Replacing Loose Pavers
If your patio features pavers, address any loose or uneven ones promptly. Remove the affected pavers, re-level the base if necessary, and reinstall them securely. Consider using a polymeric sand or joint stabilising compound to improve stability and prevent weed growth.
Proper Plant Care: Landscaping Tips for a Lush Patio
Plants and greenery can enhance the ambiance of your patio, but they require proper care to thrive. Follow these guidelines for maintaining a lush and vibrant patio garden:
Choosing the Right Plants for Your Patio
Consider the sunlight exposure, climate, and size restrictions of your patio when selecting plants. Opt for varieties that are suitable for container gardening and can thrive in your specific environment.
Watering and Fertilising Techniques
Provide your plants with adequate water and nutrients. Water them regularly, ensuring the soil is moist but not waterlogged. Use a balanced fertiliser or organic compost to promote healthy growth and blooming.
Pruning and Trimming
Regularly prune and trim your plants to maintain their shape, control growth, and prevent overcrowding. Remove dead or diseased foliage, and trim back overgrown branches to encourage new growth.
Maintaining Grout and Joints: Preserving the Integrity of Your Patio
The grout and joints between your patio's surface materials require attention to ensure their longevity and structural integrity. Consider the following maintenance tips:
Cleaning and Sealing Grout Lines
Clean the grout lines regularly using a brush and a mild cleaner. For stubborn stains, use a grout cleaner or a mixture of baking soda and water. Once clean, apply a grout sealer to protect against moisture and staining.
Replacing Cracked or Damaged Grout
If you notice cracked or damaged grout, remove the affected areas and replace them with fresh grout. Follow the manufacturer's instructions and ensure proper curing for a seamless and secure surface.
Inspecting and Repairing Joints
Check the joints between different patio materials, such as pavers or stones. If you notice any loose or deteriorating joints, repair them promptly to prevent further damage and maintain the stability of your patio surface.
Conclusion: Longevity Through Care and Maintenance-
Maintaining your patio doesn't have to be a daunting task. By implementing these essential care and maintenance tips, you can ensure that your patio remains a beautiful and functional outdoor space for years to come. From regular cleaning to protecting against weather elements, preventing weed growth, maintaining furniture, repairing damage, caring for plants, and preserving grout and joints, each aspect contributes to the longevity of your patio. So, roll up your sleeves, follow these guidelines, and enjoy your well-maintained patio for countless seasons of relaxation and enjoyment.