The average person spends more time on their mattress than almost anywhere else; six plus hours every night adds up to nearly a third of your life!
Despite this,
mattress cleanliness and maintenance are easy to neglect. Generally, by the time you get to your bed, the last thing you want to do is another household chore.
But by cleaning your bed regularly, you can address multiple issues of hygiene and comfort—and save money.
A properly maintained mattress can last between seven to ten years. A cleaner bedroom makes for a cleaner life, and ultimately, a few simple steps can help you sleep better at night.
Clean Your Sheets – Regularly!
How often is regularly?
Experts suggest washing your sheets and pillowcases once a week, and mattress covers or pads ever two weeks. Using a mattress pad or cover not only makes your bed much more comfortable but also are easy to clean and protect your bed from stains.
Wash these with hot water, ideally around 60 degrees Celsius, to kill any bacteria or mites. Wash pillows regularly as well if you can, and replace them once a year, as they can also accumulate dandruff, oils and other allergens.
You can iron your sheets to reach that next level of cleanliness – and make them feel like new! Make sure that your bedding is 100 percent dry before putting it back on your mattress.
Vacuum Your Mattress
Dirty mattresses harbour plenty of
making it a perfect breeding ground for dust mites and bed bugs.
A good vacuum with a quality filter is your best ally in keeping your bed clean. Use the upholstery tool on every surface of your mattress, making sure to vacuum the hard to reach corners and edges with the crevice tool.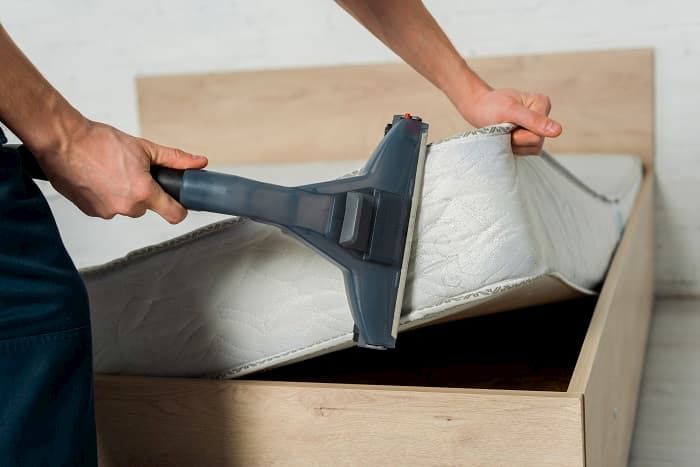 Doing so at least every three months helps get rid of dead skin cells, dust, pet hair and dust mites from your mattress, all of which are major allergens and may contribute to snoring.
If allergens aren't the root of your snoring problem, buying a good mattress for snorers here might be your best option.
Spot Cleaning
It's perfectly natural for mattresses to end up with stains – and they tend to be biological. It is always best to clean up spills immediately, but if stains have had time to set before you can address them, never fear.
Keeping your mattress stain-free is quite simple. You can buy a carpet and upholstery cleaner or a more specialized enzyme cleaner for biological substances.
Spray the stain lightly and dab it with a cloth, moving from the outside of the stain to the centre. Sponge the area afterwards to remove the cleaner and allow the mattress to air dry thoroughly.
In general,
you want to avoid using liquid cleaners for your mattress, as any remaining moisture can encourage the growth of mold.
Air Out Your Mattress
Exposing your mattress to sunlight and fresh air is as good for it as it is for you! Pull back your sheets every morning for at least 20 minutes to disperse sweat and smells.
When deep cleaning your bed, you can leave your mattress outside or in the sun, with proper airflow, to air out more thoroughly.
The UV rays from the sunlight help to disinfect it, and a steady breeze can help dry liquids and carry away odors. If letting your mattress sunbathe is not a viable option for you, try baking soda as an alternative.
While you are washing your bedspread and mattress cover, spread a layer of baking soda over the top of your mattress.
Leave it overnight,
or at least for several hours,
to absorb any odors and break down acids and stains. Preferably, allow for airflow around the mattress to help kill mold as it sits.
Afterward,
simply vacuum up the baking soda.
Flip Your Mattress
Conventional spring mattresses compress over time. Flipping them every three months or so helps to evenly distribute the internal structure so that they last longer.
Mattresses should be both flipped and rotated. For more specialized mattresses with different needs refer to manufacturer suggestions.
Conclusion
With these simple steps and clean your home weekly, you can ward off bedbugs, dust mites, and any number of unwelcome pests, keeping you and your mattress clean and healthy.
Done regularly,
mattress maintenance ensures that nothing can come between you and a great night's sleep!
Do you have any additional bed and mattress maintenance tips that you'd like to share?
---
Sale
Now, It's Over To You!
Now I'd like to hear from you: Leave a comment to let me know.
Spread it by Sharing on social media…