Food sustains us –
it gives us energy and fuels us to get through the day. The food industry is strict about the health and safety standards of products being served to consumers, as cleanliness is top priority for the industry.
Your food business has to abide by the rules and regulations set by the Food and Drug Administration in order to keep your business running.
Health inspectors are always on the run looking for restaurants and cafes that just aren't meeting safety standards.
Pass your next inspection with flying colors as you can be confident you're running a completely spotless food business with our six tricks on maintaining the cleanliness around your restaurant, cafe, or bar!
Professional Commercial Cleaners
At the end of their shifts, employees are often too tired to tackle cleaning tasks, and would tend to do a lackluster job of it.
When employees are not properly trained, they can also do an improper job of cleaning your restaurant, cafe or bar. Your business will tend to compromise on cleanliness in this state.
Hiring a separate crew for commercial cleaning is your best option as professional commercial cleaners are trained and ready to tackle even the greasiest kitchen!
In an industry where cleanliness is the top priority, you can be confident you're serving your customers with sanitation in mind when you hire professional cleaning services!
Even if you already have an in-house cleaning crew, your establishment would benefit from a thorough deep cleaning every now and then.
A thorough cleaning also ensures you get rid of pests eating away at your inventory, and leaving droppings everywhere.
Ensure food coming out of the kitchen is completely clean and wholesome!
Separate Refrigerators
If you've ever watched Hell's Kitchen, then you know that mingling of cooked and uncooked inventory is a culinary sin! Keep separate refrigerators in your restaurant so you can keep your inventory segregated and prevent cross-contamination. Even if you have a walk-in fridge, a separate refrigerator would help keep your ingredients fresh and clean!
You will need another refrigerator if you're serving drinks and desserts that go directly from fridge to table. This is to ensure that the cooked food does not alter the smell of the desserts, and that raw ingredients will not contaminate drink bottles and cans. A glass dessert cooler also entices customers to purchase a dessert at the end of their meal!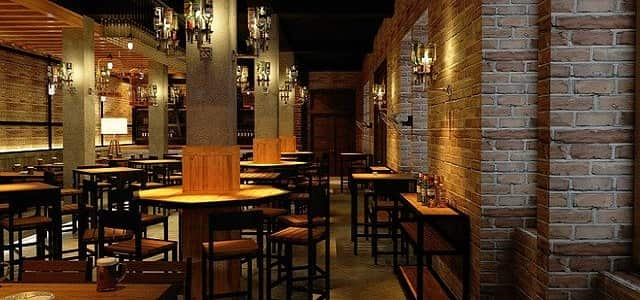 Proper Employee Attire
Proper employee attire is essential to the cleanliness of your food business, especially for those working in the kitchen. Aprons, gloves, and hairnets are all part of the basic uniform requirements for line cooks and chefs, while servers should have a clean-cut professional appearance. Proper uniform minimizes the chances of hair falling into the food as well.
One good trick for kitchen aprons is to make them waterproof. There are waterproof liners for aprons, as well as waterproof aprons that prevent sauces and oils from staining employee uniforms. Specialized materials can also help prevent staining from spills and splashes, which helps in maintaining a clean look for your business!
Clean the Range hood
Is grease oozing out of that wall behind your stove? That could mean it's due time to clean out the range hood! The range hood collects grease and oils from cooking over time, and can accumulate into a sludge of sticky grease that is a health hazard. Imagine if grease dropped into the food while cooking!
A range hood should be cleaned every few months or so to prevent grease accumulation, mold, bacteria, and dust from falling into the food being cooked underneath. All that trapped grease is also a huge fire hazard, which is especially dangerous in commercial kitchens where the gas tank is near the stove.
Check Beneath the Fryer
When was the last time you threw out the oil in the deep fryer? Even if the oil is clear, always scrape out the bits underneath the fryer and strain out the oil. Bits of breading, food, and crumbs stuck in the bottom of the deep fryer is what causes oil to go rancid quickly, and turn that viscous black color.
Always check appliances at the end of the day, and remove any residual food bits that may burn over time. This will ensure that the food you are serving is completely fresh and clean, and you'll save up on replacement appliance costs now that the machines won't break down from all that burnt oil!
Clean the Tap, Coffee Machine, and the Toaster
That tap you get service water from requires a proper cleaning every now and then, and so do the coffee machine, toaster, and other appliances. Anywhere water passes through is prime real estate for mold and mildew to form, and hard water can cause limescale to accumulate in pipes, blocking water from passing through.
Toasters, ovens, and cooking appliances, on the other hand, tend to accumulate breadcrumbs in them, as well as burnt food bits from sauces and oils. These can destroy your appliances, and make the food cooked in them taste odd. Clean these out at the end of every shift to ensure proper cleanliness all throughout your food business!
---
Sale
Now, It's Over To You!
Now I'd like to hear from you: Leave a comment to let me know.
Spread it by Sharing on social media…