Do you know that an unclean or cluttered bedroom can affect the quality of your sleep?
Sleeping in a soft and clean bed can make it easier for you to fall asleep faster. This is why it is recommended to change your beddings once or twice a week.
Additionally, if your bedroom is cluttered, it can elevate your stress level which can also impact your slumber. When your room is clean and decluttered, you don't only sleep well but will also wake up fresh and able to get ready for work without any distractions or without taking a long time to find your stuff.
If you are struggling with your sleep or are tired of sleeping in a messy room, then you need to develop some daily habits that will help you keep your bedroom clean. Keep reading to learn about these habits for a healthier and better lifestyle.
Take the Trash out Everyday
One of the most important habits that guarantee to make your bedroom clean and smelling nice is taking out the trash every day. However, if you don't have a wastebasket in your bedroom, then you need to get one. If you think that you don't need one since you don't throw away any trash in the bedroom, then you need to think again.
The tags that you remove from your new clothes, the snacks that you eat late at night, and tissues that you use practically every day need to be thrown away somewhere.
This is why you need a wastebasket in your bedroom so you won't throw your trash on the floor making the room dirty and hard to clean. Make sure to empty the wastebasket every day.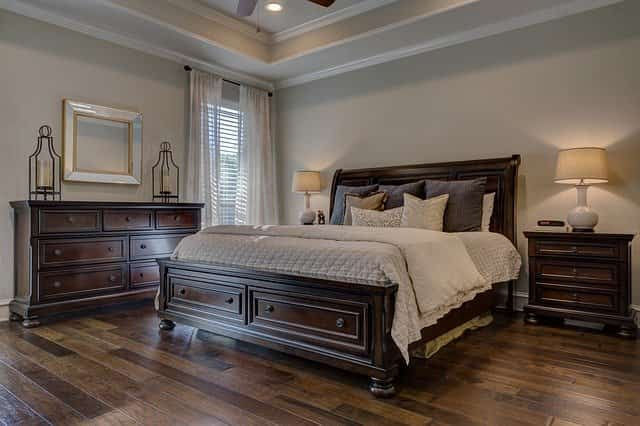 Remove Clothes from the Floor
Make it a rule in the house that no one is allowed to leave any clothes on the floor. Even if you are in a hurry in the morning and tend to leave clothes on the floor, make it a habit to remove them every night. You can also invest in a couple of clothes hooks or hangers and hang them on the walls.
This will save you time and will make your room look tidy. Floors that are covered with clothes make the room look very messy and disorganized which can definitely make you feel stressed and unable to sleep.
Make the Bed
An unmade bed is an uninviting bed. In other words, no one wants to sleep in an unmade bed. Additionally, it makes the room look really messy. As a matter of fact, making your bed will only take two minutes, whatever size it is, so just get it done first thing in the morning to get it over with.
Besides, when your bed is made, it will encourage you to keep the room clean. Make sure that you have a mattress that's suitable for each bedroom.
Usually, a queen mattress is ideal because it's neither too big nor too small – the size is just right for either two people or one person that likes to take up a lot of space. Make sure that you do a bit of research to find the perfect mattress for your home. If you have kids, you can make a friendly competition to see who makes their bed first or use a reward system to encourage them to do it.
Don't Leave Shoes on the Floor
Just like with clothes, there are many people who leave their shoes lying around on the floor. You should, as soon as you take off your shoes, put them away in a shoe rack or closet. Leaving your shoes on the floor will make it hard for you to vacuum your bedroom, so you may opt-out of cleaning it all together.
Additionally, sometimes the shoes that are worn every day smell, so keeping them in your bedroom can affect the room's odor.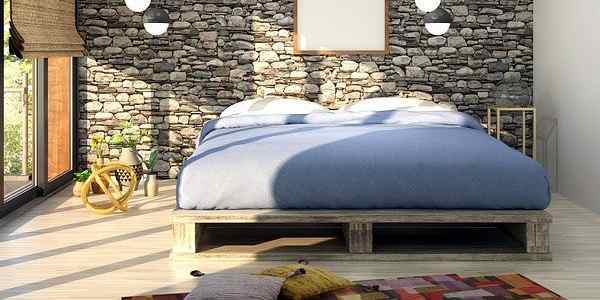 Don't Store Anything in the Bedroom
This may not be a daily habit per se but it is something that you should definitely make a habit of, don't store anything in your bedroom. Your bedroom is a place for relaxation and sleeping and not a storage unit. Putting anything that you don't have space for in your apartments like boxes or junk of any type will make the room look disorganized, messy, and uninviting.
Additionally, it will be practically impossible to clean which will cause it to remain dirty and it may even become unsanitary. Spend a day decluttering your room, remove all of these boxes, and place them somewhere else. If you don't have a place for them then you can throw away the junk, and sell and donate what you don't need.
Once these boxes are removed, you will be able to easily clean your room, and you will surely notice a difference in your sleep quality. Make it a habit to never use your room as a storage unit again, and better yet, make sure to never buy things you don't need or have a place for.
The bedroom may easily be the most important room in the house. It is our haven where we relax, sleep, or unwind at the end of the day with a good book. If it is unclean or disorganized, this can affect your quality of life as you will be depriving yourself of relaxation.
This is why you should make sure to follow these simple habits to ensure your room is always tidy and inviting. They won't take much time or effort but will really make a difference.
---
Sale
Now, It's Over To You!
Now I'd like to hear from you: Leave a comment to let me know.
Spread it by Sharing on social media…