One of the first things that a person notices when they visit your home or your office is the windows.
They are usually facing the front, are large and obvious in the structure, and more importantly, they enable people to see what is going on inside. If you have specially designed windows or the majority of your offices' exterior surface is made of glass then this makes them even more prominent. Dirty, crusty windows with glass in poor condition will never give a good impression.
That is why you will notice that any store on a high-end shopping street or a business that uses a lot of glass displays to showcase products will always keep these aspects of the premises shiny and looking fresh. It's not as much about the windows being clean as it is about making sure that the things in that display look their best.
Dirty windows and dirty glass showcases will only give the impression that you aren't taking care of the property and are less concerned about the perception that clients have for your business.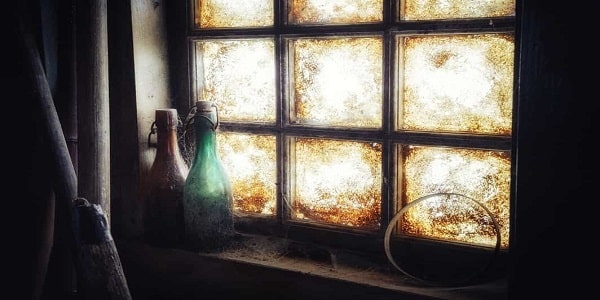 Cleaning these can be challenging, especially in areas that face harsh weather, dusty conditions, or have to put up with several hours of harsh sunlight throughout the year. Here we go through some of the best window cleaning practices that the professionals use that will keep your windows looking fantastic all year round.
Scrubber
Most people make the mistake of thinking that they can just use the garden hose to water off the dirt from the window. In reality, the dirt and grime on it are tough to get off. The ideal solution is to use a proper scrubber to remove the dirt. You might think that using a scrubber or any other kind of cleaning tool will damage the glass but that is far from reality.
Glass is extremely hard and scratching it is not that easy. Especially glass that has been treated specifically to withstand extreme temperature or other forms of high-quality glass are nearly impossible to scratch. Get a good quality scrubber or use a dishwashing foam to dig deep into the glass and clean out all those stains and marks.
Solution
The next most important thing in determining how effective your efforts are going to be is the substance with which you clean the glass. If you are just washing your windows at home, you can make a simple mixture of tap water and dishwashing soap. This will work great for most applications.
There may be instances when the need for professional window cleaning services arises; you might be familiar with that specific smell left behind after a good cleaning job. That is because professional cleaners use a range of chemical additives to wash windows. If you want to go the extra mile you can add vinegar, soap, and distilled water rather than tap water. This will instantly give you a much higher quality wash.
Squeegee
If you are looking for the highest quality results then simply using the garden hose to wash off the soapy mixture is not going to do you any good. Your best bet is to invest in a 10-inch or a 12-inch squeegee to wipe off the excess soap.
This is a great size for large windows, however, if you have windows with smaller squares in them then you can go for a smaller 8 or 6-inch sized squeegee.
Water itself contains a lot of minerals; if you use this kind of hard water, it will stain your windows if you leave it to dry off naturally. Drying out the water completely is the only way to guarantee that you will have crystal clear windows after your wash. Using a rag or a cloth to wash off the soapy mixture will remove the foam but will still leave a very thin layer of water on the glass.
This layer is harder to see and you will only notice it when it dries off, leaving the mineral deposits on the glass.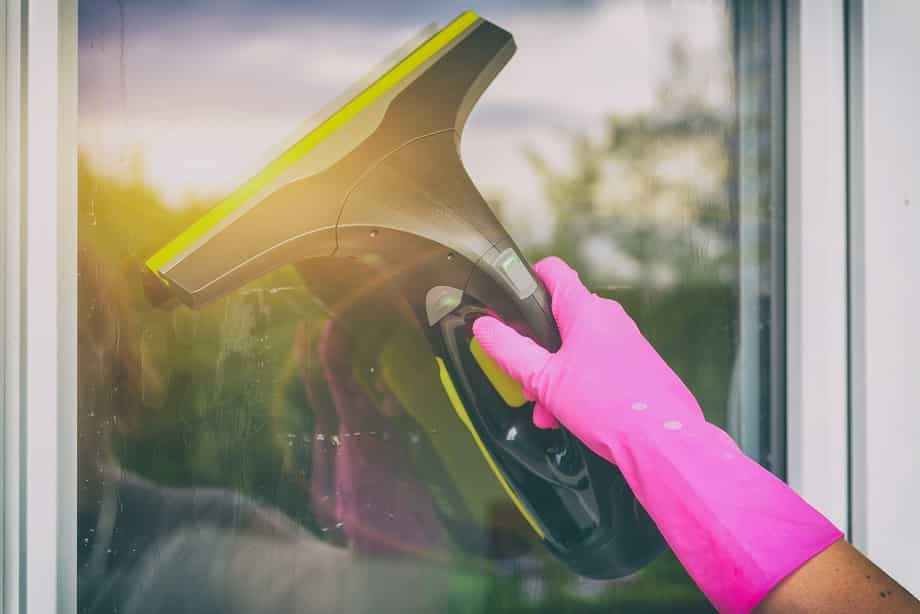 Details
Use the above-mentioned process for both the inside and the outside of the window. Cleaning just one surface is not enough, it will not give you that mirror finish result. Even if you think that the inside of the window is clean, the microscopic dust that settles on the glass ruins its look.
In addition, make sure you use a soft, absorbent cloth to wipe out the corners of the window frame. The squeegee will not be able to get into deep corners and hard edges. Using your finger and the cloth gets into the finer details and wipes those clean.
Leaving out the corners of the window will allow water to sit there and build mineral deposits when it dries up. More importantly, the water that stays there will soak into the wooden frame of the window and start to damage the paint on the wood, and eventually the wood itself as well.
This will cause the frame to swell, deform, chip, crack, and eventually become unappealing. If you want that nice mirror finish then use a polishing cloth after you have used the squeegee to buff the glass. Make sure the cloth is lint-free to get the best results.
---
Sale
Now, It's Over To You!
Now I'd like to hear from you: Leave a comment to let me know.
Spread it by Sharing on social media…