Do you have a cluttered garage?
You are not alone. You may be living in a house with your spouse and kids, or maybe you live by yourself. Either way, life can get messy! You might have boxes of things that need to be thrown away, piles of junk around the floor, and shelves filled with items you don't use anymore.
If this is your situation, read on for some helpful tips to keep your garage neat and clean.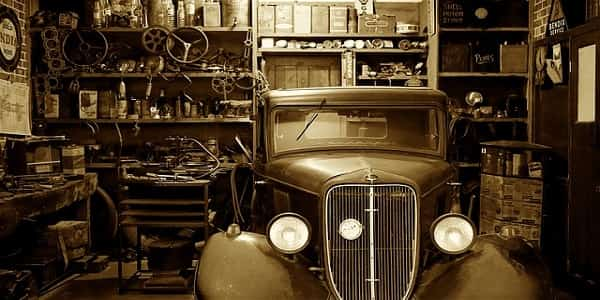 Clean Out your Garage Every Once in a While
It might be hard to know where to start when you have a cluttered garage, but you must take some time to clean out your garage now and then. Cleaning your garage is part of keeping your home clean and organized too. It would be best to clear up all the junk so that everything is in its own space. You may even want to consider organizing items by type or function (e.g., tools, decorations). You will be able to find things quicker, and there will not be a mess everywhere.
Cleaning your garage is not an easy job. You may have to deal with old paint cans, patio furniture that needs to be thrown away, or boxes of junk that should not go inside your home. You don't want this stuff in your house anyway! It's time for you to do some serious cleaning and get the clutter out of your garage.
Get a Garage Mat
A garage mat is a great way to keep your garage floor clean and prevent dirt from getting into your car. You can buy them at the store or online for affordable prices. You will find that they are easy to install, durable, practical, and come in many different sizes. These containment mats help to keep garage floors clean from oil, mud, and snow and maintain your garage neat at all times. You can install them over your concrete garage floor to protect it from scratches.
Therefore, if you are looking for a great option to keep your garage clean and neat, then get yourself one of these mats. You will not regret it as they are durable and do their job. You will be glad you invested in one of these mats as they provide good protection for your garage flooring and help keep your car clean too.
Keep Tools and Other Items Off the Floor
You must keep your tools and other items off the floor to avoid getting any dirt in them. You should create a system with shelves or drawers that store everything neatly away from sight but still easily accessible when needed. You can build these yourself if they are not available at your local store.
The next thing you should do is get a vacuum and keep it in your garage. You will be glad that you did, as all of the dirt on your floor gets sucked up without any effort on your part. You can use this every day to make sure everything stays clean, even if there are spills or someone makes a mess.
You may also want to consider installing a pegboard on your wall and hanging all of your mechanic tools from it. You can make different boards for various types of items, like power drills or screwdrivers. You will be able to find what you need in no time at all!
Place Small Items on Shelves or Hooks
Small items can be a problem when they are just lying around your garage. You want to keep them organized so that you don't have to spend hours looking for what you need or, worse yet, picking up all the objects on the floor because they fell over. You should install some shelves in your garage and place everything neatly into one spot where it belongs. You can also use hooks to store things like your keys or your sunglasses to avoid getting lost.
You will be glad you have some shelves and hooks in your garage when it's time for something specific, but you can't think of where it is! You'll know exactly where everything is stored, which means less work for you. Not only that, but you'll also be able to keep your floor cleaner which is a huge bonus.
Label all Your Storage Containers to Make it Easier to Find What You're Looking For
An easy way to keep your garage neat is by labeling all of the storage containers that you have. It would be best if you labeled everything so that it's easier for you to find what you're looking for when needed. You'll also be able to see where things are quicker, which will save time and energy spent on searching high and low.
Keep labels simple. You want them to be easy for you and anyone else who might use your garage. You also don't want containers that are too hard to open or close because they will end up staying closed permanently, which defeats the whole purpose of labeling! Try using a permanent marker on these labels so that you can write the contents of each container.
Clean As You Go
Cleaning as you go is one of the best ways to keep your garage clean and neat. You will find that it's much easier this way because there are fewer things to pick up at once. You can also avoid clutter by keeping everything in its place so that when you're ready for a project, all of your items are right where they're supposed to be. You'll also find that everything is in order, which will make things easier when you need a specific tool or item.
You can keep your garage clean by picking up any trash as soon as it appears and throwing it away properly, so there's no chance of the mess getting worse later on down the line. It would be best if you also tried to make a habit of sweeping or vacuuming your floor every day so that you can get the dirt and dust before it accumulates. It would be best if you also vacuumed any spills as soon as they happen. Otherwise, you'll find yourself facing an even bigger mess in no time at all!
If you have a cluttered garage, it can be hard to find what you're looking for. The good news is that there are some easy ways to keep your garage clean and organized so that you don't waste time searching for misplaced items or tools when they're needed most! Here are six helpful tips for keeping your garage neat and tidy:  Clean out your entire garage every few months, Get a quality mat, Keep all non-garage-related items off the floor; this includes things like lawnmowers, snowblowers, bicycles, etc.
---
Sale
Now, It's Over To You!
Now I'd like to hear from you: Leave a comment to let me know.
Spread it by Sharing on social media…