Your home exterior is important for many reasons. Since it's one of the first things guests will notice in your property, its condition can create an impression.
Your exterior also impacts the structure and safety of your home. An improperly maintained exterior usually increases your home's susceptibility to damage, resulting in extensive and expensive repairs. 
Keeping your exterior in pristine condition is a must when you're a homeowner.
In fact, your exterior should receive the same, if not more, attention as your interior. It'll be challenging for you to wow guests or enjoy your investment for years if your exterior is in bad shape. 
To make things easier, follow these tips to keep your exterior in pristine condition.
Invest in Pressure Washing
Grime, dust, and other debris can eventually accumulate in your exterior, resulting in visible stains. Weather fluctuations can also cause molds to grow. Over time, they can damage the painted surfaces and cause several health problems to your household.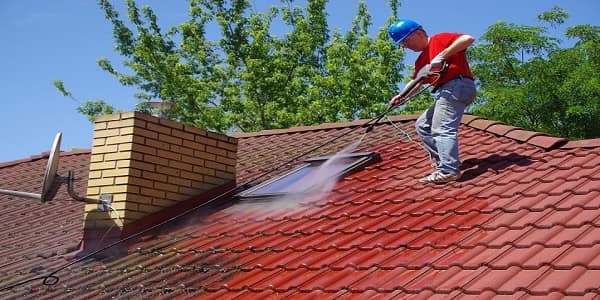 One of the easiest ways to clean your exterior is through pressure washing. This removes grime and other debris, which if ignored can cause permanent damage to your exterior. Pressure washing also restores curb appeal and increases the market value of your home.  
To save time and money, you can opt to hire a pressure washing company instead of attempting to take on this chore on your own. Pressure washing companies have the equipment to properly and safely clean your exterior. Their experience will also enable them to resolve unforeseen events. 
Don't Neglect The Landscape
Having a landscape provides countless benefits, but only if it's properly maintained. Surely, a diseased or dead plant can't add color to your exterior. Similarly, weeds and pests in your landscape won't definitely create a relaxing ambiance.
To keep your exterior in pristine condition, you need to pay attention to your landscape. No matter how busy you are, try to allocate an hour or so every day to pull out weeds, water your plants, and rake debris from your plant beds. If you have adult trees in your landscape, regularly trim their branches to minimize any safety hazards.
Ensure Your Fences Are In Tip-Top Condition
Unkempt fences can do more harm than good. Instead of boosting curb appeal, improperly maintained fences can adversely affect the aesthetic of your exterior. If your fences are in bad condition, they can also take a toll on your family's safety and security.
So if they're old or starting to fall apart, consider tearing your fences down and replacing them with brand-new ones. Nowadays, fences for residential property come in a wide range of styles and designs, so you can choose one that fits the overall look of your exterior. 
Some of the most common materials used for fences in residential property are wood and metal. Vinyl is also a good option as this demands less maintenance than other materials and doesn't require any staining or painting.
Upgrade Your Front Door
Your front door functions as the focal point of your exterior. That's why you have to make sure it's appealing. An attractive front door can set the right tone, impress guests, and make other features of your exterior look better by proximity. 
There are several ways to upgrade your front door, and one of the most affordable ones is to apply a fresh coat of paint. You can even take it up a notch by selecting a color that contrasts the color scheme of your exterior walls. For example, if your walls are painted white, opt for bold colors like blue, red, or yellow.
You can also revamp your front door by adding some plants and flowers. Regardless of the space available around your front door, there are plenty of ways you can adorn it with plants. You can add some hanging plants or even decorate your door with a floral wreath. 
Keep The Clutter Down
All your efforts to follow tips 1 to 4 will be useless if your exterior is filled with clutter. Any changes you'll make won't take center stage if there are too many toys, bikes, and sports equipment lying outside your home. The same will likely happen if garbage cans are left on the lawn or pairs of shoes are visible on the porch.
To avoid clutter around your exterior, provide storage space for items. This goes for anything frequently used outside—from smaller items, such as gardening tools, to bigger objects, like bikes.
Aside from being an eyesore, clutter can attract pests, which can eventually fester your home and bring diseases to your family. The more cluttered your exterior is, the more attractive your home will be to pests and insects. 
Start Working On Your Exterior Today
Maintaining your exterior doesn't have to be expensive or tedious. As long as you devote a few hours a day to follow these tips, the entire process won't feel so overwhelming. Whether your home is 2 months or 25 years old, its exterior can look appealing with proper and regular care.
Just be sure to remain consistent with your efforts as maintaining your home's exterior requires a long-term commitment from you.
---
Sale
Now, It's Over To You!
Now I'd like to hear from you: Leave a comment to let me know.
Spread it by Sharing on social media…