With drastic changes in climate and environment, winters are getting longer and cooler too.
It is resulting in more ice and snowfall, causing great havoc. Home gutters and roofs easily fall prey to from heavy to mild ice dams during the winter. People thus, suffer tremendously to get rid of the ice dams in gutters.
But
You can remove the ice dams safely with careful and risk-free strategies.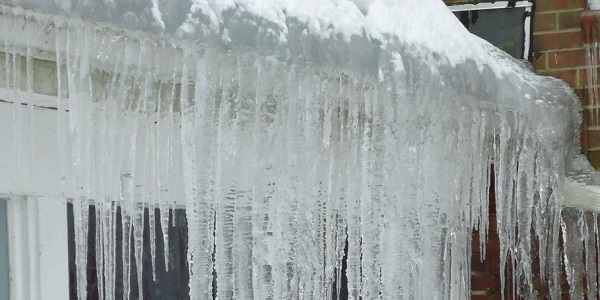 Snow Rake In Effect
It is a common home appliance with flat-edge. It is usually made of metal and is long enough to reach the ice dams in gutters and roofs without risking to go close with them. To remove ice dams at first extend the long handle to reach the gutter. Then position the rake horizontally and pull down the ice from the gutters. It will scoop snow and ice from the gutter to the ground.
How Do You Get Rid Of Ice Dams In Gutters? #GetRid #Ice#Dam #Gutter
Click To Tweet
Hot Water Treatment
Applying hot water on the ice dams is probably the easiest way to get rid of the damned ice dams. Take a hose pipe and connect it with the hot water source such as the spigot of your washing machine. Put the other part of the hose on the gutter where there is an ice dam. Then run the hot water source to melt the ice. If you feel necessary, you might increase and adjust the hot water temperature.
Carefully switch off the source to avoid escalation of anyone.
Applying hot water will consume your hot water for a while. If it is urgent, do bath and shower before applying the treatment.
Heated Cable
If you are running out of time or money to clean ice dame from gutters, place heated cables in a zigzag pattern on your roof and gutters. It won't allow ice and snowfalls to froze and create ice dams.
Calcium Chloride in Action
The most effective way to remove the already formed ice dams is to deicing your roofs with Calcium Chloride deicer. To apply calcium chloride deicer, fill a used pantyhose with it and place it on the ice dam. It will melt the dam automatically. Additionally, joining a long string with the pantyhose will help to retrieve it safely.
Calcium Chloride is most likely to damage your plants under the roof.
Professional Help
If you are unsure about your skill to remove an ice dam, you better call a professional to do the job.
Ice dam during winter is annoying. Apply these simple tricks to remove an ice dam from your gutter and roofs so that they don't ruin your winter fun.
Cleaning is healthy:
Deck cleaning
Concrete cleaning
Pump spray
Microfiber towel
Detergent for diaper
Baby soap
Pressure washer
Pressure washer detergent
---
Now, It's Over To You!
Now I'd like to hear from you: Leave a comment to let me know.
Spread it by Sharing on social media…