So, your friends couldn't come over this evening because your pool was dirty, huh? Kinda sad.
A well-maintained pool would be an asset in your backyard. Whether it is to host a children party, it can be the highlight and centerpiece of all activities.
A pool has a way of bringing comfort and much-desired pleasure to folks, but it comes with its downsides.
Occasionally,
these pools develop water problems, bacteria one of which.
What are These Organisms?
Bacteria, as we know them, are minute living creatures that have a high proliferation rate. They are a group of unicellular microorganisms known for their role played in the cause of many diseases.
Unfortunately,
these organisms share with us our sacred pool.
How Do They Get Inside Our Pools?
They are no ghosts! They do not just appear from thin air. Over time, they accumulate due to some of our actions and perhaps lack of our actions.
There are multiple reasons why we find these organisms in our pools; a general one being uncleanliness. Not clearing the pool after a party or urinating inside your pool could be a recipe for a bacteria attack.
How Do I Detect Them?
Your eye can not easily detect most bacteria because of their extremely small size.
However, their effect on your water is so visible. For instance, some bacteria raise the pH of your water to levels considered harmful for your health.
Ensure you get the best digital pool water test kits to identify these irregular pH changes.
So now, the main question is, how we can get these organisms off our pools?
Various individuals have devised several methods to get your pool back on track again.
One of these is the proper filtration of your pool. Aside filtration, engaging in proper scrubbing, or even balance pool chemistry may be a combat tool against these microorganisms.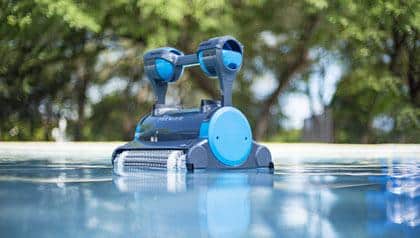 But,
who likes stress?
Not even one of us.
This is why scientists specializing in the field artificial intelligence have developed assistance for you- robotic pool cleaners.
This means cleaning your pool doesn't have to be one of your chores again.
What are Robotic Pool Cleaners?
This is an automated vacuum pool cleaner intended to collect debris and sediment from swimming pools with minimal human intervention.
As the name implies, these are robotic devices designed explicitly to ease you of the stress of keeping your pool clean.
Common brand names include Aquabot, Aqavac, Dolphin, and SmartPool. Although they are electric devices,
Robotic pool cleaners make use of low voltage in their operations. Robotic pool cleaners generally pick up larger debris than many suction side cleaners.
How Do They Work?
Robotic pool cleaners operate using electricity. Lick a vacuum cleaner, a robotic pool cleaner sucks in water from your pool.
In doing so,
the water is passed through a filter which ensures the passage of only clean water. Also, these cleaners have rotating brushes embedded in them.
These brushes allow for the scrubbing of all bacterial and alga growth in the water.
There is a water circulation system that allows for the outflow of clean water back into the pool. So, this means the efficiency of its water conservation is high.
The debris is retained inside the robotic pool cleaner. They are propelled by either wheels or tracks.
The good thing about these cleaners is their rate of effectiveness even with minimal human intervention.
You could set up your cleaner plugging it to a wall outlet with at least a 50 ft long cord.
The transformer takes in 110 volts from your outlet and steps it down to about 24 volts (that's relatively low!).
It would be such a bore waiting for it to get finished; I know. Go about doing other things; it would do just fine if you aren't there watching it.
When your robotic pool cleaner is finished, you can remove it from your pool or leave it to serve as a water filtration system.
Why Should I Get A Robotic Pool Cleaner?
If you are in a battle against bacteria wanting to colonize your pool; get a robotic pool cleaner. One advantage I find rather interesting is their self-contained filter.
All robotic pool cleaners contain an onboard bag filter which can be easily cleaned (yeah- you have to clean the cleaner!).
This filter can filter down up to two microns- that's enough to get rid of every single bacterium in your pool.
Chill, not only that. Being the only automatic pool cleaners not directly attached to the pool's circulation system, robotic pool cleaners offer no resistance or back pressure on the pool filter system.
How to Clean Pool [infographic]
Final Recommendation
Robotic pool cleaners are somewhat commendable in their pool coverage and speed. How lovely would get one for your pool to be?
---
Sale
Now, It's Over To You!
Now I'd like to hear from you: Leave a comment to let me know.
Spread it by Sharing on social media…