Today you are here to know about the best drying towel for cars buying the guide. I am adding lots of information here in this article.
Drying towel is obviously an important tool to add completion of cleaning your cars.
Let's read the whole buying guide for car drying towel purcha
The Necessity of Drying a Car
We love to use the car as the second home after the actual one. We use vehicles regularly to move from one place to another.
Thus, cars get dirt, dust, mud, grease, grime and other nasty things. So, we clean them with car cleaning products.
But if we don't dry them after cleaning with soap or liquid detergent, it won't be quite satisfactory.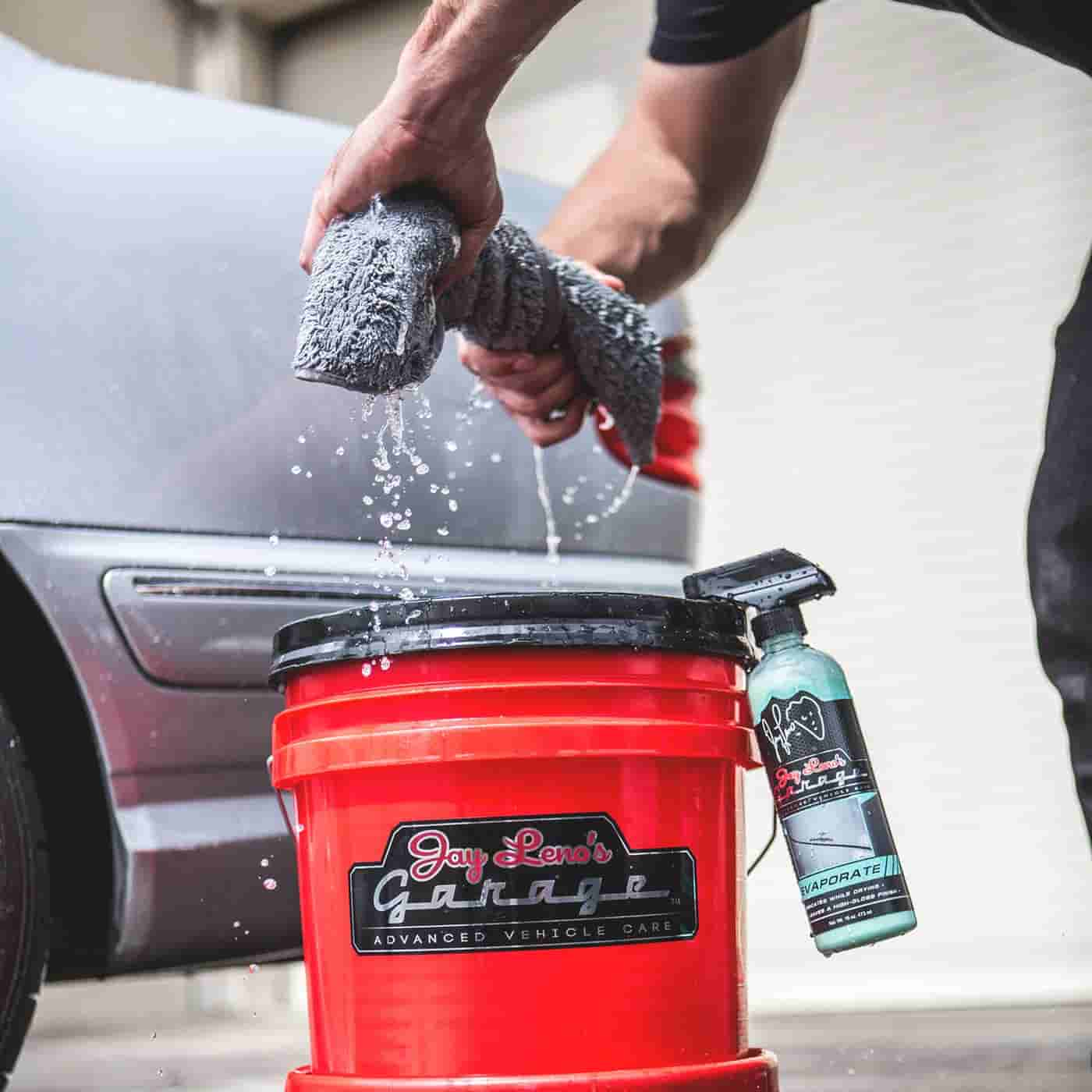 Keeping the car under direct sunlight can be easy to dry the car. But this is totally out of any result.
The water spots appear on the car's body. It can damage the paint and create more issues. Rubbing the spots brings for anguishes.
So, you should choose the best drying towel for your car.
Thinking about towel you may imagine the regular towel you use in the bathroom. No, a towel for drying a car is quite different.
You need to be aware of a few things while you are going to dry the car.
Regular bath towels are made of heavy polyester thread. Polyester isn't friendly on the surface of the car's metal body.
It can cause mild scratches. Water blade is quite good for drying the car. But this can be dangerous too.
If the dirt goes between the water blade, you will see the scratches. Air dry can change the actual look or attractiveness of the car.
Many people may recommend using chamois or shammy to dry out the cars. I am not suggesting you do so.
Shammy creates bit suction when you try to use it on drying the car. This suction can spread the leftover dirt after cleaning the car (if there's any).
So, this can be less helpful. Waffle weave drying towel is another kind of car drying towel. The weave of the waffle towel makes car drying simple.
There's less chance of having any scratches. But it's not so effective than the specific top rated drying towel for the car.
Then What Shall You Choose?
In one line, you should buy a microfiber towel for drying cars. This is the best solution for drying the vehicles properly.
A microfiber towel is different from any other types of cloth. This type of towel is produced for cleaning any vehicle and drying them well.
Depending on a single silk standard, microfiber is of 1 denier or less by measurement. You may now think what is this denier.
The fineness of a unit of fiber weighing one gram with the length of 9KM. Seemingly the length can make you think again. It's very smaller than you can think.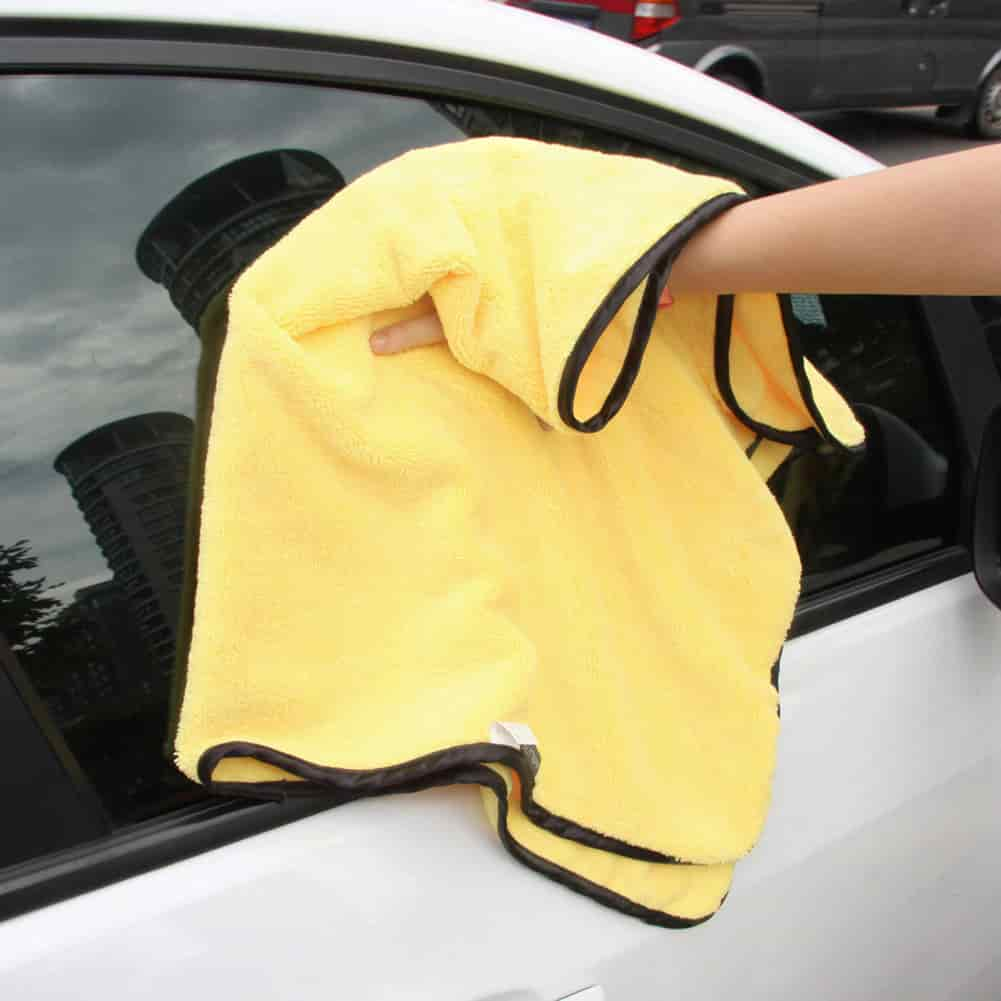 A single strand of silk can be of 1/5x smaller by the diameter of a human hair. Usually, almost 2 lakhs of fibers can be in just a single square inch of microfiber.
Microfiber towels can be made of different types of materials. These materials can be polyester, polyamide, or both of them combining.
Nowadays manufacturers are using polypropylene to make microfiber towel recyclable for next time.
These ingredients make the towel stronger, long-lasting. Using the microfiber towel can be effective as it doesn't damage after several applications.
Any kind of shrinking or stretching, abrasion, etc. stay away from the towels. After all, microfiber dries things faster.
Microfiber towels are of multiple types. The pile height of the microfibers defines the classifications of it.
If the pile height is higher, then the microfiber will be softer, plusher. Short pile microfibers are good for cleaning and drying the car dashboards, trims, upholstery, exhausts, etc.
The popular 80/20 blends come in 220-250 GSM. A medium pile microfiber towel is used to clean or apply the car waxes, car polishes.
Medium pile microfibers have 3 versatile variants. The blend of medium pile microfiber has 75/25 blend having 360 GSM levels.
This is satisfactory in drying the trims, glass, clear plastics, etc. The blend of long pile microfiber towel is 70/30 blend in 600 GSM.
Why should you choose the microfiber towels for sale? A microfiber towel is a faster solution.
This towel can absorb liquid for more than twice times of their weight. This towel is very beneficiary as it can absorb a lot of liquid.
The effect of microfiber towels is absent in cleaning the paint. You can use a microfiber towel for buffing off the polish, wax, etc.
You also can wash the best drying towel it gets horrible over time.
There are lots of differently branded car drying towels available at the market. You should read the reviews given by the users.
FAQ
Here are some of the frequently asked questions about best drying towel for cars buying guide:
Question: What is the best type of car drying towel?
Answer: You can choose any of them on your choice. But not all of them are satisfactory. Microfiber towels are the best. They smoothen the task and performs faster.
Question: Can I wash microfiber towel for drying the car?
Answer: Yes. You can wash them without any hesitation.
Question: Why microfiber towel is different than ordinary clothes?
Answer: It's the structure of the microfiber towel. It is soft and gentle on the car surface. No chance of dents.
Conclusion
Drying a car is important for taking a complete care of the vehicle.
There is nothing alternative to use a drying towel instead of heating under the sun.
Many top-quality car drying towels come with extra facilities, discounts, offers, etc. Choosing the right one is very important.
Because no one is fond of having any water spots, scratches on the car. So, buy the best drying towel for your car for saving your money and time.
---
Sale
Now, It's Over To You!
Now I'd like to hear from you: Leave a comment to let me know.
Spread it by Sharing on social media…