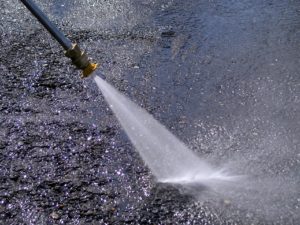 Pressure washing machine cleaners are considered to be an incredibly useful tool to clean homes, garages and other commercial places.
Rather than cleaning with a brush, opting for a pressure washer will help you clean your deck, house siding, car or a concrete walkway easily that too in lesser time.
Moreover,
it also helps to remove the stubborn stains that are hard to get rid of with a brush or hand washes or use the best high-pressure cleaner.
Well, the benefits are not just limited to removing stubborn stains and brisk cleaning.
If you are unsure about what specifications you are looking for in a pressure washing machine, here's a good read. In this blog, we will discuss the types of pressure washers along with detailed specifications.
But, before we begin, let us get an idea about how to choose the right pressure washing machine cleaner.
Choosing the Right Pressure Washer
#1 Check pressure washer ratings
The first thing to know when looking for the pressure washer is the common pressure washer ratings.
Gallons Per Minute (GPM) – This shows the gallons of water produced by a pressure washer in a minute. The higher the number, the faster is the cleaning capacity.
Pounds Per Square Inch (PSI) – This is the pressure that is provided by the pressure washer. The higher the number, the more is the water pressure.
Cleaning Units – The cleaning units can be defined by multiplying GPM by PSI. The higher the number, the better is the cleaning power.
#2 Consider your needs
Secondly, you will have to determine your choice while selecting a pressure washer. Consider your needs while going through their individual benefits to narrow down your choice of the pressure washer.
Types of Pressure Washers
#1 Electric Pressure Washer
It is a common choice for cleaning the chores around the house, garage or the shop. The best part of these electric pressure washers is that they can be easily plugged into a standard household outlet. Easy to use, this electric pressure washer requires minimal maintenance.
Maximum pressure range – 1500 to 2000 PSI
Average life span – 100 hours
Best for – Light cleaning jobs for both indoor and outdoor applications
#2 Gas Pressure Washer
Choosing a gas pressure washer is generally due to two major reasons:
There is a need for a higher pressure to get the job done
Electrical power is unavailable
Best for – Industrial applications, regular use, and heavy-duty applications
The gas pressure washers offer flexibility, especially on the bigger sites, as they are not restricted by the length of the cord.
They deliver high pressure, aiding in faster cleaning, hence, a good option for larger jobs like prepping to paint a house.
As they have gas engines,
they do require some maintenance.
Maximum pressure range – 2000 to 5000 PSI
Average lifespan – 200 to 1000 hours, depending on the model
Recommendations for Best High-Pressure Cleaners in The Market
Gerni MC 4M Pressure Washer, 2320PSI
If you are in search of a tool that aids you in electric high-pressure cleaning for small to medium business units, choose Gerni MC 4M.
Application:
Designed for light to no moderate commercial use,
it works best for the small building companies, agribusiness like automotive garages and car rental companies, the small crop and milk farms, cleaning tools and equipment, graffiti removal, building facades, sandblasting and more.
Features:
This new cold-water pressure cleaner is perfect to avail of efficient cleaning because of the following features:
Increased power
A new user-friendly design
Unique foam sprayer with a separate bottle
Pressure activated unloading system
Aluminum lifting bar for easy transport
Pump oil tank with oil level sight
Brass pump head
Three ceramic coated pistons
External oil level sight panel
Quick and superior cleaning results at low cost
Gerni Poseidon 3-39PE Honda Powered Petrol Pressure Washer, 2400PSI
For all-purpose commercial cleaning, this petrol high-pressure cleaner will serve your needs perfectly.
Application:
Powered by Honda, the compact Gerni Poseidon 3-39PE is basically designed for regular cleaning work in agricultural, food, construction or transport industries.
It also works best in the places where there is no electrical power.
In short,
for any commercial cleaning needs, Gerni Poseidon 3-39PE has to be your premium choice.
Features:
AR Pump
5 HP Honda GX 200 Motor
Adjustable Pressure Unloader
Long-life Brass Pump with Ceramic Pistons
Built-in Thermo Sensor
In-line Chemical Injector
Low Oil Shutdown
Robust Aluminium Frame
1-year Gerni Pressure Warranty
3 years Honda Engine Warranty
Crommelins Subaru 3000PSI Diesel Professional Pressure Washer
This diesel high-pressure water cleaner is an ideal solution for heavy-duty industrial requirements.
Application:
The Crommelins Subaru 3000PSI Diesel Professional Pressure Washer works best for washing down dusty and dirty machinery, cleaning construction or mining equipment.
It is even considered for agricultural and general trade uses.
Hence,
be it machinery wash down or cleaning mud from flooded areas, fence, walls, shop fronts, floors, awnings and dairy sheds – you know your pick.
Features:
Genuine 9.4HP Subaru diesel engine
Heavy duty roll frame with hose holder and gun
10m high-pressure hose
Adjustable pressure regulator and detergent injector nozzle
Central lifting hook
Rubber isolated engine mounting plate
1-year Crommelins pressure pump warranty
3 years Subaru engine warranty
Moreover,
it comes with the custom options like safety stop, extinguishers, custom coloring, and lockable battery isolator; which you can fully equip it with if required.
Spitwater 3000PSI Electric Pressure Washer
The Spitwater 3000PSI electric pressure washer is specifically designed to carry out the job of washing, descaling, degreasing and disinfecting for various commercial and industrial applications.
Application:
It works best in the cleaning, transport, building, light, and heavy manufacturing units as well as the primary industries.
The Spitwater pressure cleaner offers high performance, efficient results and
world class after sales service along with the back-up of spare-parts.
Hence,
you can be sure to receive assistance at any point if required.
Features:
Longer pump life
Less maintenance
All steel construction
1450 RPM speed
10m high-pressure hose
Gun and back part of the lance
The front part of the lance with 4-way nozzle
Pump protection with a cooling tank having 100 % full bypass
AR Blue Clean 2200PSI Hot and Cold Industrial Pressure Cleaner
If you are looking for an electric pressure washer that can assist you in managing general business cleaning job, opt for AR Blue Clean 2200 PSI.
Application:
Easy to move around, this pressure washer comes with twin detergent tanks.
It also has a heavy-duty axial pump with a brass manifold. Packed with safety features, it is suitable for industrial, construction and rental industries.
It works best for washing down grease and oil stains or cleaning patios, caravans, outdoor furniture, fences, shop fronts, awnings, cars, and boats.
Features:
Triplex pump with brass head and ceramic plungers
24 L diesel boiler
Total Stop Intelligent with alarm for microleakage, lack of water and fuel
Complete stop after 60 minutes with gun closed
Detergent suction that is adjustable in a low-pressure setting
Security valve
Pressure gauge
Thermostat
12 months warranty
Kranzle Quadro KQ599TST Electric Pressure Washer, 2175PSI
The cold water Kranzle Quadro KQ599TST works best for industrial and commercial applications, especially to handle rough ground with ease.
Application:
This pressure washer is ideal for heavy-duty applications including truck/tractor cleaning, dairy/piggery sanitizing, vineyards and wineries.
Features:
Total-Stop system
Hose drum with HP hose, 20m NW 6
Safety cut-out
Trigger gun with safety catch
Dirt killer lance with a stainless-steel pipe
Water tank
Park Brake
Flat jet lance
The Best Cheap Portable High Pressure Cleaner For Car And Home Use
Generac 7019 OneWash 3,100 PSI, 2.4 GPM, Gas Powered Pressure Washer and PowerDial Gun
Ergonomic spray gun with integrated Power Dial allows you to easily adjust the pressure needed between four different tasks - car, wood, concrete and soap - at your fingertips
Powerful horizontal axial cam pump delivers 3100 PSI for tough cleaning
Convenient on-board 1/2 gallon detergent tank for hassle free cleaning
Generac 196cc OHV engine delivers maximum cleaning performance
25 foot high pressure hose connects to the rear of the spray gun for maximum convenience
Sun Joe SPX3000 14.5-Amp Electric High Pressure Washer, Cleans Cars/Fences/Patios
[POWERFUL]: 14.5-Amp/1800-watt motor generates.Pump Type : Wobble-Plate Piston. Voltage (V) : 120..Cord Lock : Yes. Foldable Handle : No
[VERSATILE]: Tackle a variety of cleaning tasks: homes, buildings, RV's, cars, trucks, boats, decks, driveways, patios, lawn equipment, and more. With two 0.9 L onboard detergent tanks, removable tanks carry and store different types of detergent to simultaneously tackle different cleaning projects.
[TSS (Total Stop System)]: Automatically shuts off pump when trigger is not engaged to save energy and prolong pump life.
[NOTE]: To ensure a fully functioning washer, please make sure all hoses and cleaner connections are properly and securely fastened.
Sale
Westinghouse WPX2700 Gas Pressure Washer, 2700 PSI and 2.3 Max GPM, Onboard Soap Tank, Spray Gun and Wand, 4 Nozzle Set, CARB Compliant, for Cars/Fences/Driveways/Homes/Patios/Furniture
2700 PSI and 2. 3 GPM of Powerful, Deep-Cleaning Water Pressure Perfect for Decks, Sidewalks, Siding, Fences, Railings, Garage Floors, Exterior Walls, Cars and Patio Furniture – Easy to Fill 1 Gallon Gas Tank. Pump Material-Brass
Half Gallon Onboard Soap Tank With 25′ Foot Abrasion Resistant Super-Flex Hose With Lightweight Spray Gun and 4 Quick Connect Nozzles (0°, 25°, 40° & Soap)
Heavy Duty Gas Powered 212cc 4-Stroke Westinghouse OHV Horizontal Shaft Engine with Recoil Start - Long Lasting, Maintenance-Free Axial Cam Pump For Durable and Convenient Use
Tough Steel Frame Construction With 12″ High Profile, Never-Flat Wheels Provide Easy Transportation and Maneuverability – Includes Engine Oil, Tools, and Quick Start Guide to Get Started in Minutes
All Westinghouse Pressure Washers are Functionally Tested in the Factory and May Contain Minimum Residual Oil and/or Fuel Odor; CARB Compliant; Backed by 3-Year Limited Manufacturer Service, Labor, and Parts Coverage
Suyncll Pressure Washer, Electric Power Washer, 1800W High Pressure Washer, 1.8GPM Power Washer with 5 Tips, Portable Pressure Washer with Foam Cannon for Patio Porch Garden, Yellow
★𝟏.𝟖𝐆𝐏𝐌 𝐄𝐥𝐞𝐜𝐭𝐫𝐢𝐜 𝐏𝐫𝐞𝐬𝐬𝐮𝐫𝐞 𝐖𝐚𝐬𝐡𝐞𝐫: Upgraded electric pressure washer has built-in premium quality brushless wound rotor induction motor, which offers a higher pressure and more stable water flow to let you clean heavy cleaning project with effortlessly.
★𝟓 𝐑𝐞𝐩𝐥𝐚𝐜𝐞𝐚𝐛𝐥𝐞 𝐍𝐨𝐳𝐳𝐥𝐞𝐬: The Suyncll electric pressure washer has 5 quick-connect nozzles that produce different water streams to meet all your cleaning needs, with an extra soap nozzle to provide a fine mist of water that can be used with a soap bottle to produce a rich lather, and allowing you to effortlessly wash and clean patios, outdoor furniture and more.
★𝐒𝐚𝐟𝐞𝐭𝐲 𝐏𝐫𝐨𝐭𝐞𝐜𝐭𝐢𝐨𝐧𝐬: The electric power washer added a safety automatic total stop system to prevent the pump from idling, the power cord is embedded with a ground fault circuit interrupter (GFCI) to prevent electric shock. and the spray gun of this electric pressure washer machine has a safety lock to avoid accidents.
★𝐋𝐞𝐚𝐤-𝐩𝐫𝐨𝐨𝐟 & 𝐋𝐚𝐫𝐠𝐞𝐫 𝐂𝐥𝐞𝐚𝐧𝐢𝐧𝐠 𝐑𝐚𝐧𝐠𝐞: Adopted the universal metal garden hose adapter in the water pressure washer to solve the water leakage problem that has been plaguing you. Plus an 35FT extended power cord, 16.5FT high pressure hose and 2 wheels make it convenient to move, great for a large area cleaning.
★𝐒𝐮𝐲𝐧𝐜𝐥𝐥 𝐂𝐮𝐬𝐭𝐨𝐦𝐞𝐫 𝐒𝐮𝐩𝐩𝐨𝐫𝐭: Suyncll professional pressure washers team aims to provide all of our customers a good shopping experience and a high-quality power washer. If you have any problem,please feel free to contact us.
mrliance 3600PSI Electric Pressure Washer 2.4GPM Power Washer 1800W High Pressure Washer Cleaner Machine with 4 Interchangeable Nozzle & Hose Reel, Best for Cleaning Patio, Garden,Yard,Vehicle (Green)
【POWERFUL PRESSURE WASHER】: This power washer built in powerful 1800-watt motor to generate up to 3600 PSI water pressure at 2.4GPM water flow for max cleaning power. Powered using an air cooled industrial motor and the power will blast through grime and dirt to restore your surfaces.
【ELECTRIC PRESSURE WASHER MAKE CLEANING EASY】: Our High Pressure washer tackle a variety of cleaning tasks: homes, buildings, cars, boats, decks, driveways, patios, lawn equipment, and more.Very easy to tackle different cleaning projects.Delivers a higher cleaning performance and uniform cleaning results, This electric power washer can remove even the most stubborn and encrusted Dirt , Gunk ,Oil ,Rust within seconds – quickly, easily to help you create a clean and pleasant living environment.
【4 Interchangeable Nozzle】4 quick-connect spray tips for low to high pressure to wash various surfaces. 0º- areas that are high and hard to reach; clean crevices in sidewalks or driveways; 15º- use on concrete, brick and other hard surfaces with stubborn stains; 25º- use on painted surfaces, wood siding, fences and lawn mowers;40º- use on windows and screens.
【EASY TO INSTALL & STORE】: The high quality Copper Connections are Easily Joined to Hose and Nozzle for Quick, Effortless Hookup, water no leak.Compact, upright design with axle mounted wheels allows easy roll-away mobility. Pistol style grip with trigger spray wand dispenses for efficient pressure washing.
【TSS (TOTAL STOP SYSTEM) & WARRANTY 】: Pressure Washer Machine Features Safety Automatic Total Stop System, which automatically shuts off the pump when trigger is not engaged to save energy and prolong pump life.20 ft High pressure hose are provided for greater reach.We provide 33 ft power cord with inline GFCI for use on all exterior outlets.We provide a 2 year warranty, if you have any problems with your high pressure cleaner, you can contact us at any time.
SIMPSON Cleaning MSH3125 MegaShot 3200 PSI Gas Pressure Washer, 2.5 GPM, Honda GC190 Engine, Includes Spray Gun and Extension Wand, 5 QC Nozzle Tips, 1/4-in. x 25-ft. MorFlex Hose, (49-State), Black
Premium Residential Performance: Easy-to-assemble and easy-to-start with its Honda GC190 Premium residential engine, the MegaShot power washer is great for cleaning decks, patios, outdoor furniture, house siding, and prepping home exteriors for painting.Unit Dimensions: L: 21" x W:24" x H: 34"
Power and Durability: A powerful, reliable, maintenance-free OEM Technologies axial cam pump delivers 3200 PSI at 2.5 GPM and includes thermal relief to prevent overheating; Welded steel frame construction with a powder-coated finish adds durability
Lightweight and Portable: The compact design is lightweight and small enough to be easily transported by one person; 10-inch premium pneumatic tires offer ease of maneuverability across various terrain and uneven ground
Includes Quality Simpson Accessories: MorFlex ¼-inch x 25-feet high-pressure hose is non-marring, flexible and abrasion-resistant; 5 Quick connect nozzle tips: 0°, 15°, 25°, 40° and Soap for any cleaning tasks; Ergonomic spray gun and 16-inch steel wand/lance
Important Notes: 49-state compliant; Does not ship to California; Keep max fuel level 1/2 Inch below bottom of filler neck to avoid spillage; All pressure washers are 100% functionally tested in factory and may contain minimum residual fuel/oil or fuel odor
SIMPSON Cleaning 3600 PSI 2.5 GPM GX200 OHV, AAA Triplex Pump SIMPSON ALH3425 Aluminum Gas Pressure Washer, HONDA G, Black & Red
Professional Performance: Easy-to-assemble and easy-to-start with its HONDA GX200 commercial series engine, the Aluminum Series power washer is great for contractors who specialize in deck cleaning, wood restoration, and all other professional services
Power and Durability: A powerful, reliable, maintenance-free AAA industrial triplex plunger pump delivers 3600 PSI at 2.5 GPM and includes thermal relief to prevent overheating; PowerBoost Technology delivering higher pressure at the nozzle
Sturdy and Portable: The aircraft grade aluminum platform with brushed extruded aluminum tubing offers durability and corrosion resistance; 10-inch premium pneumatic tires deliver ease of maneuverability across various terrain and uneven ground
Includes Quality Simpson Accessories: Morflex 5/16-inch x 35-foot high-pressure hose is kink- and abrasion-resistant; 5 Quick connect nozzle tips: 0°, 15°, 25°, 40° and Soap; 16-inch steel wand/lance; Professional spray gun with safety lock-out
Important Notes: Keep max fuel level 1/2 Inch below bottom of filler neck to avoid spillage; All pressure washers are 100% functionally tested in factory and may contain minimum residual fuel/oil or fuel odor; Pump/Hose Connection: Threaded M22 connection
Final Talks: Compare, Analyse and Select Your Pressure Washer
Every pressure washer comes with its own set of features and benefits. With these options around, it is recommended to first identify your needs and then go ahead with the selection process to ensure you are making the right choice.
Let your high-pressure cleaning process be effortless and effective with the best high-pressure cleaners by your side.
Let us know in the comments section below how did you go with your pressure washing project.
---
Sale
Now, It's Over To You!
Now I'd like to hear from you: Leave a comment to let me know.
Spread it by Sharing on social media…